Experience Oahu's most iconic sights from above with a

Waikiki helicopter tour.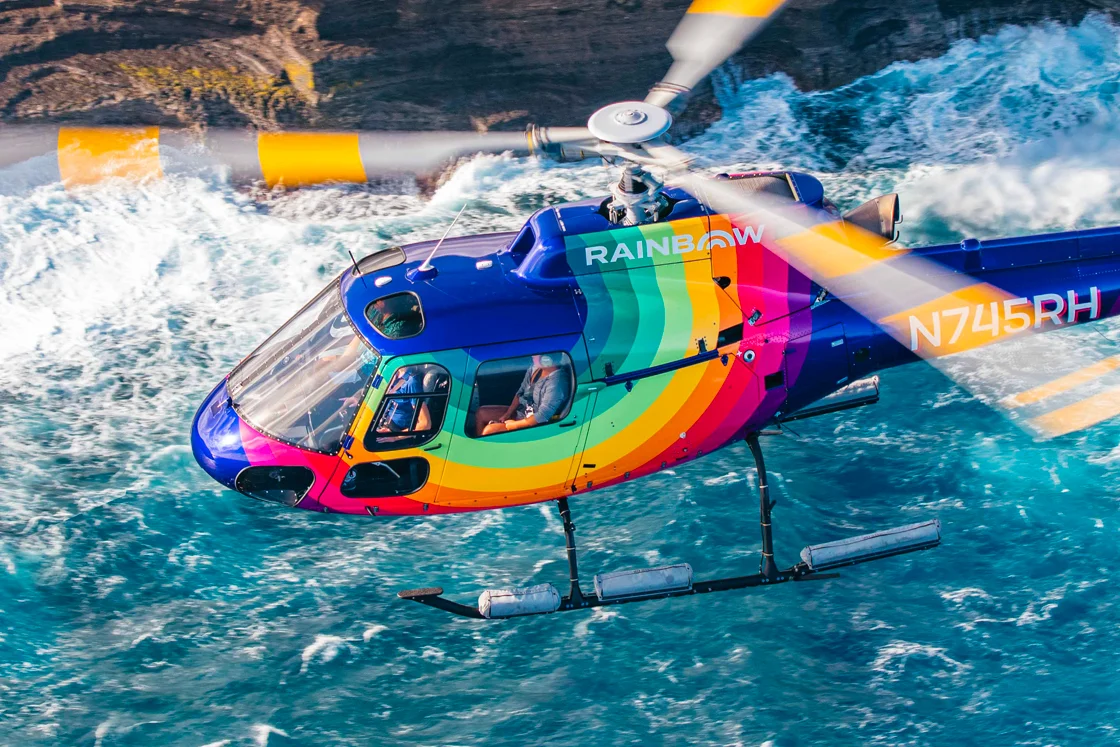 //////////
60 minute helicopter ride Oahu. Experience Oahu's most picturesque locations as your helicopter tours the South Shore, North Shore, Windward Coast, Ko'olau mountains, Sacred Falls and more. This royal ring Oahu helicopter tour gives you a front row seat to the island's best landmarks and attractions.
"Me and my partner did the doors-off tour. Best thing ever! Tony, the pilot, was very informative and was able to share with us amazing views and tell us rich history of the island."
MICHAEL MASTALERO  •  MAY 2023
Wonderful trip that exceeded our expectations. Thanks!
Absolutely incredible! My favorite experience of our Hawaiian adventure. The 60 minute tour was everything we hoped it would be. Doors off is the way to go if you want an adventure in the sky. Everything we saw plus the knowledgeable pilot, it was amazing.
We had an amazing tour! Our pilot, Kyle was incredible. Very knowledgeable, fun and interacted well with everyone. The views from above were even better than we expected. And we were so glad we did the tour with the doors off.
Everything was more than my granddaughter and I imagined. She was so excited for the doors off and I was for the co-pilot seat with doors on. The pilot gave us a lot of information and made it very entertaining.
Our pilot Tony was very knowledgeable and the tour was relaxing and scenery breathtaking. The flight was calm and well narrated.
I would recommend to all. Great customer service, awesome pilot with great knowledge of the island and overall an excellent tour. Thank you Pilot Joel. You did a great job!!!
One of the best hours spent in Oahu. Our pilot was very skilled & made us feel comfortable & at ease with the flying process. He was full of interesting info & history related to Oahu. Paradise helicopters were professional & friendly, this is a must do & is highly recommended . Great way to see the island , quite beautiful on a good day. If you can …go doors off Loved it :-)
Incredible experience. Pilots are knowledgeable of the island and entertaining (not to mention, safe!).
Best family adventure ever! Tobias was our pilot and he was so knowledgeable about the island. Do it when you first arrive on the island so you can see everything without having to drive, then you can decide where you want to spend more time…we did our tour with the doors off and all 4 of us enjoyed it. Would definitely do it again and I highly recommend them!
Really enjoyed the flight around Ohau, will worth the money. Would highly recommend. Staff are all welcoming.
Rainbow Helicopters was very professional, friendly, competent, and made me feel safe. Joel was my pilot. He was very knowledgeable about the island and great at piloting the aircraft. I would fly with them again and highly recommend!!
This was my wife's surprise anniversary gift for me. The whole experience was amazing and breathtaking. The staff and pilot were very professional and we were very well taken care of from start to finish. I will definitely recommend them to my friends.
Went on this tour on my honeymoon, and I must say it's the most exhilarating experience I've ever had! Our pilot, Kyle, was extremely informative and friendly! Highly recommend anyone looking to your Oahu to take this tour immediately!
We have been in several helicopter rides in the past. The emails prior to leaving started giving us some concerns. But our concerns were unfounded. From the moment we showed up on site for the ride until we got back, it was excellent. The last time we had a helicopter ride for an hour, I believe we got 47 minutes total. When you're paying about $30 a minute that could be very frustrating. Our pilot, Joel, gave us every bit of the hour that we were hoping for. Very enjoyable.
Pilot Kyle was awesome very informative and fun
Fantastic excursion and the pilot was very kindly. Excellent.
I took my mum on a 1 hour doors off helicopter tour for her 60th birthday and it was honestly the highlight of our trip! 100% recommend having the doors off for the ultimate experience and view. Kieran our pilot was so knowledgable and a great guide. Can not recommend this enough!!!
Our doors off helicopter ride was amazing!! Our pilot Alex was very informative and professional. We saw how beautiful Hawaii really is from 2,000 feet in the air. I would recommend this adventure to anyone who wants to see Oahu Hawaii from a totally different perspective.
I had the pleasure of embarking on a thrilling helicopter ride over the stunning landscapes of Oahu, and the experience was nothing short of extraordinary! Pilot Tobias, with his exceptional flying skills and warm demeanor, made this aerial journey an unforgettable one. From the moment we took off, Tobias ensured our safety and comfort, providing clear instructions and information about the scenic spots we would be flying over. His knowledge of Oahu's geography and history added a fascinating layer to the adventure, and we found fully immersed in the beauty of the island. The breathtaking views from the helicopter were beyond compare. We soared over lush rainforests, cascading waterfalls, and beautiful beaches, each sight more awe-inspiring than the last. The way Tobias expertly maneuvered the helicopter to showcase the island's most picturesque locations allowed my friend and I to capture stunning photographs and create cherished memories.
Our tour was wonderful, special thanks to our tour guide Kyle! Will definitely be back!
Recent reviews
Kualoa Ridge Robinson R44 helicopter landing.above private valley.
An unforgettable
helicopter adventure above Oahu. 
Embark on an unforgettable adventure with a Waikiki helicopter tour and discover the breathtaking sights and stunning vistas of Oahu. Rainbow Helicopters invites you to soar above the turquoise waters, taking in the island's iconic landmarks and hidden gems that can only be fully appreciated from the air.
From the majestic Diamond Head crater to the pristine white sand beaches, you'll witness the natural wonders of Oahu, including the enchanting Sacred Falls and the lush rainforests that adorn the island's interior. Prepare to be amazed as you catch glimpses of Makapu'u, the North Shore, and Pearl Harbor along the way.
Airbus Astar helicopter seats six guests.
Premium helicopter flight experiences.
Guests enjoy their choice of premium helicopter flight experiences aboard our Airbus Astar or Robinson R-44 helicopters. We offer a variety of daytime helicopter tours, sunset tours, romantic proposal flights and luxury picnic experiences.
Rainbow Helicopters offers a range of daytime helicopter excursions, captivating sunset tours, romantic proposal flights, and luxurious picnic experiences. No matter the occasion, our helicopter flights provide an unparalleled perspective of Oahu's natural splendor.
Additionally, we cater to custom flight experiences such as aerial photography charters for film and advertising, as well as private flight instruction. Our warm spirit of aloha and a friendly multi-cultural staff ensure that every guest who flies with Rainbow Helicopters becomes part of our Ohana.
Robinson R44 helicopter with Doors Off.
Fly
doors off
at no extra charge.
Take your Waikiki helicopter ride to extraordinary heights by choosing the thrilling "doors off" experience with Rainbow Helicopters. This exhilarating option removes all barriers, allowing you to fully embrace the breathtaking sights of Oahu.
Feel the exhilarating rush of wind through your hair as you soak in panoramic views and capture unforgettable moments from an unobstructed vantage point. With the doors off, your photographs will be crisp and vivid, enabling you to immerse yourself completely in the awe-inspiring beauty of Oahu.
Fly doors off no charge.
Customize per passenger at checkout..
Rainbow's helicopter pilots bring the aloha spirit!
Exceptional service and aloha spirit.
At Rainbow Helicopters, we take pride in providing exceptional service and embodying the true spirit of aloha. Our friendly and courteous staff is committed to making your Hawaii helicopter ride the most memorable part of your vacation. Whether you're a first-time flyer or a seasoned adventurer, we go above and beyond to ensure your comfort and satisfaction.
From the moment you step onboard, you'll feel the warmth of our Ohana and experience the genuine hospitality that makes Hawaii so special. Fly with us and discover why Rainbow Helicopters is synonymous with the aloha spirit.
Sacred Falls
As you approach this magnificent natural wonder which is only accessible from the air, you'll be captivated by its grandeur and beauty. Sacred Falls, also known as Kaliuwaʻa in Hawaiian, is a breathtaking waterfall nestled within the lush rainforests of the island.
Diamond Head
As you soar above Oahu in a helicopter, the iconic Diamond Head crater emerges into view, commanding attention with its striking presence. From this unique vantage point, you'll witness the distinct shape and rugged beauty of Diamond Head, surrounded by the sparkling turquoise waters of the Pacific Ocean.
Dole Plantation
From the sky, the Dole Plantation in Oahu unfolds like a vibrant oasis amidst the island's verdant landscape. The sprawling plantation can be seen, showcasing its lush pineapple fields, charming train ride, and iconic pineapple maze, all framed by the natural beauty of Oahu's tropical scenery.
Hanauma Bay
Hovering above Oahu in a helicopter, Hanauma Bay reveals its breathtaking splendor with its crescent-shaped shoreline and crystal-clear turquoise waters.
Kaʻaʻawa Valley
The picturesque village of Kaʻaʻawa, nestled between the majestic Koʻolau Mountains and the sparkling Pacific Ocean, offers a stunning panorama that showcases the unspoiled charm of Oahu's natural landscape.
Kualoa Ranch
The lush valleys, rugged mountain ranges, and pristine coastline of Kualoa Ranch create a captivating tapestry of natural beauty that has served as the backdrop for numerous films and TV shows, making it a truly remarkable sight to behold from the sky.
Magic Island
Nestled along the coast, this picturesque park showcases pristine sandy beaches, tranquil lagoons, and lush greenery, offering a serene and captivating sight from above.
Makapu'u Lighthouse
The rugged beauty of Makapu'u unfolds with its towering sea cliffs, pristine beaches, and iconic lighthouse perched atop the headland.
Nu'uanu Pali
The sweeping panoramic views from this vantage point provide a captivating glimpse of the sheer grandeur and majestic beauty of Oahu.
Kaneohe Bay
The breathtaking contrast between the vivid blue hues of the bay and the vibrant greens of the surrounding landscape creates a captivating sight that epitomizes the natural splendor of Kaneohe Bay from the sky.
Banzai Pipeline
The colossal waves crashing onto the reef, forming perfect barrels, create a mesmerizing spectacle that showcases the exhilarating energy and surfing paradise of Banzai Pipeline from the sky.
Punchbowl Crater
Punchbowl Crater commands attention with its imposing presence and distinct volcanic shape. From an aerial perspective, you'll witness the rugged beauty of the crater's walls and the lush greenery that blankets its interior, creating a striking contrast against the urban backdrop of Honolulu.
Waimea Bay
From the sky, you'll witness the sheer magnitude of the bay, its dramatic waves crashing against the shoreline, and the surrounding lush greenery, creating a breathtaking sight that epitomizes the allure of Waimea Bay from above.
Lanikai Beach
The captivating aerial view reveals the iconic Mokulua Islands nestled offshore, adding to the picturesque beauty of Lanikai Beach and solidifying its reputation as one of Oahu's most stunning and idyllic coastal gems.
North Shore
From the helicopter's perspective, you'll witness the immense power of the ocean as it forms massive swells, attracting surfers from around the world, while the picturesque shoreline stretches as far as the eye can see.
Windward Coast
Experience the serene beauty of the Windward Coast, where verdant valleys, dramatic cliffs, and tranquil coves combine to create a coastal landscape that is as captivating as it is inviting.
What are Waikiki helicopter tours?
Embark on a thrilling Waikiki helicopter tour and immerse yourself in an adventure brimming with excitement. These captivating tours elevate your experience, allowing you to marvel at the unrivaled beauty of Oahu. From breathtaking landscapes to hidden treasures, a Waikiki helicopter tour grants you exclusive access to witness the very essence of Oahu's splendor.
Uncover sights that are otherwise unreachable and understand why a helicopter tour stands among the top-rated activities in Waikiki, Honolulu, Ko Olina, and beyond. This extraordinary experience will create indelible memories of Oahu's majestic landscapes and instill a deep appreciation for the wonders that await through aerial exploration.
Experience the immersive perspective of Waikiki helicopter tours, where you can truly grasp the lay of the land and gain a comprehensive understanding of Oahu's iconic landmarks and rich history. Soaring above the island, you'll witness the interconnected tapestry between your accommodations, the mesmerizing beaches, the vibrant hub of Waikiki, the historic significance of Pearl Harbor, the majestic presence of Diamond Head, the enchanting allure of Sacred Falls, and other notable sights that define the essence of Oahu.
At Rainbow Helicopters, we take it a step further by offering the doors-off option completely free of charge. Our lineup of top-rated Oahu helicopter tours conveniently departs from Honolulu International Airport, with complimentary shuttles available to ensure a seamless and hassle-free experience. Choose Rainbow Helicopters and book direct at rainbowhelicopters.com for an unforgettable adventure and witness the wonders of Oahu from the sky.
Enjoy

premium flight experiences

aboard our Airbus Astar and Robinson R44 helicopters.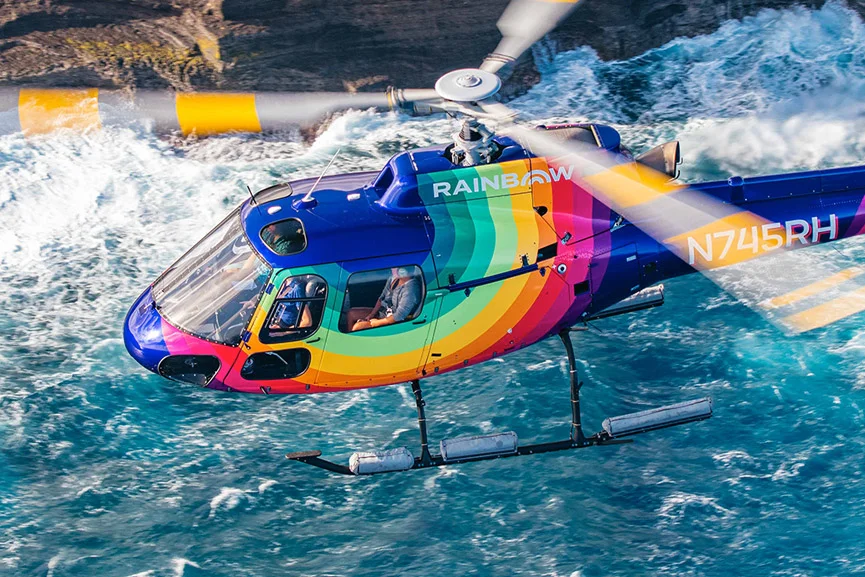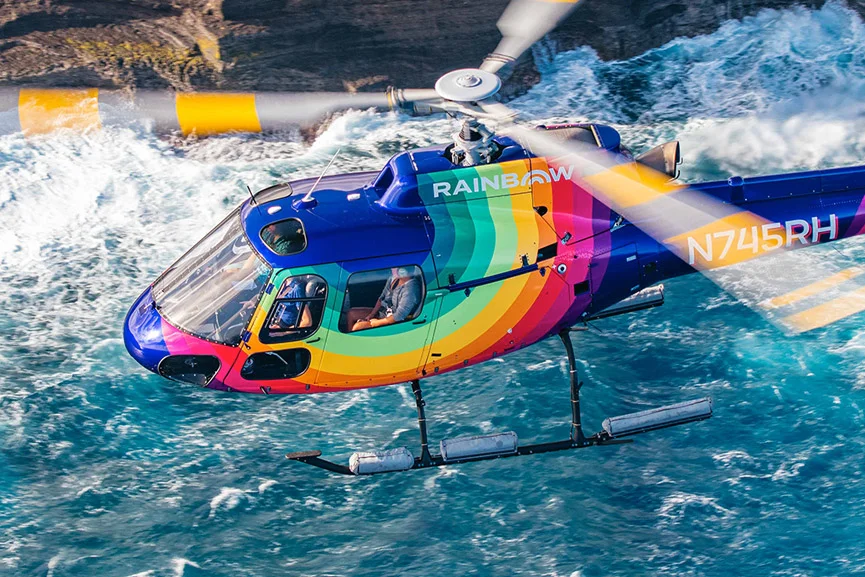 Known for its outstanding proven track record, the Airbus Astar has a spacious and comfortable cabin and panoramic interior for optimum visibility.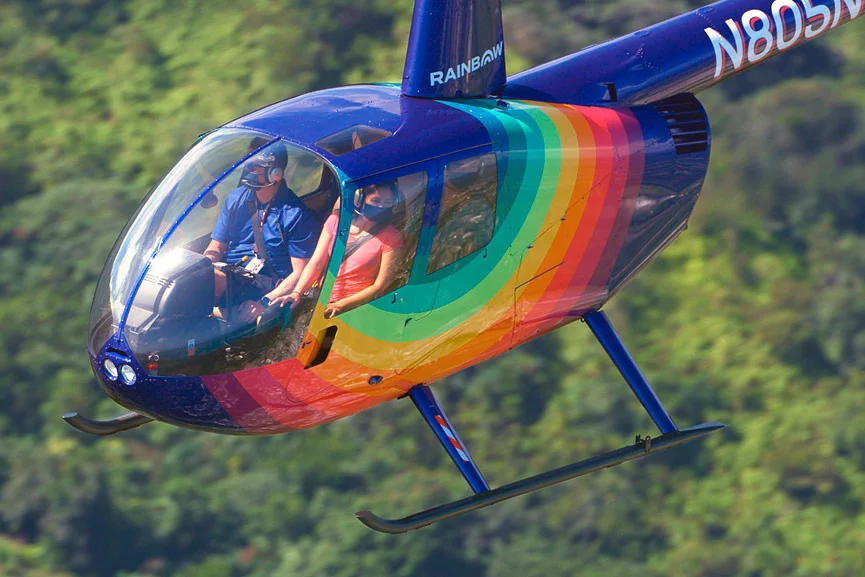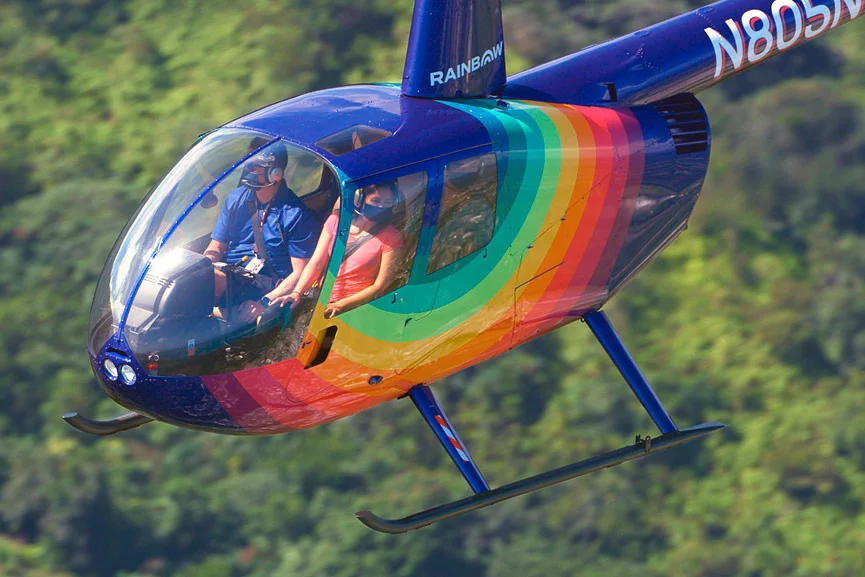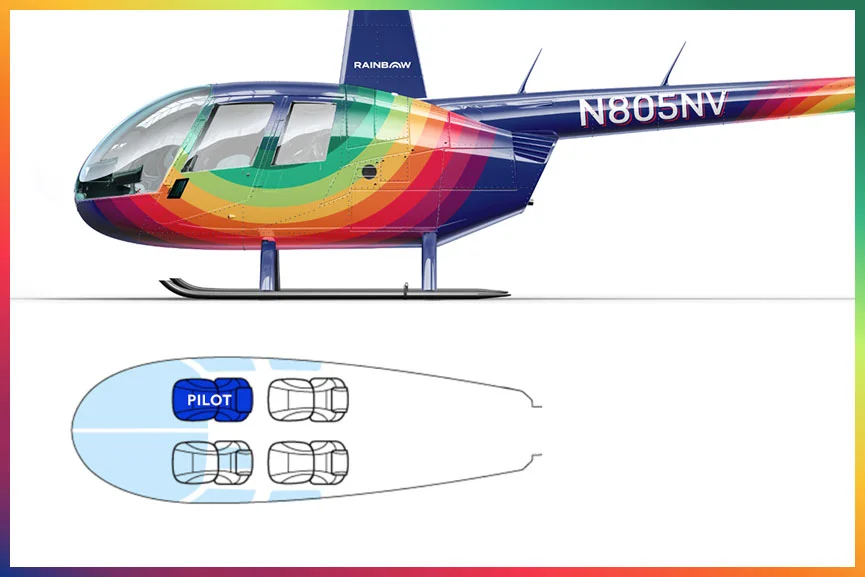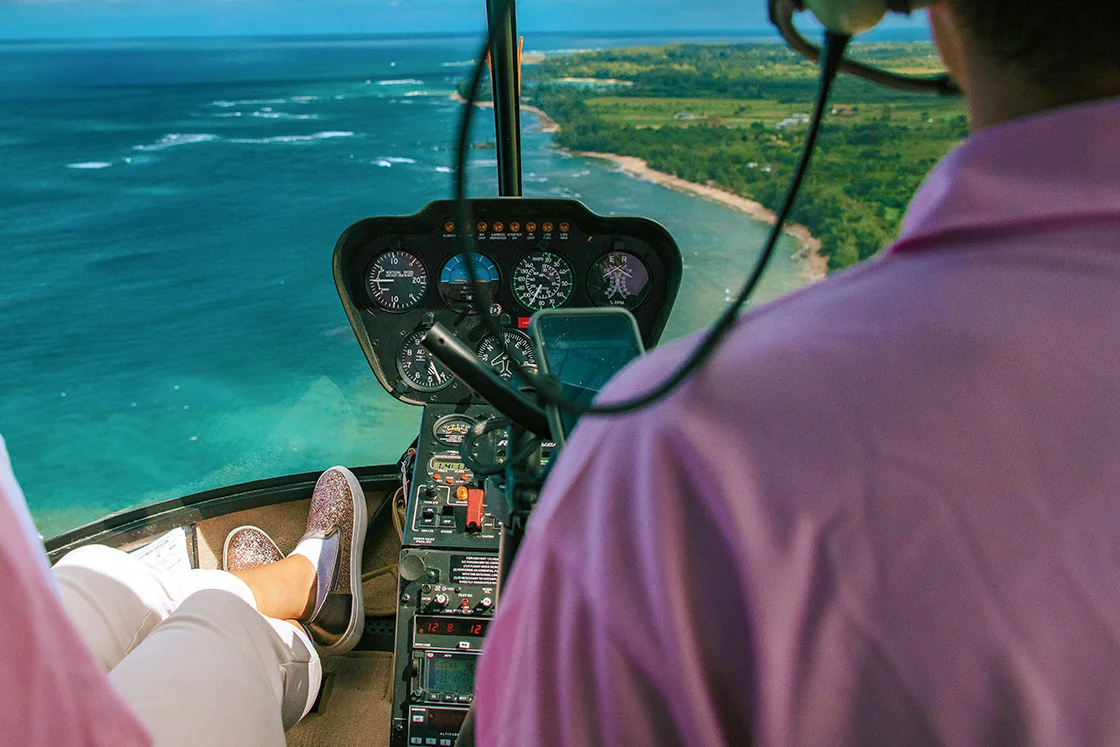 High performing and reliable, the R-44's open cabin design provides unobstructed views for great pictures.
Waikiki helicopter tours FAQ