We meet HAI Covid Clean Standards to protect our customers and staff.
Our proven commitment to health and safety ensures you will be able to
enjoy your experience without worry.
Health and Safety are our top priority.
In order to protect customers, staff, and other visitors we recently signed a pledge to keep their helicopters and facility clean and sanitized, including between tour flights.
The "COVID Clean" pledge is a product of Helicopter Association International (HAI) and provides a list of steps that companies must agree to do when signing the pledge. These steps include sanitizing the helicopter between flights and conducting a deeper cleaning each night. Cleaning standards are provided by the manufacturer of the helicopter. Additionally, our employees will wear masks and other appropriate personal protective equipment when working with the public, and maintain cleanliness standards in publically accessible areas of the facility.
"Our highest priority is the health and safety of our clients and our staff," says CEO and Chief Pilot Nicole Vandelaar. "We accept the standards of the HAI COVID Clean pledge because we want everyone to know that we are taking every possible precaution to prevent the spread of infectious diseases."
"We don't take pledges like this lightly," adds Vandelaar, "with our new cleaning standards and careful screening, we feel strongly that any guest that flies with Novictor will be able to enjoy their experience without worry."
The Helicopter Association International (HAI) COVID Clean Pledge reads:
As a helicopter operator, we affirm that our highest priority is the safety of our customers, our crew, and the public. We are committed to ensuring our passengers are protected in every possible manner. Therefore, we pledge to:
Meet or exceed any applicable federal, state, or municipal regulation introduced to prevent the transmission of infectious diseases.

Disinfect our aircraft, according to manufacturer recommendations, between every flight.

Conduct a deeper cleaning of our aircraft every night, according to manufacturer recommendations, or as often as necessary.

Continuously clean or disinfect our waiting area, our counters, our restrooms, and any other publicly accessible area of our facility.

Require our flight and ground crews to use masks and gloves as long as recommended by the U.S. Center for Disease Control (CDC) and or the World Health Organization (WHO).

Avoid transporting anyone who is visibly ill during our check-in process.

Recommend the use of masks and gloves to our passengers, making these Personal Protective Equipment (PPE) items available to those who need them.
Safety is our top priority.
Each flight is carefully planned in minute detail to be as clean and hygenic as possible.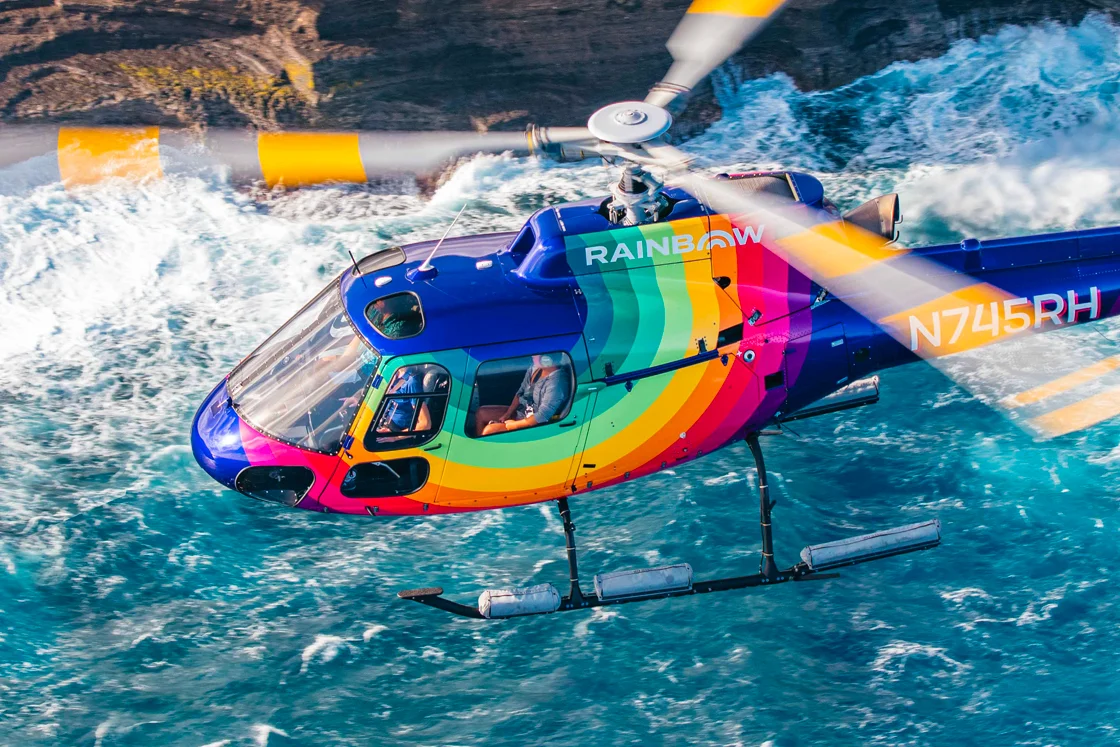 //////////
60 minute helicopter ride Oahu. Experience Oahu's most picturesque locations as your helicopter tours the South Shore, North Shore, Windward Coast, Ko'olau mountains, Sacred Falls and more. This royal ring Oahu helicopter tour gives you a front row seat to the island's best landmarks and attractions.