Path to Pali Passage
$295.00
//////////
30 minutes. Experience breathtaking views of Oahu as your helicopter tours Waikiki and Diamond Head crater. See the best of the Windward Coast and explore the inland passages of the Nu'uanu Pali cliffs and rainforests. Experience Hawaii as you've never seen it before in this stunning Oahu helicopter tour.
Description
Incredible mountains, the Waikiki skyline and Diamond Head crater as you've never seen them before in this breathtaking Oahu helicopter tour.
Everything you could want to see in Oahu on a helicopter tour is even more breathtaking with a view from the top. The Path to Pali Passage is not just a regular helicopter tour. It's a Diamond Head Crater tour, a Maunalua Bay helicopter tour, a USS Arizona Memorial helicopter tour – and more – all rolled into an unforgettable Oahu helicopter adventure.
Soaring among the green peaks of the Nu'uanu Valley, it can be hard to imagine that these incredible mountains were born from fire. Your Oahu helicopter tour experience begins over the island's South Shore, starting the Waikiki and Diamond Head helicopter tour part of the flight – for a chance to see the familiar Waikiki skyline and Diamond Head crater as you've never seen them before. Diamond Head Crater is an adventure tour you'll never forget.
You continue on to Hanauma Bay's beautiful sheltered waters and the nearby cliffs and volcanic outcroppings – beautiful remnants of the island's fiery volcanic past.
Rounding Makapu'u Point, you follow the Windward Coast, and a view of the windward side will reveal and its long stretches of white sand beaches and turquoise waters as they lead you towards the gorgeous mountains beyond. You turn inland to see the three sharp peaks of famous Mt. Olomana, characteristic of its english translation, "divided hill."
Floating inbound, you experience an absolutely breathtaking expanse as you fly the passage among the Nu'uanu Pali cliffs and lush rainforests that cover their slopes. The flight ends with a helicopter tour over Pearl Harbor where you can see the site of the USS Arizona Memorial and the Battleship Missouri. Enjoy the volcanic origins that created Oahu's diverse terrain and take in the majestic bliss felt by gliding along the landscape in this unforgettable helicopter tour of Oahu.
Departures for Path to Pali tours
This tour is available for daytime departures from Honolulu International Airport
Sights
Honolulu Harbor
Aloha Tower
Waikiki Beaches
Diamond Head
Maunalua Bay
Hanauma Bay
Makapu'u Lighthouse
Lanikai Beach
Ko'olau Mountains
Nu'uanu Pali Lookout
Pearl Harbor
USS Arizona Memorial
Tour notes
Please visit the FAQ
Add epic
add-ons

to your tour at checkout.

+ Private Tour

Book the entire aircraft for your group. Perfect for special occasions and celebrations.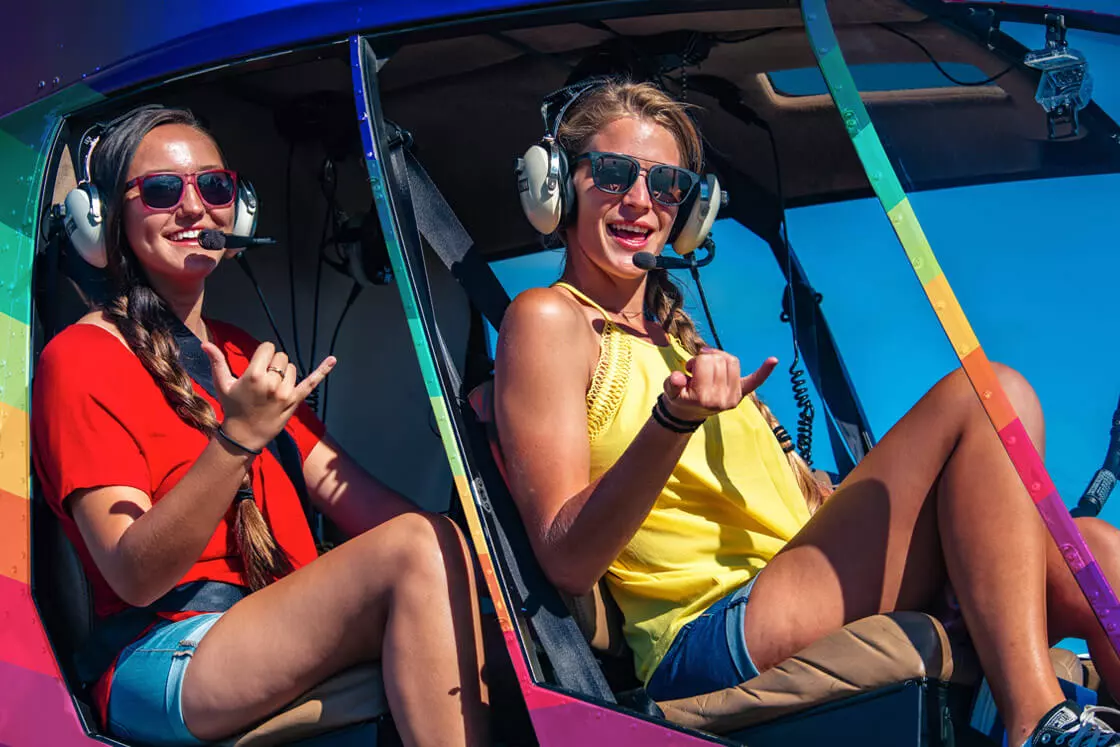 + Doors Off Helicopter

Experience the sights with an open cabin and enjoy amazing unobstructed views. Makes for great pictures!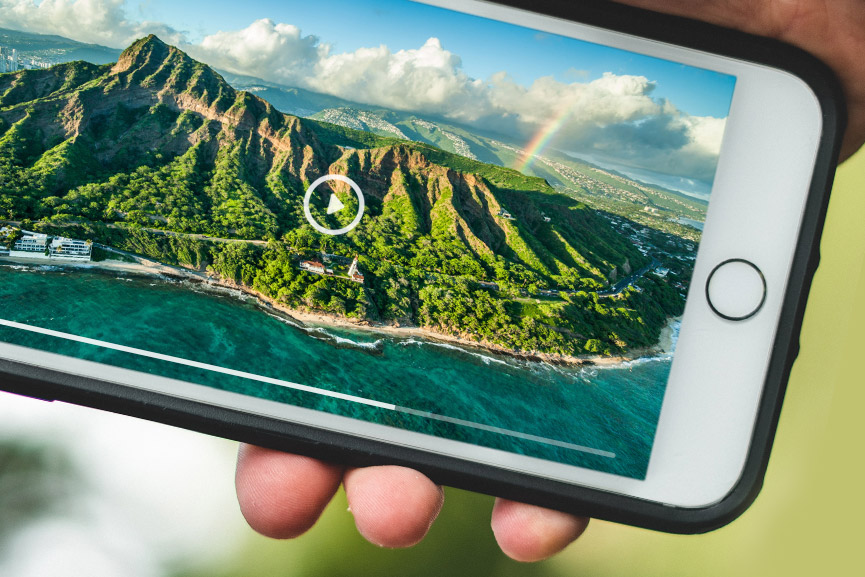 + Flight Video

Get a shareable digital video of your in-flight experience, available in multiple formats. Customize at checkout.
+ In-flight Photographer

Bring aboard a world class photographer to capture every magical detail of your adventure from start to finish.
+ Booking Protection
Protect your experience of a lifetime helicopter booking with our Booking Protection Plan.  Passengers may cancel or reschedule their flight for ANY REASON up to 24 hours prior to their scheduled flight and receive a full refund or no reschedule fees.
No documentation needed, just contact our reservations center at (808) 492-8706 to request the change. Coverage excludes Booking Protection Plan Fee. Reschedule and / or canceling one time only. Standard Policies apply to additional rescheduling / cancelations.
"It was amazing ….. Mahalo"
It was amazing ….. Mahalo
Oliver was great! Lots of fun.
We had a wonderful experience, our pilot was very informative and patient. We were celebrating my 6 years old Birthday, she had a good time .
Mardi le 4 octobre, nous avons fait un tour d'hélicoptère avec Joey de Rainbow helicopter, ce fut vraiment une expérience magnifique malgré les quelques nuages (Normand a voyagé la porte ouverte… ho la la) . Les vues sur Honolulu, les plages , la mer et les montagnes sont absolument fantastiques. Merci pour votre professionnalisme et votre accueil chaleureux . Aloha
An awesome experience. Oliver was great flying the helicopter and letting us know what we were seeing during the trip. Highly recommended. Thanks
Oliver was our pilot he was so awesome!!! We had the best time, breathtaking views, if your contemplating whether to do this, this is your sign !! Do it !!! Was the best experience and best part of our trip.
The helicopter tour of Oahu was one of our favorite things to do! Being able to see the island from that perspective was breathtaking. We would highly recommend this company and their island tour.
We had a great trip with Rainbow Helicopters. There was another couple of the trip with us that had their door off which we were surprised about. We thought that booking a doors on tour meant all doors would be on.
It was an absolutely amazing experience! The best part of our trip for sure. Excellent customer service, very safe and super interesting! Thank you very much!
Amazing! Oliver was super friendly and great pilot.
Rainbow helicopters was an awesome experience! The staff was very informative and made the process so simple and fun! Our pilot Riley did such a good job pointing out landmarks and explaining the history of the island. I would highly recommend this experience to anyone! Thank you to the Rainbow Helicopter team. 12/10 experience!
Great views, just wish we had selected a longer tour!
Avisome, amazing. Was a perfect day with Rainbow Helicopters. Highly recomended.
Corey was great! It was an awesome experience and the views were breathtaking! Definitely a must do while visiting!
Amazing crew and beautiful tour! Can't
Went with rainbow cause you guys had the newest looking helicopters, you guys did not disappoint. My family had an incredible time and this has been our favorite helicopter tour so far. Our pilot was fantastic and it was a smooth flight around the island. Thank you!
Loved it! Thank you so much.
I recommend you give it a try because you will love and enjoy the ride, as well as the sights
Carson is an amazing tour guide! Amazing to see views from an aerial perspective! Overall incredible experience!
Breathtaking views, awesome pilots, and an overall great experience!
Ok absolutely NO regrets about trying the doors off flight. We were first timers and it was so cool! The views cannot be beat. Gorgeous the whole time. Super experience!! Mountain View's were my favorite part. The way the clouds kissed the mountains was spectacular. I'm certainly never going to forget this :)
It was our first doors off helicopter ride and it was so awesome! We really enjoyed the tour plus Nicole our pilot was so cool. Great experience! Certainly one for the books! Will do it again.
Excellent views, our pilot was very knowledgeable. I would highly recommend the doors off tour. The highlight of our trip.
It was Amazing and a fun time. Would highly recommend
Best experience of our whole Hawaii trip! Our pilot Sarah gave us a great tour from start to finish - would definitely recommend to anyone traveling to Oahu.
The whole family had a blast. I will do this again
The view and tour was amazing! It was such a great experience.
Excellent helicopter ride. Pilot Sarah is so professional and skillful flying while touring us in the sky. Loved every minute of it. Thanks
Had an amazing experience. Booked last minute for my family of 5(adults). since we couldn't fit in one helicopter they split us, three in one and 2 in the other. We did doors off and it was a great experience. The individuals that sat in the back seat thought the wind hitting them was too much. Probably won't do doors off again in the future just so the experience is calmer and quite. The staff we encounter were all sweet and friendly. The pilots we had were great too. They pointed out places as were flying and were willing to answer questions.
Awesome Time, Great Tour Guide and Amazing Views! DOORS OFF!!
Amazing views. Definitely felt extremely safe in the helicopter with the doors off. I opted for the 30 minute tour thinking we would be scared enough for that amount of time however I definitely wish we booked a longer tour! Would go back a million times over.
Rainbow Helicopters are the best, service is great. It was Breathtaking Experience for us, the Island looks amazing from above.
View from atop is incredibly awesome. Once in a lifetime experience. A tour that covers it all. Definitely a must activity that makes your visit worthwhile. Magnificent scenery of the Island.
Best Experience! Cat was our pilot, we had a 5pm tour and I paid for 30 minutes but because I commented on the sunsets beauty she was kind enough to fly around for 25 minutes more , the experience my sister and I had was life changing.
My husband and I booked a 30 minute flight around the South end of Honolulu and loved the experience which exceeded our expectations. Our pilot Joe was very informative and the flight was very comfortable. We choose doors off and I highly recommend it. No jacket was required and our hair/clothes did not blow all over the place. The views were amazing between the pristine shore coastline to the green mountains. We even had a small shower which brought a beautiful rainbow we were able to capture in our photos. We also got a great aerial view of Pearl Harbor. The couple we are traveling with also had a great experience. This was our first time doing a helicopter ride and we cannot wait to do it again.
My friend and I took the ride on a semi cloudy day and it was amazing!! No turbulence and great views! Our pilot's name was Joey and he was so kind! Highly recommended
I experienced the Door off experience and it did not disappoint. It's for the fearless and the views was worth the fear that I had. Definitely do it again
This was a first for me and I was very anxious. The whole ground crew was wonderful and put me at ease right away. Andrew was our pilot and did a fantastic job handling the aircraft and pointing out the sites. It was such an incredible experience, I will truly never forget it. I recommend this to anyone thinking about it, was the highlight of my trip here! Thanks all for a fantastic time!!
My husband and I had a wonderful overall experience. Bastian was our pilot and offered a safe, exciting and informative ride. My only downside is that I couldn't hear any audio with my headset (thus the minus 1 star), but my husband used text to share back the information that Bastian was highlighting. We had an extended trip, with doors off and front seat views, which was breathtaking. Strong customer service all around. Thanks again Rainbow team for all of your support.
Had an awesome time, definitely something that should be checked off on the list of the many things to do in Hawaii. Our Pilot, Bastian was great and informative! Thanks for the amazing ride, will recommend!
We had an amazing time in the air with Nicole and Bastian -- highly experienced pilots who were very thoughtful and made sure our entire party felt at ease, including our two older parents. We flew the Path to Pali with doors off, and the sights were absolutely gorgeous -- totally worth it! Thank you for flying us and giving us a spectacular ride -- we will visit again!
Super smooth ride! Our pilot did an excellent job pointing out sites and making sure we were able to take awesome pictures. For the major attractions, he circled the helicopter to ensure both sides could get a clear view. If you're on the island for a short period of time, you can pack in quite a bit of sightseeing in a short flight. Highly recommended - would definitely fly with Novictor again next time I'm in Oahu!
"Oliver was great! Lots of fun."
"We had a wonderful experience, our pilot was very informative and patient. We were celebrating my 6 years old Birthday, she had a good time ."
"Mardi le 4 octobre, nous avons fait un tour d'hélicoptère avec Joey de Rainbow helicopter, ce fut vraiment une expérience magnifique malgré les quelques nuages (Normand a voyagé la porte ouverte… ho la la) . Les vues sur Honolulu, les plages , la mer et les montagnes sont absolument fantastiques. Merci pour votre professionnalisme et votre accueil chaleureux . Aloha "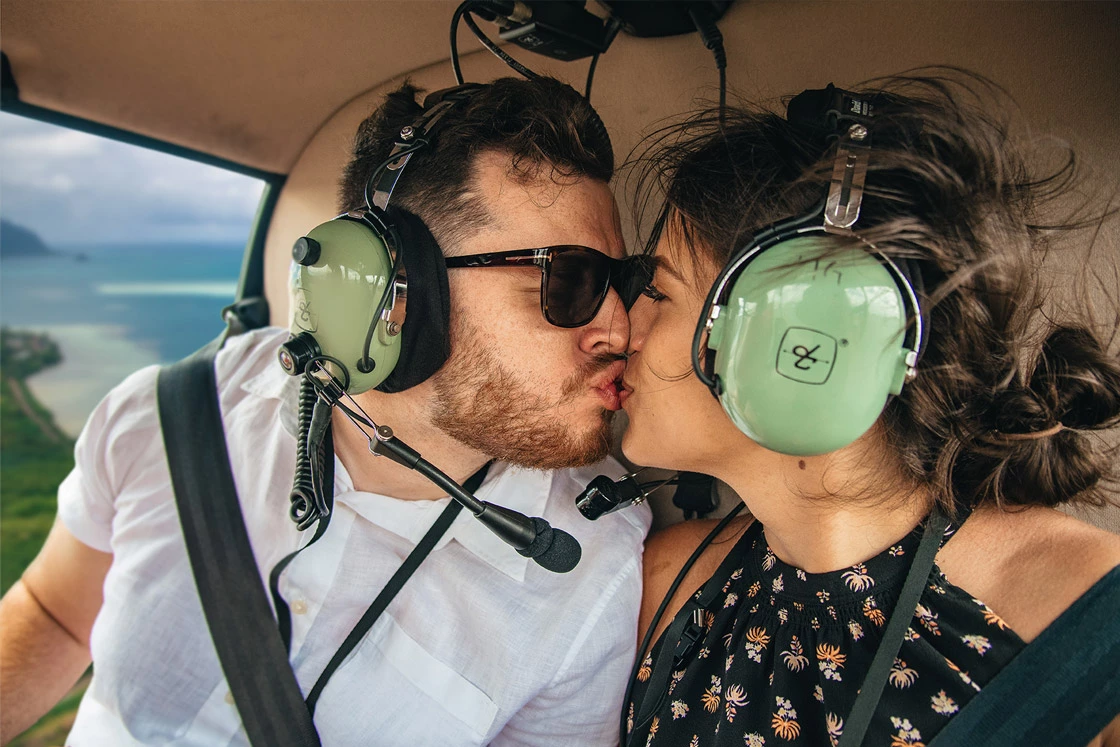 //////////
30 minutes & up. Propose in-flight! A private helicopter tour for two over Oahu is filled with romance. There is no better way to say "I want to marry you!" than from way up high in the sky in a private helicopter.
$885
& UP PRIVATE CHARTER
|
EXPLORE