Royal Crown of Oahu
$375.00
//////////
60 minutes.  Experience Oahu's most picturesque locations as your helicopter tours the South Shore, North Shore, Windward Coast, Ko'olau mountains, Sacred Falls and more. This royal ring Oahu helicopter tour gives you a front row seat to the island's best landmarks and attractions.
Description
Great skies reveal legendary landscapes, rainbows, sapphire waters, and world-famous attractions born of Hawaii's amazing empire on this royal ring Oahu helicopter tour.
You'll begin this helicopter tour with expansive views of the Waikiki skyline built upon the sugary sands of the esteemed surf beach of the Pacific. Rising to new heights, Diamond Head's tiara will appear before you, sometimes jeweled with rainbows, as it reigns upon the South Shore exercising it's natural authority over The Gathering Place. Rounding the million-dollar ridges, you'll pass Hanauma Bay, watching as gentle, sandy beaches turn to jagged volcanic cliffs carved out by the relentless surge of the rough waters below.
On your way, you'll glide over top of the charming Makapu'u lighthouse to witness her radiant red beam outward to unknown ships at sea. As you continue your tour up the island's Windward Coast, you'll see the storied Ko'olau mountains in the distance, quietly watching as you pass over Lanikai Beach – often called the most marvelous beach in the world – and the offshore sandbars and coral formations that make Kaneohe Bay one of the most picturesque places on Earth.
Passing Chinaman's Hat, watch in awe as the majestic Ka'a'awa Valley unfolds before you. As the mountains approach, you'll pull in close to see the impressive streams of Sacred Falls tumble to the lush rainforest below. Then, as your helicopter hugs the coast of the famed North Shore, hang on tight as you get up-close aerial views of the surfers at Banzai Pipeline and Waimea Bay. Heading inland, you'll fly over the "The Pineapple Sea" at the Dole Plantation and do a memorable slow-pass over Pearl Harbor and the USS Arizona Memorial to conclude your helicopter tour of the royal skies and amazing vistas of Hawaii's crown jewel.
Departures
This tour is available for daytime departures from Honolulu International Airport

Sights
Waikiki Skyline
Surf Beaches
Diamond Head
Makapu'u Lighthouse
Windward Coast
Lanikai Beach
Ko'olau Mountains
Kaneohe Bay
Chinaman's Hat
Ka'a'awa Valley
Sacred Falls
North Shore
Banzai Pipeline
Waimea Bay
Dole Plantation
Pearl Harbor
USS Arizona Memorial

Tour Notes
Please visit the FAQ
Add epic
add-ons

to your tour at checkout.

+ Private Tour

Book the entire aircraft for your group. Perfect for special occasions and celebrations.
+ In-flight Photographer

Bring aboard a world class photographer to capture every magical detail of your adventure from start to finish.
+ Doors Off Helicopter

Experience the sights with an open cabin and enjoy amazing unobstructed views. Makes for great pictures!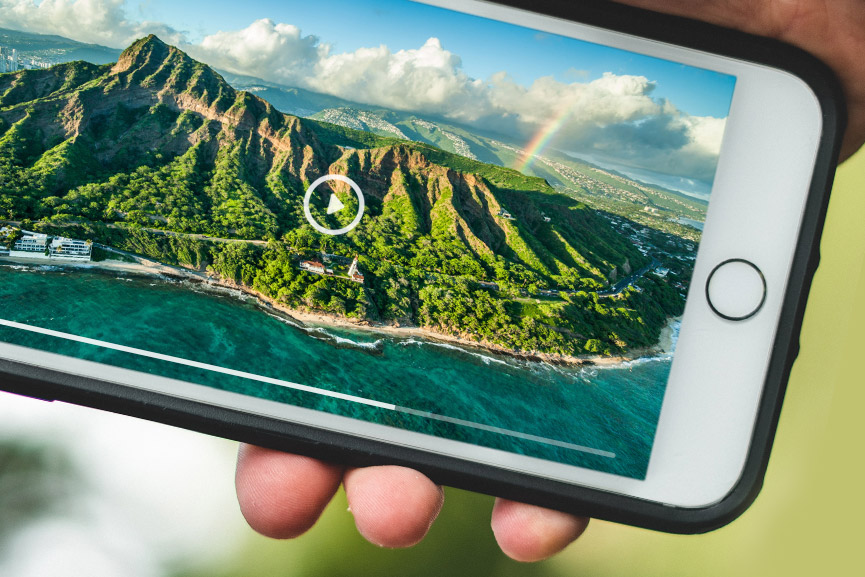 + Flight Video

Get a shareable digital video of your in-flight experience, available in multiple formats. Customize at checkout.
"Absolutely wonderful time. Pilot was great and very informational. Views are stunning. Everyone was so friendly and you can..."
Absolutely wonderful time. Pilot was great and very informational. Views are stunning. Everyone was so friendly and you can tell they love what they do. Highly recommend!
An amazing ride. Saw so much of Oahu. Sarah is a wonderful pilot and did a great job explaining what was coming into view and why it was important. It was the smoothest helicopter ride I have ever been on. Thank you
This doors off flight is a must do. If you think Hawaii is beautiful, you haven't seen the real beauty until you take this flight. Worth every penny. Bastian, our pilot was awesome! Extremely skilled and knowledgeable. The entire staff were pros. Treat yourself to this!
What an amazing breathtaking experience! I wish the camera would capture the sides of the helicopter as well! Loved watching the video and reliving it again! Highly recommend! Def doing it again!
Adam was an amazing guide/pilot and very knowledgeable of all the sights. There are not enough words to describe how great this experience was. The entire staff is friendly, helpful, and professional. The atmosphere while waiting was chill yet informative which greatly helps ease any anxieties you may have about flying. If you can, splurge and do the one hour tour. So worth it!
The helicopter tour was Awesome.The views from the sky to the beach and Diamond Head was Spectacular,Gorgeous.Pilot was describing every scene and places.Very Informative.
Excellent tour! Amazing. We took the 1 hr tour!
Professional, accommodating, with no issues other than rain! Recommended to friends already.
It was a great experience especially on Christmas Day. My 11 year old son conquered his fear of heights with the amazing piloting of Corey. Thank you Rainbow Team for making this once in a lifetime experience happen.
There's truly nothing like seeing the island from above, flying over places you've adventured and seeing rainbows in the sky!
Super fun experience. Awesome way to see they whole island
Awesome! A must do! It is the Best way to see all of Oahu! We saw humpback whales, 2 lighthouses, sacred falls, etc. truly wonderful experience!
Out of all the things to do in Hawaii this is a must !!! The views were Stunning! The ppl were friendly. I was just not aware we would be sharing the helicopter with other ppl but it's was worth it!
Awesome experience doors off! Riley our pilot was fantastic!
Very well organized, we had a blast with Riley, went doors off and thats the only way to do it, only 5 degree difference.
A MUST DO if you visit Honolulu. The views are to die for. I would recommend to do it with the doors off, to get the full experience.
We had a fantastic time and were blown away with the unbelievable experience. We are so happy we did it. Highly recommended to anyone visiting the island…and make sure you go DOORS OFF!
This was our second helicopter tour while in Hawaii, so it was hard to not compare the two. The check-in process, option of doors off, and the views were outstanding. We had a few suggestions: the pilot to talk more during the tour as we were wanting to know more details and the history about the island, spending just a little more time at the big scenic areas that were advertised (ie waterfall) especially since we were unable to view the entire tour due to cloud coverage. Overall, the tour was good and would still recommend.
Fantastic!!! Our pilot was great and took us to all the most beautiful places!!
Had a fabulous time on our helicopter tour. Absolute highlight of our trip!
Excellent tour. Toby was great, the ride was really smooth and comfortable. Not a rating on the tour, but if you have a larger group and going up with the larger helicopter you might not get to see everything from the center seats. To rectify this you should take the doors off to have unobstructed views. But the tour and everything itself was fantastic.
Great experience. Excellent pilot (Sarah) Awesome ride Loved every moment
Very good way to start a vacation! You'll get all the highlights of the island and a little local history! Well worth it
The employees and flight was all spectacular. Very smooth flight and knowledgeable pilot. Thank you for the wonderful experience.
The helicopter ride was awesome! Even with doors off it felt so safe and allowed me to just enjoy the spectacular views.
Amazing! Such a great experience
The tour is great. Corey did a great job talking to us and fly us home safely. The experience is perfect and exactly what I expected. I love how we fly close to the fall; it's a little scary but still a lot of fun.
Really awesome tour! Our pilot, Sarah, was also great
Amazing experience. Josh was a great pilot and guide. The tour of the island should be on everyone's bucket list for a visit to O'ahu. Doors off is really the way to go. Be prepared to take pictures of a lifetime!!
Rainbow provided us with an unforgettable experience!!! This was, by far, one of the coolest things we had the chance to do in Oahu. The staff was incredibly friendly & informative. Definitely add it to your bucket list!
Fantastic trip and beautiful views. Our pilot Sarah was amazing and super friendly. I feel like I would have really missed out if we wouldn't have taken the helicopter tour of the island.
The one-hour, door-off tour met and exceeded expectation! The service was wonderful. All of the staff were friendly, courteous, and professional. The helo and gear are top-shelf. I highly recommend Rainbow Tours.
Excellent aerial view of Oahu. All staff very professional and super friendly. Our pilot Josh was very informative. Recommend
Had an amazing time with Joey at the controls!! Everyone pre-and-post ride were professional and really seemed to enjoy their jobs. The flight was just what I needed to get an overview of Oahu - done a lot of driving around but with a "birds eye" view I found my bearings! Highly recommend for any visitors - did open door and the ONLY time I felt like I needed a "grab par" was going over the beautiful waterfall as Joey got up close!! Fun Fun Fun!
Joey was extremely knowledgeable and was great for our trip around Oahu. Amazing overall and would highly recommend this tour!!!
Matt was great and we would definitely recommend a ride with him to friends and family. We rode 60 min doors off and it was incredible.
We travel a lot worldwide. And I have to say that this was one of the most fantastic experiences we've ever had. We booked the full hour tour, doors off. The ground crew was great in preflight. The helo was great and comfortable and the pilot, Sarah, she was great. Pointed to all the important sites and gave us a very comfortable ride. And I should know. I'm a pilot and I know she had to deal with some winds, but she knows her route very well and we had a very smooth ride. The route was well planned and we got to see everything. The views were amazing. The videos and pictures we took are incredible. And Sarah made it a point that both sides of the helo could get good shots. It was our most memorable experience of our Hawaiian trip. I definitely recommend Rainbow Helicopters. 100%. Thank you for making this part of our trip very memorable. I highly recommend them.
We had an amazing 60 min flight around Oahu. They were efficient and made the whole process so easy. Our pilot, Josh, did a great job, and the flight was smooth and beautiful. Would highly recommend Rainbow!
Sarah was amazing! Tour was amazing and well worth the money!
Fantastic trip! Pilots were skilled aviators and provided great information about the island. Aircraft and equipment were comfortable. I would definitely fly with them again. My only negative comment is that we were supposed to be in one large helicopter, but they rescheduled us to 2 small helicopters (which was fine), and then wanted to charge us extra for a video of the second trip, so we ended up with only one video.
I never thought I would go on a helicopter tour, much less in Hawaii, so when the opportunity came up I took it, and I'm so glad I did! The views were stunning! I am afraid of heights, but I was so in awe of the beauty of Hawaii that I didn't even think about how high up we were and the fact that there were no doors on our helicopter! Our tour guide, Cat, was great and very friendly. I would definitely recommend this tour to anyone!
Very professional pilot and staff was wonderful. The view was just breathtaking. Would recommend the doors off experience to everyone
Staff was great, Joey the pilot was even better. Very personable and knowledgeable. I would highly recommend Rainbow and Joey
I had the opportunity to take my wife and kids (11-19) in a helicopter that fit seven of us comfortably (including the pilot), with each seat having a spectacular view! The pilot made us feel comfortable with his skills and abilities after sharing his long years of service in the military and flying many missions. The pilot did a great job of pointing out all of the landmarks along the way, making us laugh throughout most of the flight.
Amazing experience with Joey as our pilot! Very informative! Thank you for the awesome experience!
Very good. Always like going up into to the air on the helicopter. Kinda windy the day I went and Karsen handled the helicopter like a professional.
We booked the Royal for a full island ride and it was well worth it. The pilot, Cat, was outstanding. She concentrated on safety and procedures while ensuring we had a great view. She was very professional. The only reason I did a 4 instead of 5 is because of the young ones attending to videos. There was more attention to their personal lives than their customers. Ours was ruined and we did not purchase even at a discount. Why purchase it if no guarantee that we would be in it. We would probably fly with them again.
What an amazing tour. Sarah was great at giving us key details about the area. I would definitely fly with them again.
Absolutely fantastic experience, one that we will never forget… led by an amazing pilot! Best of all tours!
Our tour was incredible! Our pilot was Karsen, who did a wonderful job pointing out sites. I have a fear of heights but couldn't turn up the chance to do the one hour tour. We flew doors off, and I felt so safe and the helicopter was so smooth that I was able to really enjoy the flight. Thank you so much for a wonderful experience!!
This was the best helicopter tour that we have been on. Joey our pilot was very informative and knowledgeable about the area.The weather was perfect the views were spectacular we were even lucky enough to see pods of dolphins. Doors off was awesome I highly recommend it.Rainbow helicopter tours is top notch when it comes to a tour of the Island. We just want to thank you for an awesome time in the sky we really enjoyed it.
It was really awesome Trip. Our Pilot GEOFF awesome and had an amazing tour with breath taking views. Kudos to him. Even though weather was crazy he did tremendous job and shows us every single spot without missing them especially Oahu waterfall, he took us there two time and had close view. Worth every penny! I recommend to choose Rainbow Helicopters for your Oahu tour. Thanks guys!
Amazing island views with informative information. LOVED doors off! Would highly recommend!
It was great from beginning to end. All of the staff were very professional, friendly and helpful in getting us on and off the helicopter. The pilot was excellent and we learned he was the youngest pilot, hats off to him and may he be a valued employee for you in the years to come.
I thoroughly enjoyed this trip and the professionalism of Rainbow Helicopters. Easy parking, easy directions/signage, easy check in. They make you put your phones in plastic carriers for safety but this did cause my phone to overheat. The headphones/mouthpieces weren't cleaned in between passengers which would have been appreciated (covid or not) because you have the place the mouthpiece so close to your mouth. It can get very warm if you're sitting up front (with the doors on). We had one door off which helped with air flow and I was still cooking in the front. We did this tour at the end of our trip which I recommend since you recognize landmarks and places you've been/visited; it gives you a stronger connection to the sites. I'd recommend the company and the one hour tour.
Served in the military for 20 years.. it brought back some memories and it was one of the most beautiful scenery flies I have ever had. The pilot was very informative and was able to tell us all about the island. I would do this over and over again. Hats off to the Rainbow company and their expertise pilots.
Great tour. Best pilot and guide. Worth the investment. Great way to see the areas you want to explore further from the ground on your time on this great island.
Enjoyed an early afternoon doors-off 60 minute tour of Oahu. Awesome experience. Pilot was very informative on the sites we passed on the island. I would highly recommend it. Will fly again next time we are in Oahu. Mahalo to Rainbow Helicopters
Excellent adventure! We took a doors-off 1-hour trip, it was very interesting experience. Though it can be very windy, my wife said she wanted to have a scarf to protect her neck.
This was an incredible experience. I really wish we did this first! Gave lots of ideas of cool things to do. We did doors off and it was awesome. I loved every moment! The views and seeing the island from the air was the best experience!
very good tour. nice pilot and very beautiful view!
This was such a wonderful view of the island! Paul was an excellent tour guide! It was amazing to drive around the island one day and then get to see all of those things again from the air. Such an incredible experience!
Excellent guides and view. Unbelievable scenery. Hard to explain in words. Each second or picture is worth a thousand words. You simply have to experience it.
Our helicopter tour was amazing! All staff were very kind. We had Paul as our pilot and he was very knowledgeable and made the tour so enjoyable. This was our first time on a helicopter and we felt very safe and would definitely recommend this to anyone!
First time in a helicopter and we went doors off, Sarah was our pilot, she was awesome and gave us a great tour. It was a little hard to hear and communicate, but once we got going we got the hang of it and it was nice to communicate with our pilot and ask dumb tourist questions. It was a very smooth flight for the most part, a few up and downs due to the winds, my wife is prone to motion sickness and she just took a Dramamine to help settle herself. Some things to know, you can tip your pilot after your flight once you get back in the office if you feel the need to, I did, if you have longer hair it will get tangled up pretty good and you have to leave your wallet in the office (I didn't like this as it wasn't locked). You can bring your cell phone, they provide a neck strap but my phone was very difficult to take pictures through the plastic, but my son had no problem so it was probably something I wasn't doing right. I would highly recommend this once in a life time experience, as we made life long family memories.
LOVED this tour! My first helicopter ride, doors off! So fun! Out pilot Geoff was great too. Thank you for the fun time and beautiful views from the sky.
Best tour in Hawaii. The views from the air were spectacular. Everyone we encountered from the time we checked in to the conclusion of the tour were friendly and professional. Our pilot Sarah was awesome. I would definitely recommend this tour and Rainbow helicopter
The flight was smooth, our Pilot, Sarah, was a great tour guide and the scenery and views were spectacular. Would definitely fly with them again.
Awesome experience! Highly recommend!!
We are so glad that we were able to experience Oahu from the Rainbow Helicopter tour! It was definitely a highlight of our vacation! Our pilot was great-she was able to share with us all of the sites that we were experiencing!
What an adventure! We thoroughly enjoyed the island tour. We were able to see things we never could have on the ground. Our pilot, Kat, was exceptional. Not only was she a great pilot, but very knowledgeable on the island sites. I really appreciated the fact she was able to keep my wife calm during the turbulent areas and make this a very memorable experience for both of us. The first thing we did when we got home from the vacation was to watch the video. Such a wonderful reminder we will have of this trip. I am so glad we chose NOVICTOR for our tour!!! Would recommend this tour to everybody, and will definitely take it again on our next trip to Hawaii!
This tour was awesome! My pilot Sarah was super friendly, full of cool information, and of course a great pilot! Hands down would recommend to anybody!
Unforgettable experience! We took doors off and it was the best decision. Our pilot Catherine told us a lot of interesting things about Oahu. Thank you so much guys.
It was a very nice experience! Sweet pilot. Breathtaking views.
Tour was amazing! Pilot was very knowledge of the island and landmarks and pointed them out to us during the flight!
Absolutely amazing!! Thanks Nicole for the ride of a lifetime!!!
Fantastic tour and there are so many views that you can't appeciate from land as you can from the air. Me and my wife have done a number of helicopter tours around the US, but this one is the best we've ever done. Highly recommended!
Absolutely loved the trip! Got amazing views and a great tour from the pilot. Highly recommend taking lots of personal photos/videos while you're up there!
What a fantastic way to see all of Oahu. Our pilot was great. Very knowledgeable and very skilled. Ground crew and drivers were lovely. Highly recommend this company.
Its was amazing and best Tour with out door Pilot experienced and Professional Really good time. We will come back again , Big Mahalo for All stuff help . Beautiful company , Thank You
beautiful ride I loved it. .without the awesome doors!!! :)
It was a beautiful ride! Its truly allowed me to see incredible sights of the island
We loved our helicopter tour! It was the best part of our trip.
The pilot and hubby talked me into doors off- how great it was, not scary at all, just the wind that made hanging on to everything and trying to take photos a little difficult. Disappointed that hubby got to see all the beach and sea and I got to see all the mountains and forest as that was the direction we were going- an idea would have been to turn at times though maybe this couldn't be done. The ground crew were exceptional! Nothing was too big an issue for them. I would love to do it again and fly over Diamond Head this time!
Our experience with Novictor was excellent, from the first call for information, through the booking process, to getting picked up and delivered, and instructions before the flight. And then the flight! Absolutely choose doors off! We felt very safe, don't let fear stop you! And the hour went by in a blink! Great tour with fun information shared. I want to do this again!
Our pilot was professional and knowledgeable. The whole experience was amazing and I'm glad we did it!
//////////
30 minutes & up. Propose in-flight! A private helicopter tour for two over Oahu is filled with romance. There is no better way to say "I want to marry you!" than from way up high in the sky in a private helicopter.
$825
& UP PRIVATE CHARTER
|
EXPLORE