Royal Crown of Oahu
$395.00
//////////
60 minutes.  Experience Oahu's most picturesque locations as your helicopter tours the South Shore, North Shore, Windward Coast, Ko'olau mountains, Sacred Falls and more. This royal ring Oahu helicopter tour gives you a front row seat to the island's best landmarks and attractions.
Description
Great skies reveal legendary landscapes, rainbows, sapphire waters, and world-famous attractions born of Hawaii's amazing empire on this royal ring Oahu helicopter tour. Experience the best helicopter ride Waikiki has to offer!
You'll begin this helicopter tour with expansive views of the Waikiki skyline, built upon the sugary sands of the esteemed surf beach of the Pacific. Rising to new heights, Diamond Head's tiara will appear before you, sometimes jeweled with rainbows, as it reigns upon the South Shore exercising its natural authority over The Gathering Place.
Rounding the million-dollar ridges, you'll pass Hanauma Bay, watching as gentle, sandy beaches turn to jagged volcanic cliffs carved out by the relentless surge of the rough waters below. For Hawaii waterfall tours, this is just the start of the magical sights you will see in this Royal Hawaiian tour.
On your way, you'll glide over top of the charming Makapu'u lighthouse to witness her radiant red beam outward to unknown ships at sea.
As you continue your tour up the island's Windward Coast, you'll see the storied Ko'olau mountains in the distance, quietly watching as you pass over Lanikai Beach – often called the most marvelous beach in the world – and the offshore sandbars and coral formations that make Kaneohe Bay one of the most picturesque places on Earth. This Kaneohe Bay helicopter tour is a terrific opportunity to see the sunset beach, Waikiki Beach.
Passing Chinaman's Hat, watch in awe as the majestic Ka'a'awa Valley unfolds before you.  As the mountains approach, you'll pull in close to see the impressive streams of Sacred Falls tumble to the lush rainforest below.
Then, as your helicopter ride hugs the coast of the famed North Shore for a North Shore adventure helicopter tour, hang on tight as you get up-close aerial views of the surfers at Banzai Pipeline and Waimea Bay.
Heading inland, you'll fly over the Dole Pineapple Plantation otherwise known as "The Pineapple Sea" for a Dole Plantation helicopter tour, and do a memorable slow-pass helicopter ride over Pearl Harbor and the USS Arizona Memorial to conclude your helicopter adventure of the royal skies and amazing vistas of Hawaii's crown jewel.
The best helicopter ride Waikiki has to offer
If you're looking for the best helicopter ride Waikiki has to offer, fly Oahu's most popular helicopter tour with Rainbow Helicopters.
Departures
This tour is available for daytime departures from Honolulu International Airport
Sights
Waikiki Skyline
Surf Beaches
Diamond Head
Makapu'u Lighthouse
Windward Coast
Lanikai Beach
Ko'olau Mountains
Kaneohe Bay
Chinaman's Hat
Ka'a'awa Valley
Sacred Falls
North Shore
Banzai Pipeline
Waimea Bay
Dole Plantation
Pearl Harbor
USS Arizona Memorial
Turtle Bay Resort
Kea Boat Harbor
Tour Notes
Please visit the FAQ
Add epic
add-ons

to your tour at checkout.

+ Private Tour

Book the entire aircraft for your group. Perfect for special occasions and celebrations.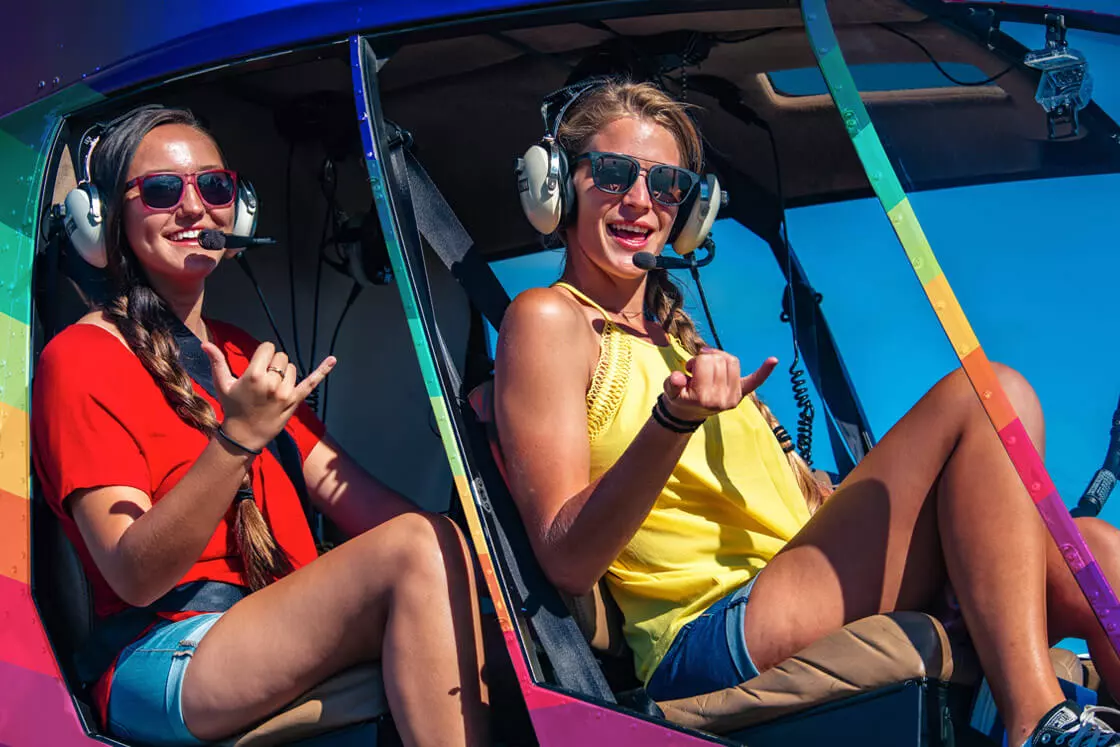 + Doors Off Helicopter

Experience the sights with an open cabin and enjoy amazing unobstructed views. Makes for great pictures!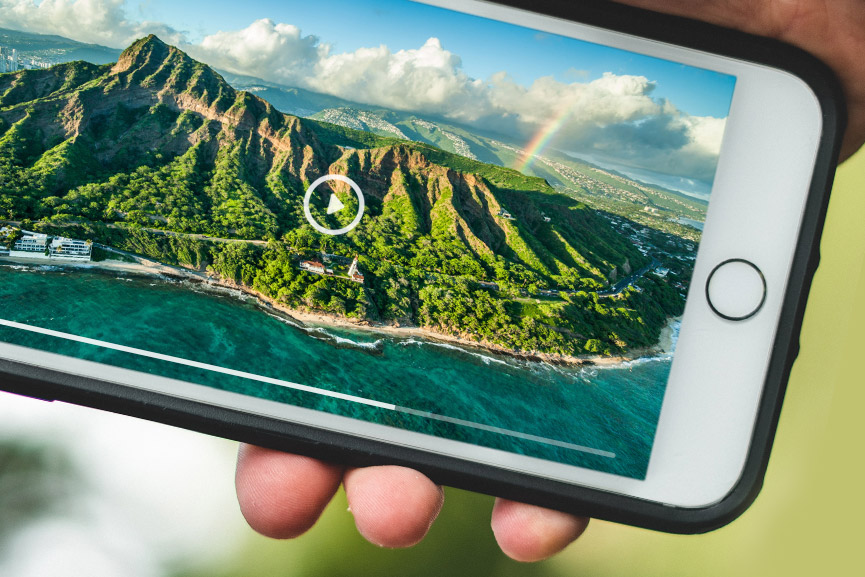 + Flight Video

Get a shareable digital video of your in-flight experience, available in multiple formats. Customize at checkout.
+ In-flight Photographer

Bring aboard a world class photographer to capture every magical detail of your adventure from start to finish.
+ Booking Protection
Protect your experience of a lifetime helicopter booking with our Booking Protection Plan.  Passengers may cancel or reschedule their flight for ANY REASON up to 24 hours prior to their scheduled flight and receive a full refund or no reschedule fees.
No documentation needed, just contact our reservations center at (808) 492-8706 to request the change. Coverage excludes Booking Protection Plan Fee. Reschedule and / or canceling one time only. Standard Policies apply to additional rescheduling / cancelations.
"A fantastic trip! I recommend the door off if you want to take photos. I was warned it would..."
A fantastic trip! I recommend the door off if you want to take photos. I was warned it would be a bit windy and cold but with the right clothes it was very comfortable. It was a thrill flying over the island to get a perspective of all the different landmarks and cities. We saw lots of items of interest including Sacred Falls (only able to be seen from the air), the valley where lots of films/TV series were shot, Pearl Harbour and the North Shore where surfing competitions are held. Karsen, our pilot was very competent and informative. If you want to get an overview of Oahu, this is the perfect way to do it.
It was expensive but it was well worth it. It seemed to be very safe and fun. If you can afford it, then go. Besides, EDDIE WOULD GO.
Amazing experience! Highly recommend it
Carson was an incredibly smooth pilot. Did an amazing job and was knowledgeable about the island. This tour was hands down the highlight of the week!
We had Kyle as a pilot and he was great and narrated the whole flight. We all were impressed with Kyle!! The only thing is we booked a doors off and last minute we were told one door had to be closed. If it was for safety reasonings based on guest weight we would understand but we weren't given a reason. Other than that, we loved it and I would definitely don't again!
Ein wunderschöner Flug mit unserem Piloten Oliver. Wir hatten traumhaftes Wetter bei unserem Door off Flug. Ein Muss wenn man auf der Insel ist.
This is a 5 star experience from start to finish! We flew with Tobias who was very knowledgeable and an excellent pilot! This is definitely worth it!
A must do experience while on the island.
It was a fun ride. Make sure to dress warm if you're doing doors off ride. The staff is super nice and helpful along the way. People with long hair NEEDS to put it in a tight ponytail, preferably low ponytail. The winds whips your hair. For your comfort and those near you, please! It hurts… even the bangs.
Pro- Fantastic views with a little history thrown in. Con- We paid for a 1 hr flight and got 46 minutes. No hover time. John Smith
It was awesome!!!!!!! Such a smooth ride. Wonderful staff. Harley, our pilot, was great, answered questions and explained everything we were seeing. Even got little history lessons. The views are absolutely breathtaking. I would highly recommend it, worth every penny. Will definitely do it again
Our pilot, Kyle, was an excellent tour guide. He was knowledgeable of the area & its history. He made sure that we saw all the beautiful areas of Oahu. We were all genuinely pleased with our trip!
We were a big concerned when we saw the dark clouds, but the staff assured us that with the bit of wind we were having it would not deter from our flight our views. Boy were they right! Starting with our wonderful pilot Harley explaining all we were going over and near. To my many questions. He was able to circle around a couple of areas so that I could get better pictures of the waterfalls and the AZ Memorial. If you want to see the island and not have to rent a car or take a ground tour this is the way to go and do it with the doors off the views are that much more.
We did the 60 minute door off tour and it was the BEST!!! Our pilot Oliver gave us a lot of detail of the island and also made sure we got some really good views to take picture of. 10/10 would recommend and would also try again !!!
Excellent experience and premium 5 service. We did a on our last visit and went with doors off this time. If you have never had the experience, you are missing out. It is a once in a lifetime experience that I would recommend you don't hesitate to do. Loved flying over the island over a 1000 feet high. Thank you so much Christopher
Thoroughly enjoyed the tour by air of Oahu! Beautiful sights, safely flown; courteous staff, knowledgeable; Highly recommend. Nice video of flight also.
Awesome time on the helicopter! Oliver was a great pilot and went out of his way to be personable and check on everyone frequently during the flight. Gives you a whole new perspective of the area! Oliver did a great job giving both sides of the chopper great photo opportunities! A must do!
What an awesome experience we had.
Kyle was so informative with facts that visitors want to know. He made sure to give us a heads up of his maneuvering and checked on my wife when she seemed a little afraid. He is a skilled pilot and personable. Upon arriving, there were several signs to help us get to where we needed to be. The staff was very helpful and did a great job preparing us for our flight. Great experience!
Tobias was an amazing pilot and the experience itself was spectacular. Thank you!
We had an absolute blast on the tour of Oahu! What a great experience! I would definitely recommend it.
Excellent, saw everything I wanted to see from the air. Highlight of my week on the island.
We spent 8 hours in a van "touring" the island on Wednesday. We spent an hour in the air on Thursday with Rainbow helicopters. The one hour in the air provided better views, context and content than any of Wednesday. I strongly recommend doing the one hour flight. If you can do "doors off," it provides so much more visibility at the risk of tangled hair (wear a hoodie, put the hood on!). Rainbow was very accommodating and did everything they could to make our trip safe and enjoyable. Our pilot Kerry was awesome, making sure we were comfortable, knew what we were looking at and also made sure I got the opportunity to get some priceless pictures. Excellent flight, awesome memories and fantastic pictures. Thank you Rainbow Helicopters (and especially Kerry!!!)
Loved everything about it . Got to go open door makes all the difference.
Wonderful flight with a fantastic pilot ! Tobias gave us many explanations, showed us the most beautiful place. The 60 minutes tour is breathtaking and an unforgettable experience with such a great pilot… Thanks a lot, Tobias
Excellent experience!!! I would definitely recommend it to put on your vacation to do list!!
Great experience. Our pilot Riley did a great job.
Oliver was very professional and genuinely concerned about his passenger's experience. My husband and I truly enjoyed our "doors" off tour of the island. It was amazing!!
We did the Royal crown of Oahu on Saturday, October 8th and our pilot was Rylie. Fantastic trip. First time being in a helicopter for us, and with the doors off, it was even more spectacular. Felt safe the entire trip, and our pilot did a great job pointing out the sites. It's a must do trip. Next time we are in Hawaii it will be on our list to do again.
It was a breathtaking experience and view that only a helicopter ride could provide. The pilot was informed and engaging. I would recommend this experience to all wishing to view and circle the island from the air in 1-hour.
Amazing! Had the front seat and probably the best view! Would recommend doing the one hour tour!
AMAZING!! Perfect in every way. Josh our pilot was the best!! He was friendly,funny and very knowledgeable. I highly recommend a Rainbow Helicopter tour. Thanks Josh for the memories my family will treasure for a lifetime.
Great experience! Definitely something to do. The hour long flight was just long enough and the pilot, Kyle, was knowledgeable and personable. Having the doors off is worth it for the unobstructed views and experience.
Amazing!! Thank you for being able to accommodate a last minute seat. Pilot was amazing.
Amazing last minute decision and definitely worth it. The staff was very attentive and friendly. Our pilot Riley did an exceptional job ensuring we got the most out of our ride. Definitely a highlight of our trip. Mahalo!
What a great experience. The pilot was well trained and experienced and very knowledgeable of everything we flew over. Highly recommend.
Amazing doors off experience around the island with my daughter! Harley was an AMAZING pilot AND tour guide! Many kudos to Harley!
Thank you for the tour. Doors off was not scary at all but with better view. The pilot Oliver was good.
We loved the tour. Matt was great! Views were fabulous. Doors off was great choice. We had a wonderful experience!
Fantastic doors off experience even though we had some clouds and rain. Our pilot Kyle was pleasant and very knowledgeable. This has become one of our top tourist attractions we have done.
Awesome experience. Doors off excellent for pictures!
We went for the full loop of the island and it was definitely the highlight of our holiday. Oliver was a great pilot doing some rather fancy moves and was very knowledgeable.
Love this tour definitely worth it, not just enjoy the magnificent mountain/beach view also the pear harbor(recommend going to pearl harbor museum before this) plus the pilot(Joey) is so friendly, more than a tour guide, sharing the memory of this land. Thanks so much, we definitely recommend all my friends doing this when they are here.
Our pilot Joey was amazing! We saw all of the beauty Oahu has to offer from the air. Flying over Pearl Harbor was especially cool to see.
The ride was amazing! Our pilot, Corey, was excellent. He highlighted the best sites but otherwise let us enjoy the view! Highly recommend!
Was the best thing I've ever paid for/done in my life!!! Joe, our pilot was fabulous!!
Amazing tour! Highly recommend taking the "doors-off" option. Our pilot was professional and informative. Cory did an amazing job of ensuring a safe/smooth ride, while also pointing out the sights. Props to the ground crew as well. Best way to see Hawaii! Mahalo!
We had an amazing time with Kyle. We even saw a halo rainbow 100% recommended
We are 2 Aussie couples who took to the skies with Josh from Rainbow helicopters a few days ago, he was very knowledgeable and gave us a great overview of the island. It was the highlight of our holiday and will definitely do the Rainbow flight again even though I suffered a little motion sickness right at the end it was so worth it
It was wonderful, seeing the island form the air is a great experience. My husband has been wanting to fly in a helicopter from a very young age, at 63 years of age he has finally had the experience. Josh, our pilot was very knowledgeable and an awesome pilot.
Awesome once-in-a-lifetime experience getting to see Oahu from the air. I surprised my partner with a doors off 60 min tour and he was so happy! We also felt totally safe and secure even with the doors off- it was exciting but not scary at all! Our pilot was great and even swung in a bit closer over the USS Missouri at Pearl Harbor for my partner to get some good photos after he told him his father was in the navy in WWII. Totally worth it and I hope we get to do this again someday!
Our pilot, Harley was great. He was knowledgeable about the sites, good mix of interaction with time to take in the amazing views. Doors-off made the whole experience memorable. Highly recommend this tour.
We had a really wonderful flight with Harley. The weather cleared just in time for us to do our complete route as planned & we couldn't be happier. We would absolutely take this tour again. :)
My family of four were totally over the top with excitement and said everything about the helicopter tour was amazing and a must do with doors off. The only regret was : I had prepared an envelope for a tip ( as no one took their wallets ) based on what I had read on line to give to the pilot. Big mistake , as we would have given the pilot 3 times the amount . Because he made the experience wonderful. When I get back home and settle- I will be mailing Reily a check - Thank you Reily for being part of my family's memories . this was better than a five stars and from what they told me.
Fantastic, Jake our pilot was very knowledgeable of the area and just a really nice bloke! The young support staff were all very nice to talk to. Would definitely recommend Rainbow to our friends.
It was an amazing experience. Our pilot was great.
Awesome ride. Harley kept the helicopter smooth. He provided great info, while still allowing us just to enjoy the ride. Truly amazing sights. Only complaint I have is that there was no confirmation/final invoice provided or sent following the trip.
Amazing service, Fantastic one hour flight with Corey. 6 people open door helicopter- highly recommended. Very professional. You will not regret it. Mahalo Pele
Most amazing experience ever. Our guide, Kyle, was very knowledgeable and entertaining. You definitely see the island in a way you couldn't otherwise. We felt completely safe, even with the doors off. This was the highlight of our trip and we haven't been able to stop talking about it or looking at our pictures and videos!
Awesome staff and a great experience!
Nothing but the best service with rainbow. Kyle was awesome as our pilot. Staff was on point. Best experience on the island by far. MAHALO!!!!
Booked a 6 person and a 4 person helicopter in July of 2022 for our group of 8. Both Flights were full of breath taking views and plenty of amazing photo opportunities. Pilots were very informative and gave us fun facts about what we were seeing. Your seating arrangement is determined based on your weight and balancing the helicopter, however... there really is NO bad seat in the bird! Mahalo Rainbow Helicopters for our awesome flights!
Awesome tour great equipment and staff!
Fantastic opportunity to see Honolulu from a different perspective. Rainbow were professional and their communication was concise from enquiry to flight. Only wish we had arranged the flight earlier in the trip to allow time to explore some great locations from the ground. Our pilot Kyle was awesome. He was engaging and provided lots of background as we navigated the island. A doors off flight is a must!
We had an amazing time on this ride. We had to land the first time shortly after we took off due to bad weather, but the entire team was very communicative and pleasant about it. We took of for the second time after 30mins or so, and our pilot Kyle was amazing! He was very knowledgeable and respectful and made us feel very comfortable. I would HIGHLY recommend using this company for an amazing helicopter tour of Oahu!
Fantastic experience - clean, professional, attention to safety. Our pilot was phenomenal, very knowledgeable and entertaining. Great experience overall and would recommend them highly. We are a family of 4 with 2 kids that are 6 yrs old and they enjoyed it!
Great tour and great pilot. It was a truly unforgettable experience. The only thing we didn't like was that we booked a flight with closed doors but we were put together with a couple who booked open doors and therefore their door stayed open.
Fantastic, breathtaking tour! Our pilot, Harley, was excellent-very knowledgeable and friendly! Would definitely recommend to anyone!
Excellent experience. Conveniently located next to the airport, easy parking, comfortable waiting area, friendly staff to greet you and get you ready, amazing pilot, incredible sights all around the island - perfect trip all around!
Josh was very knowledgeable. He had a wonderful sense of humor, which made the trip. I would definitely recommend Rainbow. I am making a coffee table book of our trip. Is there anyway you may email a picture of Josh, please.
Amazing tour. Our pilot Oliver was fantastic and would highly recommend.
Couldn't stump the pilot. Very knowledgeable. Co pant is very professional. Would recommend to anyone- doors off for sure !!!
It was wonderful! Views amazing from up there. You get more of an idea what island really is. Pilot and team were great too! If you debating between tour operators this is a great choice. We had a wonderful time. Thank you!
My wife and I have been living on island for 2 1/2 years which made this experience even more amazing. The helicopter tour was fun and the sights were breathtaking. We saw all of the places we know and love from a new perspective. This helicopter tour was definitely worth the money.
Our pilot Harley was kick ass & the entire experience was smooth! Thank you so much!
We had a great time. The weather was perfect and the flight was smooth. The only constructive criticism is to have more narration from the pilot on history and more details of key sites throughout the flight. The pilot did point out some locations but a little more insight and details would be have been helpful. There was lots to take in from a passenger's perspective, and the helicopter had a time schedule so going slower or hovering to create time to ask questions was not realistic. Overall, a great time and would recommend this trip to anyone who has not seen Oahu from the air.
It was a spectacular trip, highly recommend anyone who is thinking about taking a helicopter ride. Josh our pilot for this trip was amazing, very knowledgeable, courteous and professional. Definitely would recommend using rainbow helicopter for an amazing experience.
Our tour and our pilot, Harley, were absolutely amazing! It was so beautiful. Harley was so friendly and knowledgeable. It couldn't have been any better! Mahalo!
An overall brilliant experience. Oliver, our pilot, was very informative on all things scenic Ouha has to offer. A must if visiting this amazing island to get a true reflection of it's natural beauty. Thanks you very much Guys!
SUPERB, EXCELLENT, AMAZING - our pilot was Harley, he was so knowledgeable about the island. He took us over the beautiful blue seas & mountains, finishing with a flight over Pearl Harbour, really a must for anyone's trip to Honolulu. Thank you Rainbow Helicopters (Harley) & the staff for a special trip that we will remember always
What a fantastic experience, Harley took us up on our flight and was so knowledgeable and showed us so much of the island. Will be one of those memories that we will always cherish. Highly recommend to anyone. Thank you for a beautiful tour
Great experience ever. With the doors off. Thank you Josh for giving us a wonderful tour of Hawaii
Simply outstanding! The entire group had a ball and the pilot was as smooth as peanut butter on velvet. We'll be talking about our tour for years to come. Thanks for an outstanding experience!
Fabulous! We had doors off. Rainbows followed us the whole way around. We got lucky and had a small helicopter so we were the only passengers, and I got to sit in the front! Smooth ride, partner gets motion sickness but wasn't affected by it for this. I'm a nervous flyer and I was fine. Wore a long sleeve tee, it was only a little chilly up there, apparently about 5 degrees colder than on the ground (they said). Highly recommend.
We flew with Riley. He gave an awesome tour. Everyone was very professional and friendly
After searching numerous helicopter companies, this was one of the highly rated companies that could accommodate a group of four. The only frustrating aspect I dealt with was after using the companies online booking. As I completed all of the information and paid for the booking. Then I received a text that the timeslot that I just paid for was not available. After some back and forth texting and phone calls, they were able to accommodate us one hour earlier than desired. This was okay but caused some rushing around on our part to ensure that we got to the facility in enough time. Once there, all of the staff was pleasant and helpful. Our pilot, Joey, is the only native Hawaiian pilot. I thought that Joey did a fantastic job flying us around and provided great information about the island and all of the landmarks. This was truly a once in a lifetime experience. As someone who does not typically splurge on purchases, I am glad that I chose the 60-minute flight. I believe it was well worth it.
Amazing tour. Highly recommend. All the staff were very pleasant and professional. Our pilot, Harley, was great.
Had we had to cancel due to Covid. The refund process was easy and quick.
Awesome views, great information. Glad we did it
We had a great flight and enjoyed the scenery! The Pilot was extremely knowledgeable regarding the sites! It was spectacular!
Magnificent! Glad we did a full hour. Been in a lot of helicopters. Pilot was excellent. Views were terrific. Safety measures were professional.
Our tour of the island was amazing. Riley did a great job!
Absolutely amazing tour around most of the island, with interesting factoids along the way. Our pilot was an absolute pro and made us feel very comfortable. 100% recommended and would do again!
Thank you all for a better than expected experience for Maddie, Derek and I. We are here on a Make A Wish trip. The helicopter tour was our gift to her since Make A Wish doesn't allow helicopter rides for insurance reasons. She is a Stage IV Hodgkin's Lymphoma survivor. She was diagnosed late February 2021 and went through 6 cycles of chemotherapy. She completed her treatment in July of 2021. She wants to go to college and become a Marine Biologist so what better way to to see the most spectacular ocean views but in Hawaii. We have only been here in Honolulu a few days and have seen the most majestic views. Josh entertained us with his knowledge of the island and surpassed all expectations with our sunset tour.
Amazing time in the Air with Kyle! Explained so much about the island and aviation! Super easy to hold a conversation and enjoy the ride at the same time! 100% would go again!
Helicopter flight was amazing and the pilot was very knowledgeable about the island. The staff made everyone feel welcomed from the moment you stepped inside the doors and the wait really did go by fast, and the helicopter went by even faster
Great flight all around and great customer service. Our flight started with a greeting by the Crew at the reception desk and a quick and simple safety video. Then a quick ride out to the aircraft where our pilot Riley already had the aircraft running and waiting for us to load. The flight was awesome to say the least. Being an old Army Aviation mechanic and door gunner from Afghanistan it brought back some great memories to fly with doors open and feel the wind filling the aircraft! Riley kept us at a nice smooth level flight climbing to about 2500ft for one portion as we went around the whole island. He called out the sites and even circled around so people on the outside got a first hand view of the major sites. That was the fun part as the aircraft banked about 30 degrees in a very controlled 360 degree turn. Any tighter than that and my fiancé woulda crushed my hand!!! Everyone gets a headset with mic and they worked fine but only me and my fiancé talked during the flight. This was her first helicopter flight so she was a bit nervous but the jitters wore off toward the end when she talked to the pilot. Riley was very confident, managing the aircraft, talking to other aircraft and us as well. He knows his stuff for sure. Overall it was a great time and worth every penny. I'd definitely do it again and highly recommend their service. Thanks for making the whole experience a great time.
It was more than we had hoped for! Oliver was not only an excellent pilot but was very personable and knowledgeable about island history.
Riley was great! All staff was awesome!
It was a highlight of my trip to Hawaii. I had already rented a motorcycle and toured from the ground. It was nice to see it all from the air. Perfect weather day and awesome front seat view.
The ride was incredible and the staff are so friendly. Pilot Corey was excellent and really gave us a phenomenal experience. It was safe and we saw so many sites. Everything was beautiful and ran smoothly. I would highly recommend the Royal Crown of Oahu tour to everyone. You won't be disappointed.
Our group of 4 had an excellent time on the 60-minute tour around the island. Oliver was a great pilot and tour guide. I highly recommend this tour, a must do!
This was a highlight of my vacation. Our pilot was wonderful!!!!
We were seriously considering booking another helicopter tour soon as we touched back down. Cory was amazing! Was wonderful to find out our pilot lived not too far from us for 10 years. Makes the experience that much more personal and he was great in giving us facts and tips during our flight. Honestly the helicopter tour was the highlight of our trip! Highly recommend rainbow helicopters to everyone who makes a trip to Hawaii.
Amazing experience for my wife and I! I would highly recommend it
This was the most amazing experience, Joey our pilot was a born and bread Hawaiian from Oahu, so had lots of knowledge about the Island. Everything was seamless, from check-in to the safety procedures to the actual flight. My only suggestion would be to charge $20 more and give passengers the flight recording. I would definitely recommend Rainbow Helicopters, it was wonderful.
Was amazing and the best time
Getting a bird's eye view of the island was the best way to start our vacation. Josh was a great pilot he didn't make any sudden movements of the R44 chopper. Was such a great choice to do the doors off flight. Beautiful.
Cory did a great job of showing us the sites of Oahu. The ride was smooth, the chopper was well equipped, and importantly safety was first rate. Well done guys. Worth the dollars.
Our pilot Oliver was so amazing and made me feel better because I was scared ****less. Beautiful views and loved the extra information you got whilst flying around. Would recommend
Had a great time. A little windy but we had a great pilot. Oliver great job. Thanks again. Rick and Tracy.
Our helicopter tour was fantastic!! The views were amazing, and we can't say enough good things about our pilot, Oliver!! He is great! From Waikiki to the North Shore to Pearl Harbor, we will never forget it!!
Great trip. Got to see so much of Oahu from Honolulu to the east shore to the north shore and down to Pearl Harbor. Beautiful country. Waterfalls were awesome. Highly recommend
Booked last-minute with no hassle. Instructions were clear and concise as to where to show up and begin the tour. All staff, including Kyle (our pilot), were incredibly professional in topping off our Hawaii family vacation. We enjoyed every minute of it. If you're wondering about taking your littles on this ride (in my case, a 4 YO toddler and a 1 YO), Rainbow was more than accommodating and they had a blast. Both ended up napping during the tour which any parent would appreciate. Thanks again, Rainbow! Great value and experience.
Excellent! Very fun & cool pilot! Harley gave us a good tour of the island.
Our grown daughter lives on Oahu. This was our first trip to the islands and our first helicopter flight. We had a great experience. Our pilot was informative and fun.
Absolutely such an amazing way to experience O'ahu! One of the most memorable parts of our trip. Cory was calm, knowledgeable, very friendly, and flew around our wedding venue when we pointed it out. Doors off is not nearly as scary as we imagined. Rainbow Helicopters is HIGHLY recommended.
Joey was absolutely the best! So fun and informative. Our flight was amazing, going down near the waterfall was thrilling. None of us had been on a helicopter. We felt completely secure, and would recommend the tour to anyone!! Completely made our trip!
An amazing experience not to be missed!!! Very professional service. Harley, our pilot, was excellent and guided us around the key sights. A family trip we will never forget.
EPIC! Went doors off and the views were absolutely incredible, what an experience. Special mention to the staff who were friendly and professional throughout the trip. As well as the pilot, he made me feel safe as soon as I stepped onto the helicopter and so extremely knowledgeable. Great way to see this beautiful island. TOTALLY recommend this company. Liana
Best thing we ever did in our life! Great experience. The organizers were very professional and the whole things went without the smallest glitch. Our pilot, Oliver, was a great company too. He was happy to answer questions and would give us relevant info during the ride.
The pilot and the flight itself was great. He was professional, fun, knowledgeable and entertaining. He made the tour a blast!! My husband and I absolutely loved seeing the island from a different perspective. My review isn't to be negative about the flight, but to be transparent about what to expect. After booking the doors off flight online and being told one of us would be in the front and the other would be in the back, we checked in to find out that we were on a bigger helicopter with another group. We walked into a debriefing room where we put on safety vest packages around our waist, received goggles for those who were on the outer seats, and leave the items not allowed on the flight. We arrived at 2:00 like recommend, with about 10 minutes of brief, checking in. After an hour wait, 2:58 we left on a golf cart to meet the helicopter. It was a very tight squeeze in the back. My arms were borderline pinned to my side with a smaller indivual (seat 4) to my left and my husband (seat 6), who is a fairly big guy on my right. However when the second customer decided to move his son last minute to the front, the cushion for seat 4 in the back was taken out so that it wouldn't fly away in the air. Which left me, in seat 5 (Second in from the right) with way more room thankfully, but then half my butt on the cushion and the other half without a cushion, the entire flight. This, as well as the seat location, made it very challenging to photograph anything. However the pilot made sure to turn in a way that gave me a chance to see the view. Having the doors off made it exciting, however the customer to my left, his back cushion was pulling up from the wind so it pulled my left side up as well. This was very uncomfortable and left me sore the following morning. However I didn't really mind it since our pilot was communicating back and forth about the island, and answering our questions. I would highly recommend a private flight, especially for broader men, and consider doors closed to have all the cushions on the helicopter. The windows were clean and could be photographed through, however I am not sure about having the same visibility as doors off.
Escort that drove us to helicopter was not clear with her directions. Pilot was very knowledgeable and professional. Everyone else was great. The whole experience was unforgettable. Thank you!
We were blown away by the incredible views and vistas. Our Pilot was very knowledgeable and friendly. We truly enjoyed the one in a lifetime opportunity. Thanks!
The tour was beautiful. Our pilot, Josh, was amazing; especially with take off and landing, it was smooth. The only reason why I didn't give 5 stars because they did not give us any opportunity to take any picture in front of the helicopter. We literally had to beg for ONE picture. Yeah we got pictures of the island from top but what about our pictures in front of the chopper itself?? That itself is a memory!!
Una experiencia inolvidable. Espectacular y espectacular el servicio y la atención de todos los empleados desde la llegada hasta la ida. Nuestro piloto fue el mejor. Nos hizo sentir muy seguros, fue muy cordial y profesional en todo. Muchas gracias. Los recomiendo al 200% y de seguro volveremos. Gracias.
One of the best helicopter tour companies in the world. Woman owned and operated. Owner is one of the pilots. Total professional operation. From safety briefings, personal flotation devices, line staff, check in staff and pilots. I've been a professional aviator for many years and this one safe, efficient great operation. 5-Stars !
One of the best experiences My husband and I did! It was so amazing getting to see the island at different views. It was a little windy and raining at times but still came out with beautiful photos!
Excellent experience and loved our pilot
We had a great time!!! Josh told us so much about the places we were seeing. Loved seeing Hawaii from the air!
was a great heliride. our pilot riley is super cool. we loved his decent and easy attitude.
Josh was a great pilot. Wish the video was more focused on just us and not the others in the tour.
We had a terrific time on our tour and our pilot was great telling us what we were seeing below. Highly recommend
Love Rainbow, they are like a well oiled machine! Easy and convenient online booking. Ground staff is professional and friendly. Corey, our pilot is super knowledgeable and friendly. The ride was smooth and comfortable and he pointed out landmarks. Airfield easy to find and plenty of free/safe parking. We did the doors on because this was our first time, next time doors off!!
My wife and I visited O'ahu for our honeymoon and booked the hour long Royal Crown Rainbow Helicopter Tour and it was one of the best experiences we could have imagined! Everything about the experience exceeded our expectations and then some. Our pilot was super friendly and did a great job pointing out and providing bits of information about all the interesting sites on the island. The Odesza-style music playlist through the headset was an added benefit perfect for an island as beautiful as O'ahu. Would absolutely recommend Rainbow Helicopter to anyone interested in a breathtaking arial tour of Hawaii's capital island!
My 7 year old twins and I had an unforgettable tour with Karsen. Good details and history of significant places and the views were amazing.
Picture perfect day with a knowledgeable pilot who was happy to engage in conversation. Facility was very clean and modern. Would recommend the experience to anyone who may be on the fence
Joey was an outstanding pilot! We had the best time!
Great family fun. Everyone had a blast!
Really enjoyed our Royal Crown of Oahu flight with Karsen! Such gorgeous and varied scenery with a little information about the places we were seeing. The left rear window was excellent for doors off photography. And super scenic places were viewed from both sides to ensure everyone on the flight could see too :)
This was one of the most thrilling things I have ever done. We saw the world from the perspective of a bird. Totally different than the world in an airplane with small windows to the outside. We rode with no doors and felt 100% safe - slightly windblown, but that's to be expected. And you could see the views without the glare of the glass. I would absolutely recommend it without the doors on. The sound dampening headphones were great - we could still hear the beating of the rotors, but it was so muted you could barely tell. The ride was totally worth the cost. The crew was professional and very helpful. They even took a video of our experience - what we saw and then our reactions. Would absolutely do this again!
Awesome time! Our pilot was very friendly and knowledgeable. It was amazing to see the whole island from up above. Worth it!
The Rainbow team were excellent , great time
We had an amazing time on our helicopter tour of Oahu with Rainbow Helicopter. Our pilot, Bastian was very knowledgeable and I felt completely safe. The registration process, safety briefing and process to go out to the airfield was well organized and thorough. I will definitely be a return customer the next time we are on Oahu! Highly recommended!
Absolutely wonderful time. Pilot was great and very informational. Views are stunning. Everyone was so friendly and you can tell they love what they do. Highly recommend!
An amazing ride. Saw so much of Oahu. Sarah is a wonderful pilot and did a great job explaining what was coming into view and why it was important. It was the smoothest helicopter ride I have ever been on. Thank you
This doors off flight is a must do. If you think Hawaii is beautiful, you haven't seen the real beauty until you take this flight. Worth every penny. Bastian, our pilot was awesome! Extremely skilled and knowledgeable. The entire staff were pros. Treat yourself to this!
What an amazing breathtaking experience! I wish the camera would capture the sides of the helicopter as well! Loved watching the video and reliving it again! Highly recommend! Def doing it again!
Adam was an amazing guide/pilot and very knowledgeable of all the sights. There are not enough words to describe how great this experience was. The entire staff is friendly, helpful, and professional. The atmosphere while waiting was chill yet informative which greatly helps ease any anxieties you may have about flying. If you can, splurge and do the one hour tour. So worth it!
The helicopter tour was Awesome. The views from the sky to the beach and Diamond Head was Spectacular,Gorgeous. Pilot was describing every scene and places. Very Informative.
Excellent tour! Amazing. We took the 1 hr tour!
Professional, accommodating, with no issues other than rain! Recommended to friends already.
It was a great experience especially on Christmas Day. My 11 year old son conquered his fear of heights with the amazing piloting of Corey. Thank you Rainbow Team for making this once in a lifetime experience happen.
There's truly nothing like seeing the island from above, flying over places you've adventured and seeing rainbows in the sky!
Super fun experience. Awesome way to see they whole island
Awesome! A must do! It is the Best way to see all of Oahu! We saw humpback whales, 2 lighthouses, sacred falls, etc. truly wonderful experience!
Out of all the things to do in Hawaii this is a must !!! The views were Stunning! The ppl were friendly. I was just not aware we would be sharing the helicopter with other ppl but it's was worth it!
Awesome experience doors off! Riley our pilot was fantastic!
Very well organized, we had a blast with Riley, went doors off and thats the only way to do it, only 5 degree difference.
A MUST DO if you visit Honolulu. The views are to die for. I would recommend to do it with the doors off, to get the full experience.
We had a fantastic time and were blown away with the unbelievable experience. We are so happy we did it. Highly recommended to anyone visiting the island…and make sure you go DOORS OFF!
This was our second helicopter tour while in Hawaii, so it was hard to not compare the two. The check-in process, option of doors off, and the views were outstanding. We had a few suggestions: the pilot to talk more during the tour as we were wanting to know more details and the history about the island, spending just a little more time at the big scenic areas that were advertised (ie waterfall) especially since we were unable to view the entire tour due to cloud coverage. Overall, the tour was good and would still recommend.
Fantastic!!! Our pilot was great and took us to all the most beautiful places!!
Had a fabulous time on our helicopter tour. Absolute highlight of our trip!
Excellent tour. Toby was great, the ride was really smooth and comfortable. Not a rating on the tour, but if you have a larger group and going up with the larger helicopter you might not get to see everything from the center seats. To rectify this you should take the doors off to have unobstructed views. But the tour and everything itself was fantastic.
Great experience. Excellent pilot (Sarah) Awesome ride Loved every moment
Very good way to start a vacation! You'll get all the highlights of the island and a little local history! Well worth it
The employees and flight was all spectacular. Very smooth flight and knowledgeable pilot. Thank you for the wonderful experience.
The helicopter ride was awesome! Even with doors off it felt so safe and allowed me to just enjoy the spectacular views.
Amazing! Such a great experience
The tour is great. Corey did a great job talking to us and fly us home safely. The experience is perfect and exactly what I expected. I love how we fly close to the fall; it's a little scary but still a lot of fun.
Really awesome tour! Our pilot, Sarah, was also great
Amazing experience. Josh was a great pilot and guide. The tour of the island should be on everyone's bucket list for a visit to O'ahu. Doors off is really the way to go. Be prepared to take pictures of a lifetime!!
Rainbow provided us with an unforgettable experience!!! This was, by far, one of the coolest things we had the chance to do in Oahu. The staff was incredibly friendly & informative. Definitely add it to your bucket list!
Fantastic trip and beautiful views. Our pilot Sarah was amazing and super friendly. I feel like I would have really missed out if we wouldn't have taken the helicopter tour of the island.
The one-hour, door-off tour met and exceeded expectation! The service was wonderful. All of the staff were friendly, courteous, and professional. The helo and gear are top-shelf. I highly recommend Rainbow Tours.
Excellent aerial view of Oahu. All staff very professional and super friendly. Our pilot Josh was very informative. Recommend
Had an amazing time with Joey at the controls!! Everyone pre-and-post ride were professional and really seemed to enjoy their jobs. The flight was just what I needed to get an overview of Oahu - done a lot of driving around but with a "birds eye" view I found my bearings! Highly recommend for any visitors - did open door and the ONLY time I felt like I needed a "grab par" was going over the beautiful waterfall as Joey got up close!! Fun Fun Fun!
Joey was extremely knowledgeable and was great for our trip around Oahu. Amazing overall and would highly recommend this tour!!!
Matt was great and we would definitely recommend a ride with him to friends and family. We rode 60 min doors off and it was incredible.
We travel a lot worldwide. And I have to say that this was one of the most fantastic experiences we've ever had. We booked the full hour tour, doors off. The ground crew was great in preflight. The helo was great and comfortable and the pilot, Sarah, she was great. Pointed to all the important sites and gave us a very comfortable ride. And I should know. I'm a pilot and I know she had to deal with some winds, but she knows her route very well and we had a very smooth ride. The route was well planned and we got to see everything. The views were amazing. The videos and pictures we took are incredible. And Sarah made it a point that both sides of the helo could get good shots. It was our most memorable experience of our Hawaiian trip. I definitely recommend Rainbow Helicopters. 100%. Thank you for making this part of our trip very memorable. I highly recommend them.
We had an amazing 60 min flight around Oahu. They were efficient and made the whole process so easy. Our pilot, Josh, did a great job, and the flight was smooth and beautiful. Would highly recommend Rainbow!
Sarah was amazing! Tour was amazing and well worth the money!
Fantastic trip! Pilots were skilled aviators and provided great information about the island. Aircraft and equipment were comfortable. I would definitely fly with them again. My only negative comment is that we were supposed to be in one large helicopter, but they rescheduled us to 2 small helicopters (which was fine), and then wanted to charge us extra for a video of the second trip, so we ended up with only one video.
I never thought I would go on a helicopter tour, much less in Hawaii, so when the opportunity came up I took it, and I'm so glad I did! The views were stunning! I am afraid of heights, but I was so in awe of the beauty of Hawaii that I didn't even think about how high up we were and the fact that there were no doors on our helicopter! Our tour guide, Cat, was great and very friendly. I would definitely recommend this tour to anyone!
Very professional pilot and staff was wonderful. The view was just breathtaking. Would recommend the doors off experience to everyone
Staff was great, Joey the pilot was even better. Very personable and knowledgeable. I would highly recommend Rainbow and Joey
I had the opportunity to take my wife and kids (11-19) in a helicopter that fit seven of us comfortably (including the pilot), with each seat having a spectacular view! The pilot made us feel comfortable with his skills and abilities after sharing his long years of service in the military and flying many missions. The pilot did a great job of pointing out all of the landmarks along the way, making us laugh throughout most of the flight.
Amazing experience with Joey as our pilot! Very informative! Thank you for the awesome experience!
Very good. Always like going up into to the air on the helicopter. Kinda windy the day I went and Karsen handled the helicopter like a professional.
We booked the Royal for a full island ride and it was well worth it. The pilot, Cat, was outstanding. She concentrated on safety and procedures while ensuring we had a great view. She was very professional. The only reason I did a 4 instead of 5 is because of the young ones attending to videos. There was more attention to their personal lives than their customers. Ours was ruined and we did not purchase even at a discount. Why purchase it if no guarantee that we would be in it. We would probably fly with them again.
What an amazing tour. Sarah was great at giving us key details about the area. I would definitely fly with them again.
Absolutely fantastic experience, one that we will never forget… led by an amazing pilot! Best of all tours!
Our tour was incredible! Our pilot was Karsen, who did a wonderful job pointing out sites. I have a fear of heights but couldn't turn up the chance to do the one hour tour. We flew doors off, and I felt so safe and the helicopter was so smooth that I was able to really enjoy the flight. Thank you so much for a wonderful experience!!
This was the best helicopter tour that we have been on. Joey our pilot was very informative and knowledgeable about the area.The weather was perfect the views were spectacular we were even lucky enough to see pods of dolphins. Doors off was awesome I highly recommend it.Rainbow helicopter tours is top notch when it comes to a tour of the Island. We just want to thank you for an awesome time in the sky we really enjoyed it.
It was really awesome Trip. Our Pilot GEOFF awesome and had an amazing tour with breath taking views. Kudos to him. Even though weather was crazy he did tremendous job and shows us every single spot without missing them especially Oahu waterfall, he took us there two time and had close view. Worth every penny! I recommend to choose Rainbow Helicopters for your Oahu tour. Thanks guys!
Amazing island views with informative information. LOVED doors off! Would highly recommend!
It was great from beginning to end. All of the staff were very professional, friendly and helpful in getting us on and off the helicopter. The pilot was excellent and we learned he was the youngest pilot, hats off to him and may he be a valued employee for you in the years to come.
I thoroughly enjoyed this trip and the professionalism of Rainbow Helicopters. Easy parking, easy directions/signage, easy check in. They make you put your phones in plastic carriers for safety but this did cause my phone to overheat. The headphones/mouthpieces weren't cleaned in between passengers which would have been appreciated (covid or not) because you have the place the mouthpiece so close to your mouth. It can get very warm if you're sitting up front (with the doors on). We had one door off which helped with air flow and I was still cooking in the front. We did this tour at the end of our trip which I recommend since you recognize landmarks and places you've been/visited; it gives you a stronger connection to the sites. I'd recommend the company and the one hour tour.
Served in the military for 20 years.. it brought back some memories and it was one of the most beautiful scenery flies I have ever had. The pilot was very informative and was able to tell us all about the island. I would do this over and over again. Hats off to the Rainbow company and their expertise pilots.
Great tour. Best pilot and guide. Worth the investment. Great way to see the areas you want to explore further from the ground on your time on this great island.
Enjoyed an early afternoon doors-off 60 minute tour of Oahu. Awesome experience. Pilot was very informative on the sites we passed on the island. I would highly recommend it. Will fly again next time we are in Oahu. Mahalo to Rainbow Helicopters
Excellent adventure! We took a doors-off 1-hour trip, it was very interesting experience. Though it can be very windy, my wife said she wanted to have a scarf to protect her neck.
This was an incredible experience. I really wish we did this first! Gave lots of ideas of cool things to do. We did doors off and it was awesome. I loved every moment! The views and seeing the island from the air was the best experience!
very good tour. nice pilot and very beautiful view!
This was such a wonderful view of the island! Paul was an excellent tour guide! It was amazing to drive around the island one day and then get to see all of those things again from the air. Such an incredible experience!
Excellent guides and view. Unbelievable scenery. Hard to explain in words. Each second or picture is worth a thousand words. You simply have to experience it.
Our helicopter tour was amazing! All staff were very kind. We had Paul as our pilot and he was very knowledgeable and made the tour so enjoyable. This was our first time on a helicopter and we felt very safe and would definitely recommend this to anyone!
First time in a helicopter and we went doors off, Sarah was our pilot, she was awesome and gave us a great tour. It was a little hard to hear and communicate, but once we got going we got the hang of it and it was nice to communicate with our pilot and ask dumb tourist questions. It was a very smooth flight for the most part, a few up and downs due to the winds, my wife is prone to motion sickness and she just took a Dramamine to help settle herself. Some things to know, you can tip your pilot after your flight once you get back in the office if you feel the need to, I did, if you have longer hair it will get tangled up pretty good and you have to leave your wallet in the office (I didn't like this as it wasn't locked). You can bring your cell phone, they provide a neck strap but my phone was very difficult to take pictures through the plastic, but my son had no problem so it was probably something I wasn't doing right. I would highly recommend this once in a life time experience, as we made life long family memories.
LOVED this tour! My first helicopter ride, doors off! So fun! Out pilot Geoff was great too. Thank you for the fun time and beautiful views from the sky.
Best tour in Hawaii. The views from the air were spectacular. Everyone we encountered from the time we checked in to the conclusion of the tour were friendly and professional. Our pilot Sarah was awesome. I would definitely recommend this tour and Rainbow helicopter
The flight was smooth, our Pilot, Sarah, was a great tour guide and the scenery and views were spectacular. Would definitely fly with them again.
Awesome experience! Highly recommend!!
We are so glad that we were able to experience Oahu from the Rainbow Helicopter tour! It was definitely a highlight of our vacation! Our pilot was great-she was able to share with us all of the sites that we were experiencing!
What an adventure! We thoroughly enjoyed the island tour. We were able to see things we never could have on the ground. Our pilot, Kat, was exceptional. Not only was she a great pilot, but very knowledgeable on the island sites. I really appreciated the fact she was able to keep my wife calm during the turbulent areas and make this a very memorable experience for both of us. The first thing we did when we got home from the vacation was to watch the video. Such a wonderful reminder we will have of this trip. I am so glad we chose NOVICTOR for our tour!!! Would recommend this tour to everybody, and will definitely take it again on our next trip to Hawaii!
This tour was awesome! My pilot Sarah was super friendly, full of cool information, and of course a great pilot! Hands down would recommend to anybody!
Unforgettable experience! We took doors off and it was the best decision. Our pilot Catherine told us a lot of interesting things about Oahu. Thank you so much guys.
It was a very nice experience! Sweet pilot. Breathtaking views.
Tour was amazing! Pilot was very knowledge of the island and landmarks and pointed them out to us during the flight!
Absolutely amazing!! Thanks Nicole for the ride of a lifetime!!!
Fantastic tour and there are so many views that you can't appeciate from land as you can from the air. Me and my wife have done a number of helicopter tours around the US, but this one is the best we've ever done. Highly recommended!
Absolutely loved the trip! Got amazing views and a great tour from the pilot. Highly recommend taking lots of personal photos/videos while you're up there!
What a fantastic way to see all of Oahu. Our pilot was great. Very knowledgeable and very skilled. Ground crew and drivers were lovely. Highly recommend this company.
Its was amazing and best Tour with out door Pilot experienced and Professional Really good time. We will come back again , Big Mahalo for All stuff help . Beautiful company , Thank You
beautiful ride I loved it. .without the awesome doors!!! :)
It was a beautiful ride! Its truly allowed me to see incredible sights of the island
We loved our helicopter tour! It was the best part of our trip.
The pilot and hubby talked me into doors off- how great it was, not scary at all, just the wind that made hanging on to everything and trying to take photos a little difficult. Disappointed that hubby got to see all the beach and sea and I got to see all the mountains and forest as that was the direction we were going- an idea would have been to turn at times though maybe this couldn't be done. The ground crew were exceptional! Nothing was too big an issue for them. I would love to do it again and fly over Diamond Head this time!
Our experience with Novictor was excellent, from the first call for information, through the booking process, to getting picked up and delivered, and instructions before the flight. And then the flight! Absolutely choose doors off! We felt very safe, don't let fear stop you! And the hour went by in a blink! Great tour with fun information shared. I want to do this again!
Our pilot was professional and knowledgeable. The whole experience was amazing and I'm glad we did it!
"It was expensive but it was well worth it. It seemed to be very safe and fun. If you can afford it, then go. Besides, EDDIE WOULD GO."
"Amazing experience! Highly recommend it"
"Carson was an incredibly smooth pilot. Did an amazing job and was knowledgeable about the island. This tour was hands down the highlight of the week!"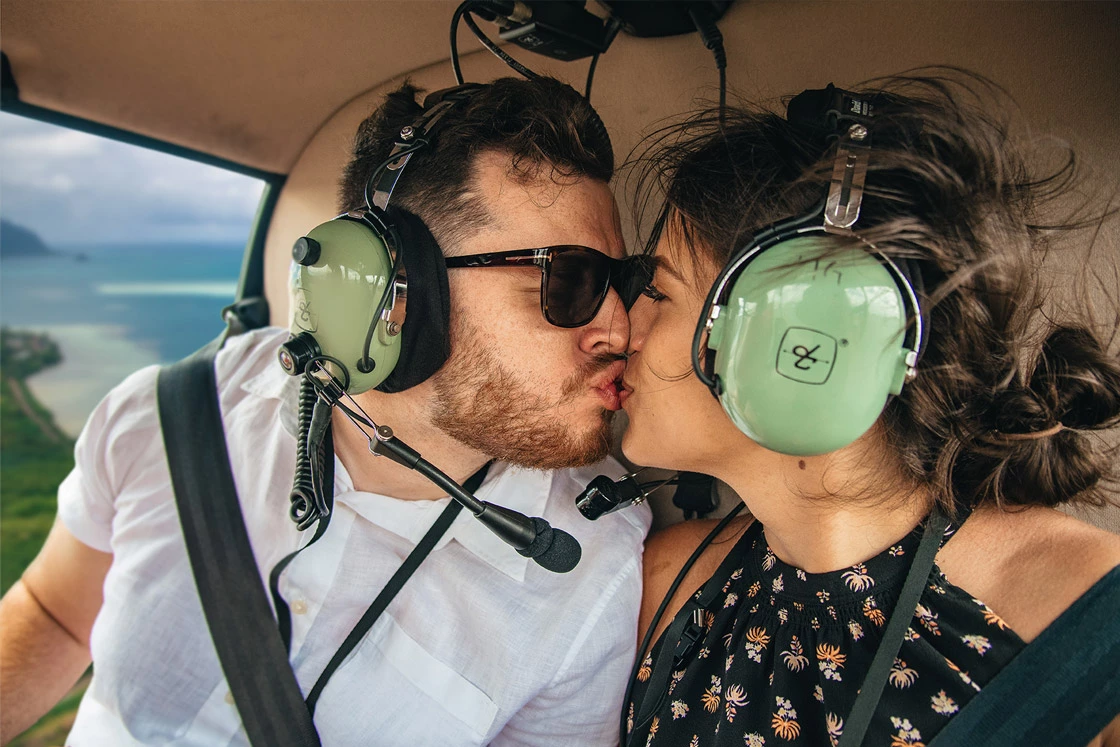 //////////
30 minutes & up. Propose in-flight! A private helicopter tour for two over Oahu is filled with romance. There is no better way to say "I want to marry you!" than from way up high in the sky in a private helicopter.
$885
& UP PRIVATE CHARTER
|
EXPLORE