Our Oahu helicopter tours immerse you in the beauty of Hawaii!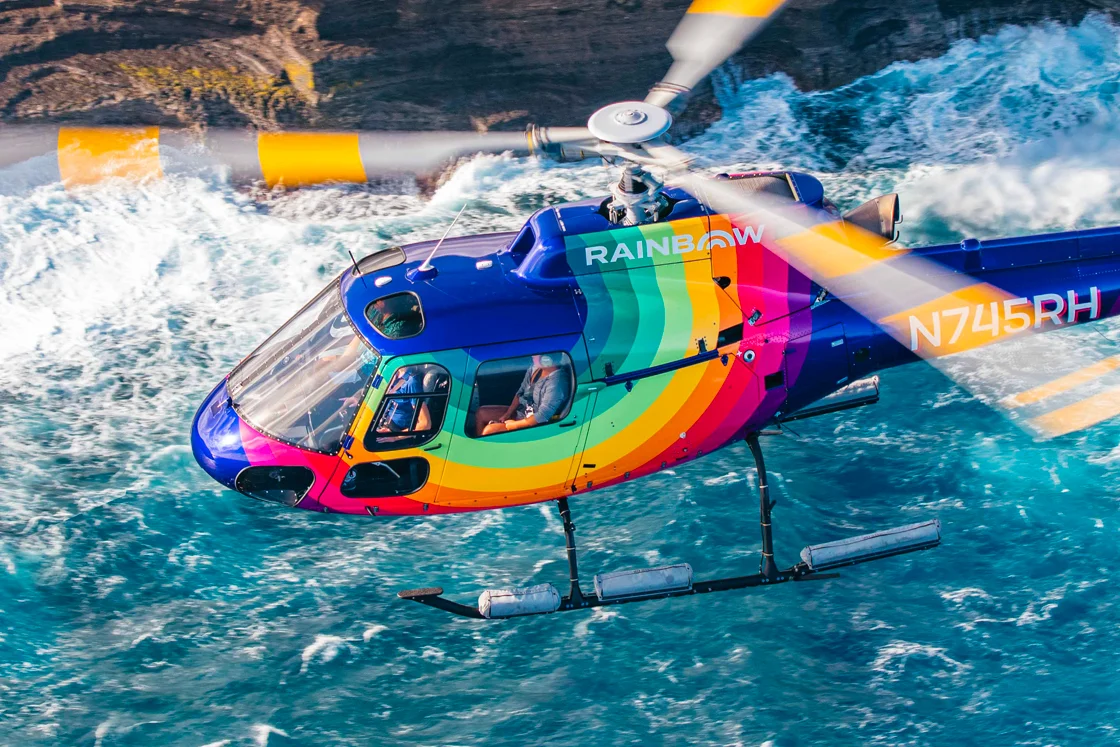 //////////
60 minute helicopter ride Oahu. Experience Oahu's most picturesque locations as your helicopter tours the South Shore, North Shore, Windward Coast, Ko'olau mountains, Sacred Falls and more. This royal ring Oahu helicopter tour gives you a front row seat to the island's best landmarks and attractions.
Celebrate your special occasion with a private helicopter charter.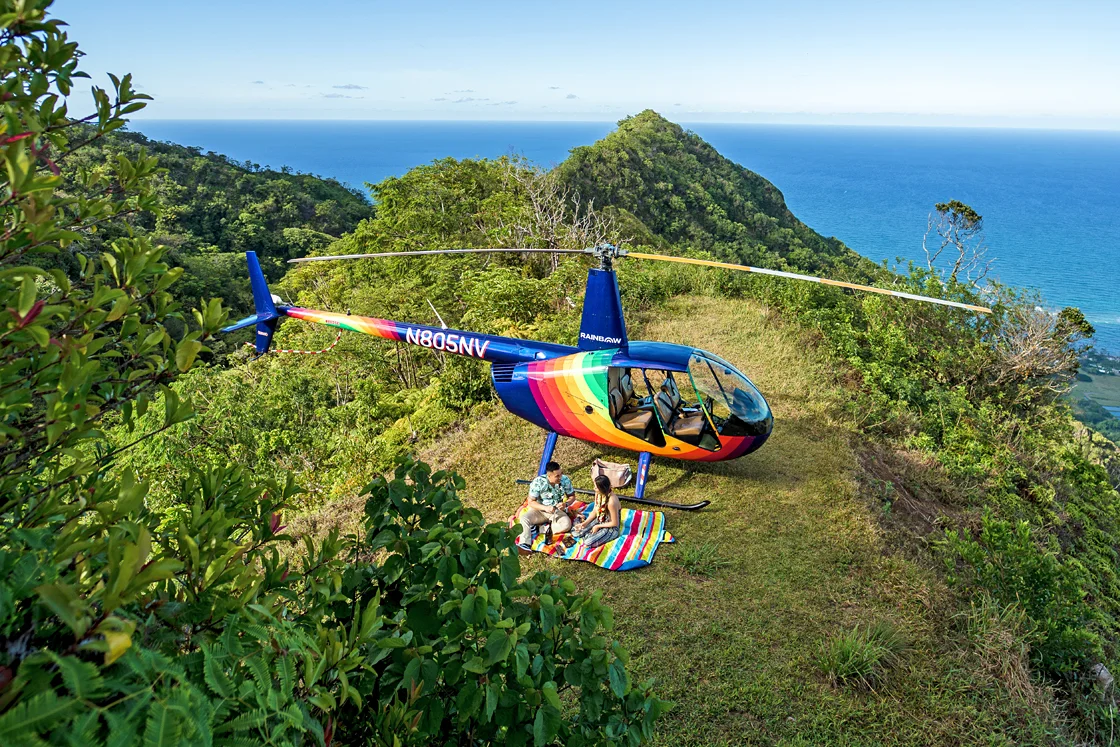 //////////
2 hours. See Oahu in style and enjoy a world-class private helicopter tour of the island with an exclusive landing and stunning views. Experience includes fresh gourmet lunch, local juices, champagne, Wailua Estate chocolates and Hawaiian flower leis.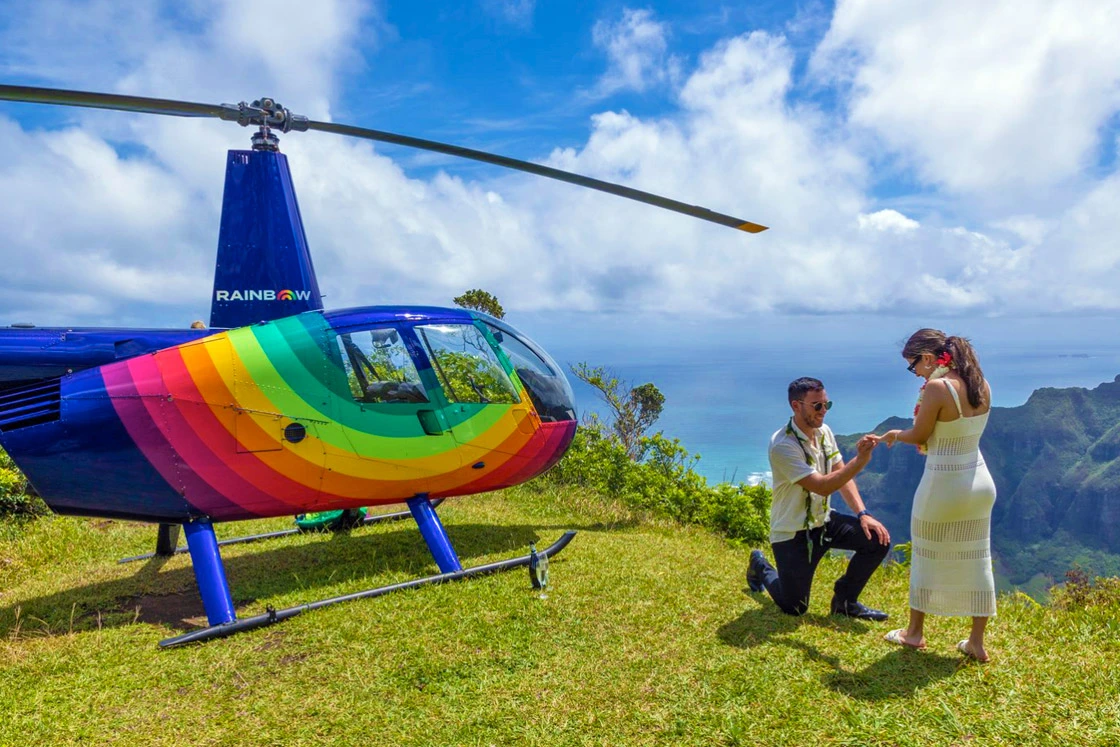 //////////
60 minutes. Wow your significant other with an unforgettable, one-of-a-kind romantic Oahu helicopter charter. Experience an exclusive landing tucked away above a stunning private valley.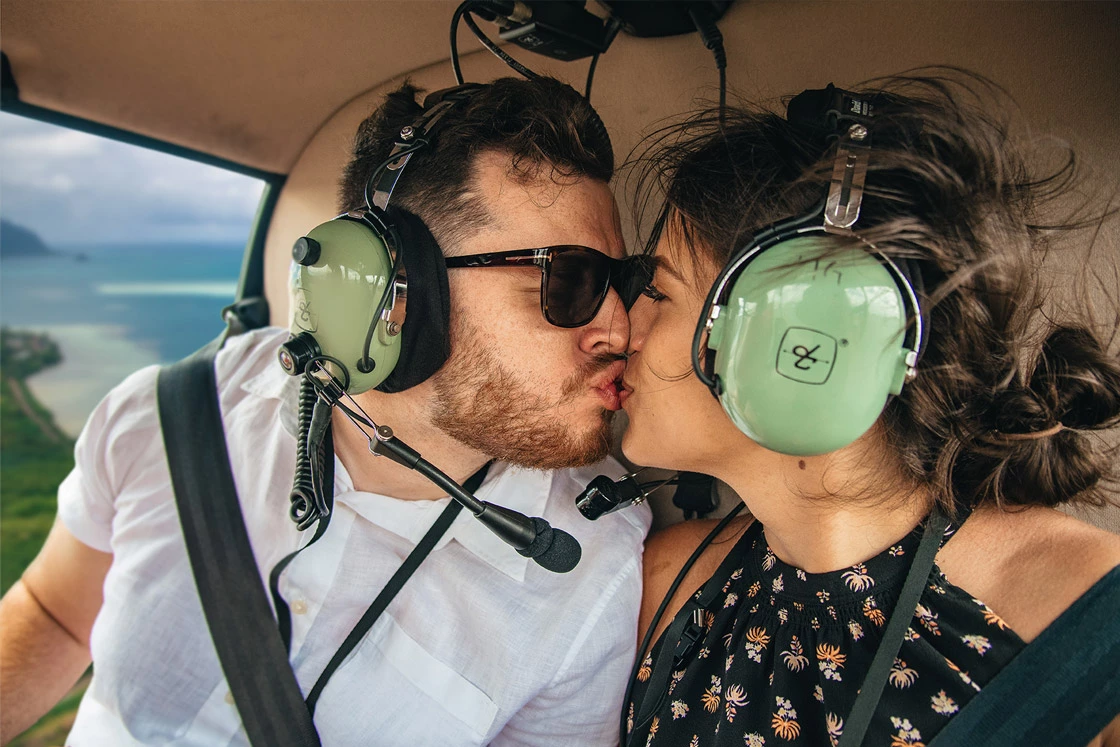 //////////
30 minutes & up. Propose in-flight! A private helicopter tour for two over Oahu is filled with romance. There is no better way to say "I want to marry you!" than from way up high in the sky in a private helicopter.
$885
& UP PRIVATE CHARTER
|
EXPLORE
We provide custom helicopter flight services by the hour.
//////////
Rainbow Helicopters offers aerial photography and videography for a variety of applications. We've helped provide amazing images for art, advertising, print, and television as well as aerial surveillance, architecture, real estate, and construction.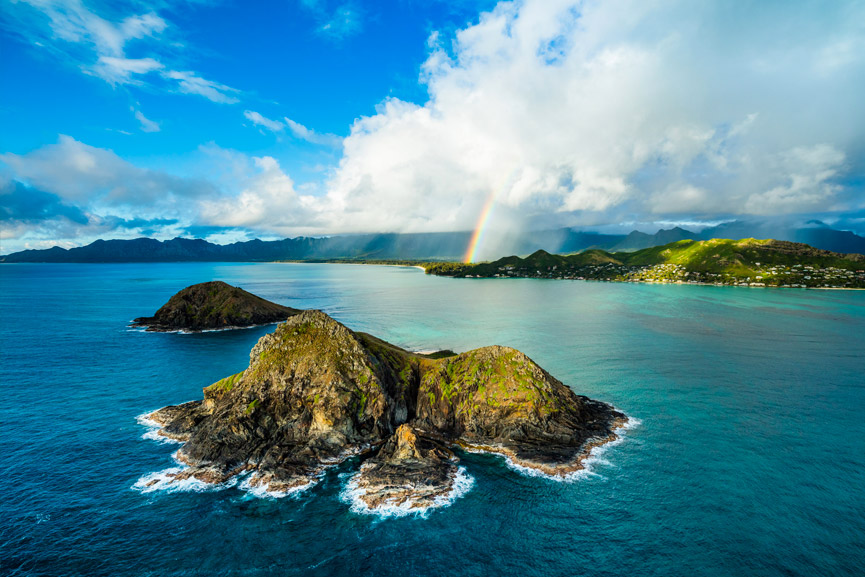 //////////
Rainbow Helicopters offers customized Oahu helicopter tours and private helicopter charter flights. We offer inter-island travel, custom luxury experiences, proposal flights and on-demand services to meet your needs. We can get you wherever you want to go!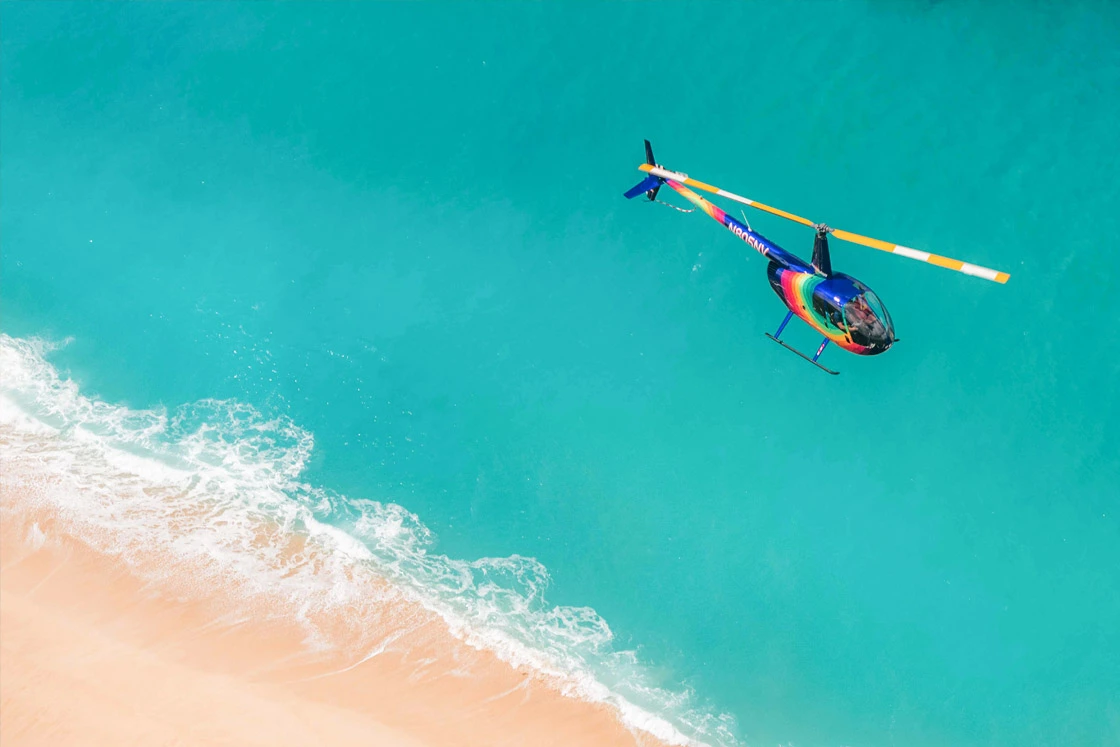 //////////
Rainbow Helicopters offers specialized flight instruction in our Robinson R44 helicopters. We also offer dual instruction for students and qualified pilots who want to experience flying helicopters in Hawaii.
"Absolutely incredible! My favorite experience of our Hawaiian adventure. The 60 minute tour was everything we hoped it would be. Doors off is the way to go if you want an adventure in the sky. Everything we saw plus the knowledgeable pilot, it was amazing."
NAOMI GERACE  •  SEPT 2023
Rainbow Helo was super accommodating as we were a late add and ended up switching passengers shortly before the flight. Jojo our pilot was outstanding, cheerful and informative. Highly recommend!
Fantastic trip! So pleased we did the full hour flight. Excellent and efficient service by Rainbow. The pilot gave informative commentary among the way. Well worth the money for such an amazing holiday experience.
The pilot was awesome!! The ride was so incredible!! Thank you so much for the best experience ever!!
Tony and Freddy were the best tour guides!! They made the experience especially magical. The views are quite amazing. 100% recommended! All the staff is nice and helpful as well.
Our pilot was awesome and super knowledgeable! Believe it was the best part of our trip! Thank u
Couldn't ask for a better way to see Oahu. Tony our pilot was awesome and full of knowledge, also if you're a nervous flyer he gave you a heads up when there would be turbulence.
We had such a wonderful experience on this helicopter ride that we are hooked! Our pilot was great and we felt completely safe the whole time, even with bo doors! I highly recommend this tour!
Excellent experience. Joel was a great pilot and tour guide. We went back and forth on "doors off or on?", in the end took doors off, great decision! Highly recommend this tour.
Awesome experience! Darrell is the Best!!!
Awesome flight Joel did great job on tour for us. Three of us never been on a helicopter before. MAHALO
Very friendly before, during, and after the flight. Great experience, great sights, and a lot of fun.
Pilot Michael and our flight were both excellent! A great way to view all parts of the island (including places we weren't able to get to) and end our time on Oahu. Thank you!
Amazing experience! I feel like I know the whole island now! It's great to be able to drive around and say you have seen everything from above! Very knowledgeable and friendly pilot and great ground crew. 10s across the board! Will definitely recommend.
The booking was straight forward, the location was easily accessible with free parking and staff was extremely helpful and informative. Everyone was very friendly. The whole experience was beautiful!
Super friendly personnel and great pilots! Great tour with knowledgeable and educated pilots! Will do it again on my next trip to Hawaii. Also, $160 cheaper than some of the other competition.
This was an incredible experience. We were able to see the entire island, and it is spectacular. The pilot was extremely good and I would recommend this experience.
Tony did a great job talking, and flying around the island (simultaneously!). He did, however, repeatedly say "for those on the left side of the aircraft ...," yes we were on the right side, and saw lots of wonderful oceans. He diverted many times to show us, but the tour is counter-clockwise around Oahu and there is only so much you can do. Anyway, great tour, 5-stars.
What a fantastic way to see Honolulu! We had never been in a helicopter and opted for the doors off. It was breathtaking and fun! I never felt concerned regarding safety as you are briefed on everything and buckled in by staff. Our pilot Mike had been flying for many years and had a very calm demeanor that made us all feel we were in excellent hands. He gave a great tour with lots of information about all we were looking at. Worth the money. Highly recommend.
Fantastic tour. Highly recommend this company. Well organized and very friendly.
Recent reviews
Rainbow Helicopters is Hawaii's favorite provider of Oahu helicopter tours and private helicopter charters. Onboard our fleet of Robinson R-44 and Airbus Astar helicopters, passengers can choose from a variety of premium flight experiences.
As part of the seating arrangement in our Robinson R-44 helicopters (3 passengers), every guest has a window seat. Guests can choose to fly with their door open "Doors off" or closed (a free customization of your choice, during checkout). Our Airbus Astar helicopters (6 passengers) are known for their spacious and comfortable cabins, as well as for the panoramic views that offer excellent visibility from all seats.
Rainbow Helicopters flies spectacular Oahu helicopter tours from our base at Honolulu International Airport. We offer a variety of daytime helicopter tours, as well as romantic proposal flights and luxury picnic experiences.
For guests seeking an exclusive experience, we also offer private helicopter charters for both intra-island and inter-island private charter flights. We can get you where you want to go: Big Island volcanoes and lava, Haleakala on Maui, the sea cliffs of Molokai, the rainforests along the Na Pali coast, as well as surf events, and more. Fly with Rainbow for the best helicopter tours Oahu has to offer!