Our Oahu helicopter tours immerse you in the beauty of Hawaii!
//////////
60 minutes.  Experience Oahu's most picturesque locations as your helicopter tours the South Shore, North Shore, Windward Coast, Ko'olau mountains, Sacred Falls and more. This royal ring Oahu helicopter tour gives you a front row seat to the island's best landmarks and attractions.
Celebrate your special occasion with a private helicopter charter. 
//////////
2 hours. Experience Hawaii on our most popular Oahu helicopter tour. This exclusive landing experience includes a fresh gourmet meal, local juices, champagne, Wailua Estate chocolates and flower leis.
//////////
60 minutes. Wow your significant other with an unforgettable, one-of-a-kind romantic Oahu helicopter charter. Experience an exclusive landing tucked away above a stunning private valley.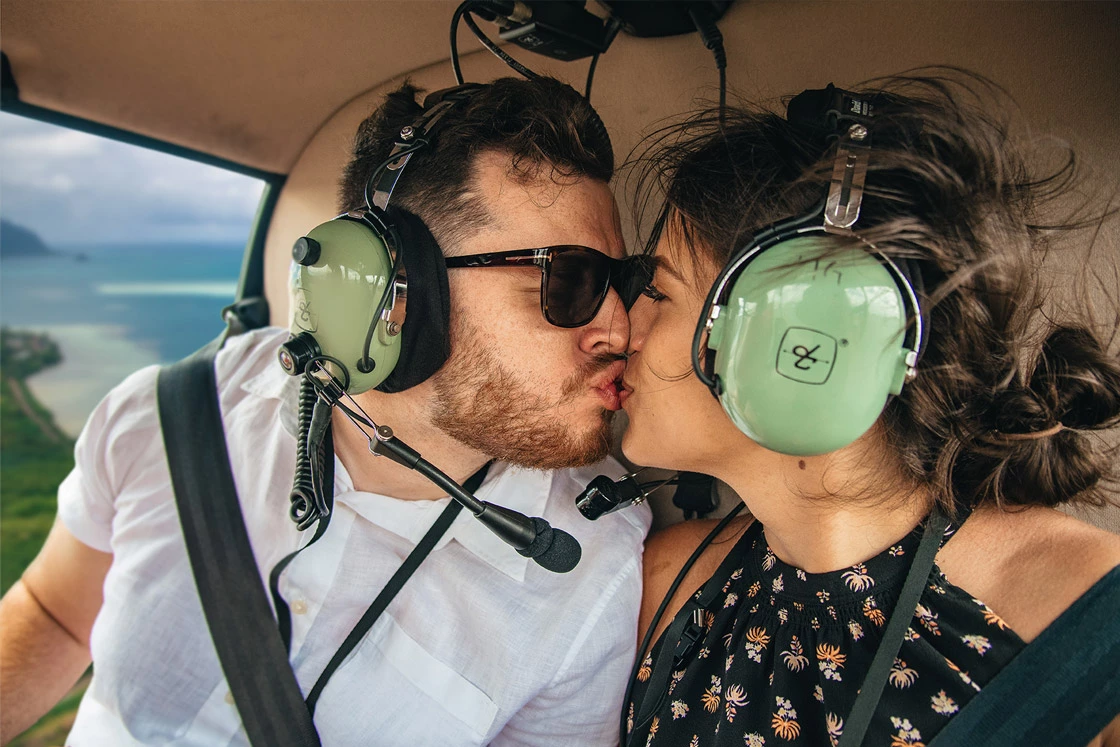 //////////
30 minutes & up. Propose in-flight! A private helicopter tour for two over Oahu is filled with romance. There is no better way to say "I want to marry you!" than from way up high in the sky in a private helicopter.
$825
& UP PRIVATE CHARTER
|
EXPLORE
We provide custom helicopter flight services by the hour.
//////////
Rainbow Helicopters offers customized charter flights including service for Oahu and the surrounding islands, proposal flights, and luxury picnics.
//////////
Rainbow Helicopters offers aerial photography and videography for a variety of applications. We've helped provide amazing images for art, advertising, print, and television as well as aerial surveillance, architecture, real estate, and construction.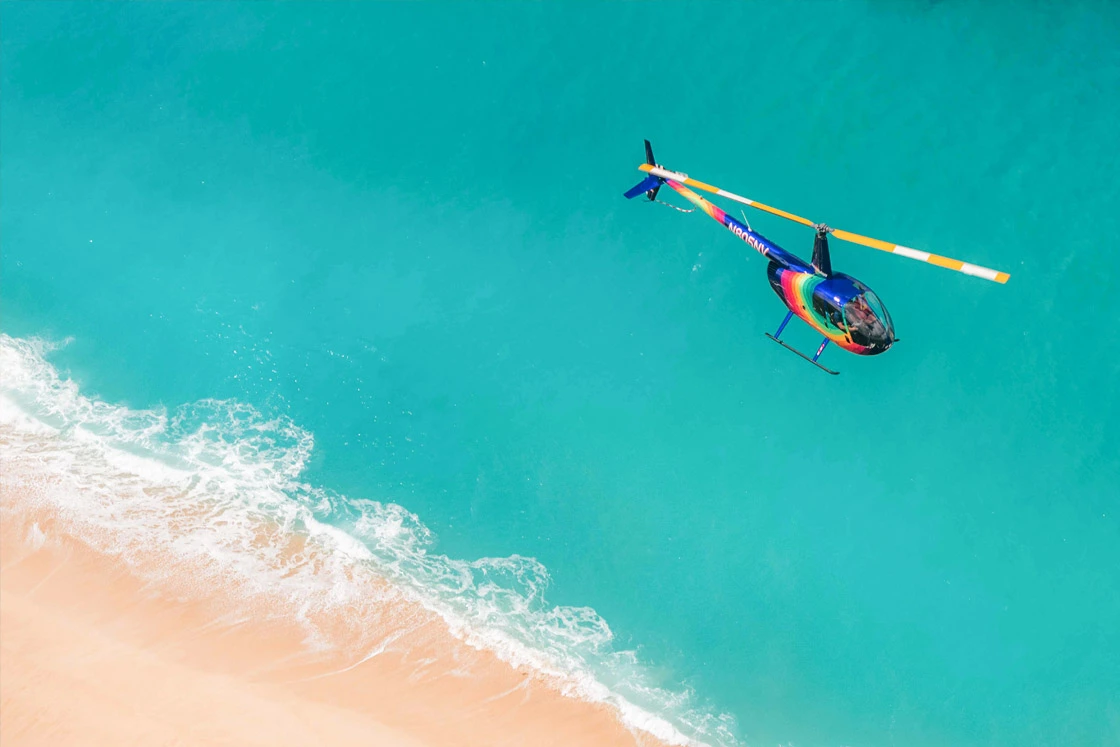 //////////
Rainbow Helicopters offers specialized flight instruction in our Robinson R44 helicopter
Gift the experience of an Oahu helicopter tour.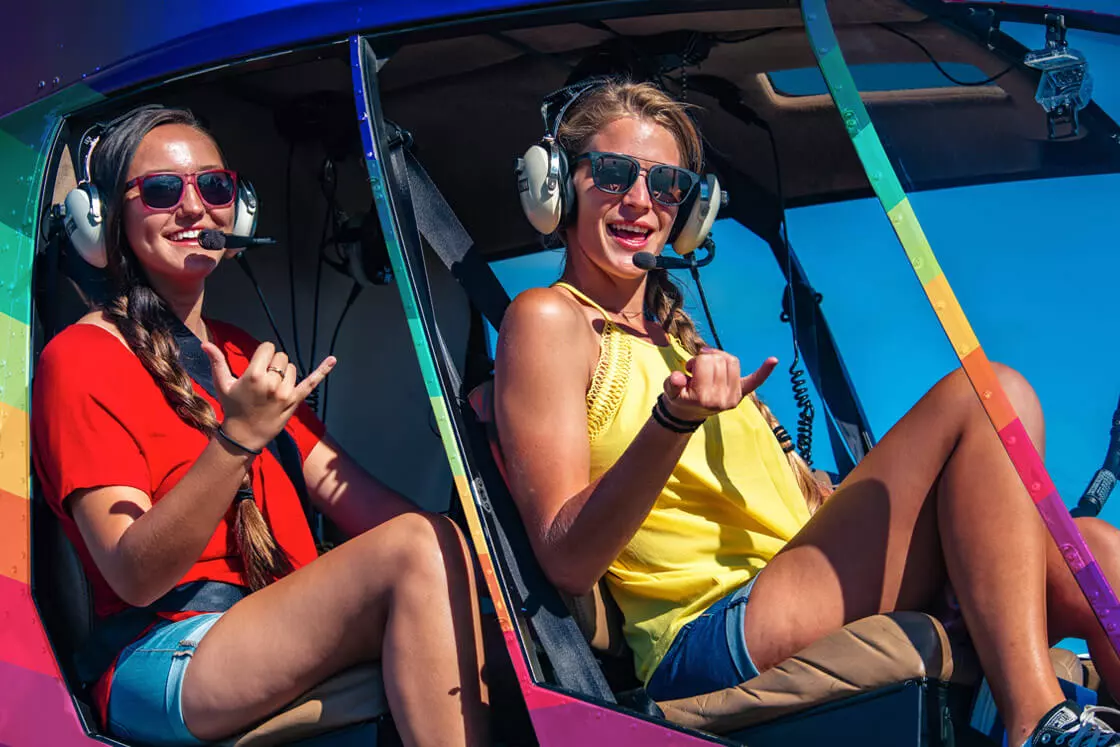 //////////
Give the unique and memorable gift of experiencing Hawaii like never before! Your guest will enjoy breathtaking sights and stunning vistas in an Oahu helicopter tour of their choosing.
"Thoroughly enjoyed the tour by air of Oahu! Beautiful sights, safely flown; courteous staff, knowledgeable; Highly recommend. Nice video of flight also."

"Awesome time on the helicopter! Oliver was a great pilot and went out of his way to be personable and check on everyone frequently during the flight. Gives you a whole new perspective of the area! Oliver did a great job giving both sides of the chopper great photo opportunities! A must do! "

"What an awesome experience we had."
"Really awesome flight! Pilot was excellent! Saw the island from a perspective you don't get anywhere else."

"This is an experience that will literally and proverbially take your breath away. Take the doors off and hold on! Don't miss this one Thank you Harley (Pilot) for making it look easy!"

"Riley was great, very knowledgeable about the sites! We had a great time with a doors off experience! 10/10"
Rainbow Helicopters is Hawaii's premier provider of Oahu helicopter tours and private helicopter charters. Onboard our fleet of Robinson R-44 and Airbus Astar helicopters, passengers can choose from a variety of premium flight experiences.
As part of the seating arrangement in our Robinson R-44 helicopters (3 passengers), every guest has a window seat. Guests can choose to fly with their door open "Doors off" or closed. Our Airbus Astar helicopters (6 passengers) are known for their spacious and comfortable cabins, as well as for the panoramic views that offer excellent visibility from all seats.
Rainbow Helicopters flies spectacular Oahu helicopter tours from our base at Honolulu International Airport. We offer a variety of daytime helicopter tours, as well as romantic proposal flights and luxury picnic experiences.
For guests seeking an exclusive experience, we also offer private helicopter charters for both intra-island and inter-island private charter flights. We can get you where you want to go: Big Island volcanoes and lava, Haleakala on Maui, the sea cliffs of Molokai, the rainforests along the Na Pali coast, as well as surf events, and more. Fly with Rainbow for the best helicopter tours Oahu has to offer!