Luxury Picnic at Scenic Landing
$3,900.00
//////////
2 hours. Experience Hawaii on our most popular Oahu helicopter tour. This exclusive landing experience includes a fresh gourmet meal, local juices, champagne, Wailua Estate chocolates and flower leis.
Description
*Bookings must be made at least 48 hours in advance.
Luxury Picnic at Scenic Landing
See Hawaii in style in this
private Oahu helicopter charter

with an exclusive landing and luxury picnic.
Soar over Oahu on our most popular tour with an exclusive landing and visit to a private valley for a luxury picnic helicopter charter you won't soon forget. Your 60 minute stay at this idyllic hide-away includes a freshly made gourmet lunch or dinner accompanied by local juices, champagne, Waialua Estate chocolates and flower leis to commemorate your special occasion. This private helicopter tour begins at the Honolulu airport and sweeps over all of Oahu's most beautiful and cherished landmarks. Whether it's a proposal, an anniversary or just a way to say "Let's celebrate!" this V.I.P. experience will sweep everyone off their feet in more ways than one!
You'll begin this luxury picnic helicopter charter taking in stunning views of the famous Waikiki skyline as Diamond Head Crater's iconic shape lies ahead as the most perfect backdrop. You'll be soaking in the majestic beauty of the South Shore, quickly realizing its natural authority over "The Gathering Place". Rounding the million-dollar ridges, you'll pass Hanauma Bay, watching as gentle, sandy beaches turn to jagged volcanic cliffs carved out by the relentless surge of the rough waters below. On your way, you'll glide over top of the charming Makapu'u lighthouse to witness her radiant red beam outward to unknown ships at sea.
As you continue your tour up the island's Windward Coast, you'll see the storied Ko'olau mountains in the distance, quietly watching as you pass over Lanikai Beach – often called the most marvelous beach in the world – and the offshore sandbars and coral formations that make Kaneohe Bay one of the most picturesque places on Earth.
As you fly over Kualoa Valley, the truly special part of this royal tour begins. A tender descent from the heavens presents a unique opportunity to witness from the ground the magnificent sights you've viewed from the sky. After a gentle landing, your pilot becomes your "Aloha Maitre'd", escorting you to a private pavilion perfectly situated in a 4000-acre paradise with lush, green landscapes, mountains that stretch to the clouds and gentle trade winds that reach from the nearby windward coast. There, you'll enjoy freshly made wraps, cheeses and local Waialua Estate chocolates, made with rare, pure Hawaiian cacao, grown on Oahu in the rich volcanic soil of the North Shore. Paired with a champagne toast and flower leis, this is the ultimate dream date you won't soon forget.
After your peaceful stay on sacred Hawaiian land, it's time to join the breeze as your helicopter whisks you back up to the sky, hugging the Windward coast and cruising up to Oahu's famed North Shore, bringing you up-close aerial views of the surfers at Banzai Pipeline and Waimea Bay.
Heading inland, you'll fly over the "The Pineapple Sea" of the Dole Plantation and do a memorable slow-pass over Pearl Harbor and the USS Arizona Memorial to conclude your helicopter tour of the royal skies and amazing vistas of Hawaii's crowned jewel.
Departures
This tour is available for daytime departures from Honolulu International Airport

Experience Includes
Freshly made gourmet lunch or dinner
Local juices
Champagne
Waialua Estate chocolates
Hawaiian flower leis

Sights
Honolulu Harbor
Aloha Tower
Waikiki Beaches
Diamond Head
Hanauma Bay
Makapu'u Lighthouse
Windward Coast
Lanikai Beach
Chinaman's Hat
Kualoa Ranch
Ka'a'awa Valley
Sacred Falls
Dole Pineapple Plantation
Pearl Harbor
USS Arizona Memorial

Tour Notes
Please visit the FAQ
Add epic add-ons

to your adventure at checkout.
+ In-flight Photographer

Get world class professional photos of your adventure. We'll capture every magical detail, from the emotions on your faces to the views down below.
+ Doors Off Helicopter

Experience the sights with an open cabin and enjoy amazing unobstructed views. Makes for great pictures!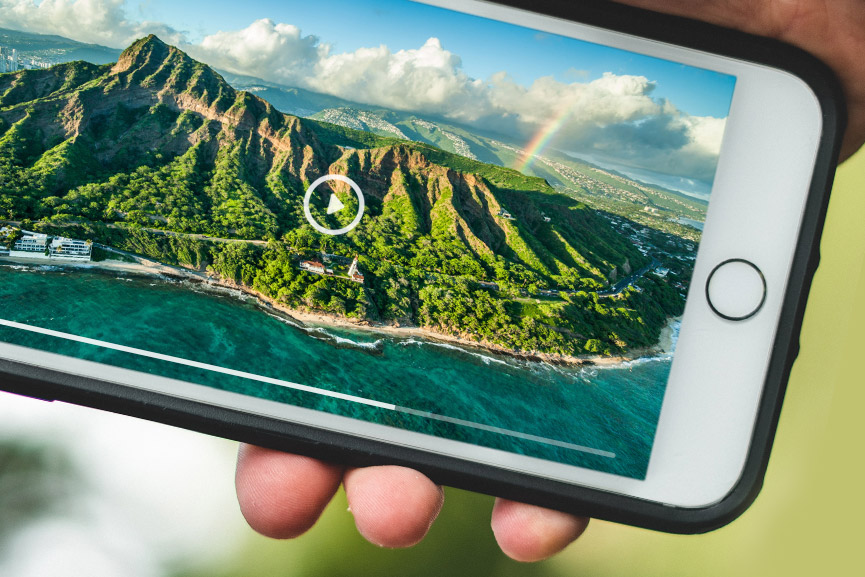 + Flight Video

Get a shareable digital video of your in-flight experience, available in multiple formats.  Customize at checkout.
"We had a wonderful crew with Josh and Daniel! Treated us like royalty, very informative during the flight..."
We had a wonderful crew with Josh and Daniel! Treated us like royalty, very informative during the flight and made some modifications during the trip in order to get our entire event secured for the evening. Low clouds were prevalent due to upcoming storm but after waiting 10 or so minutes, our entire evening was completed without a hitch.
AMAZING! The one word that sums it up! The Rainbow staff were super friendly and made sure we had a wonderful experience. Our pilot was absolutely amazing, he pointed out everything and shared so much history about Oahu. This experience was worth every penny - we would definitely recommend this experience to everyone we know.
One of the best two hours I've ever spent in Hawaii! Unbelievable views, excellent service - the experience of a lifetime!
This was a top notch experience that I would recommend to anyone wanting an authentic Hawaiian experience. Not to be missed!
//////////
30 minutes & up. Propose in-flight! A private helicopter tour for two over Oahu is filled with romance. There is no better way to say "I want to marry you!" than from way up high in the sky in a private helicopter.
$825
& UP PRIVATE CHARTER
|
EXPLORE