Oahu sunset helicopter tour of Waikiki's famed skyline and beyond.
Get a front-row seat to one of nature's most spectacular ceremonies as seen from the air.
Experience Rainbow Helicopters stunning Waikiki Sunset tour.  You will see the world-renowned Oahu sunset from the sky with a front row seat to Waikiki's most spectacular show. As your helicopter takes you above its famous shores, you pass the famed skyline as it basks in the dim evening light. Fly to the top of Diamond Head and watch as elongating shadows reach from its peak and out to dark blue waters beyond.
Traversing from sea to rainforest, the majestic Ka'a'awa Valley unfolds before you. You'll fly in close to see the impressive streams of Sacred Falls tumble to the lush rainforest below. With a few gentle turns you'll soar out of the valley and above the surfers at Banzai Pipeline and Waimea Bay. Heading inland, you'll fly over "The Pineapple Sea" at the Dole Plantation. As the sun nears the horizon and the blue sky fades, your flight continues to Pearl Harbor for a slow pass above the USS Arizona Memorial. Fly back towards the city and witness the waning sun emblazon the sky, silhouetting the expansive city skyline against gorgeous hues of pink, orange, red, and yellow.
From the air you can see this magnificent show from an entirely new perspective. You have the choice to fly with the helicopter's doors off for amazing photographs. With the doors off, feel the wind and rush of a helicopter tour like never before. With the doors on, you get a smooth and comfortable ride to enjoy the beauty of the islands. This is Waikiki's longest-running spectacle and you have a front row seat above the island's famous shores.
Oahu sunset helicopter tours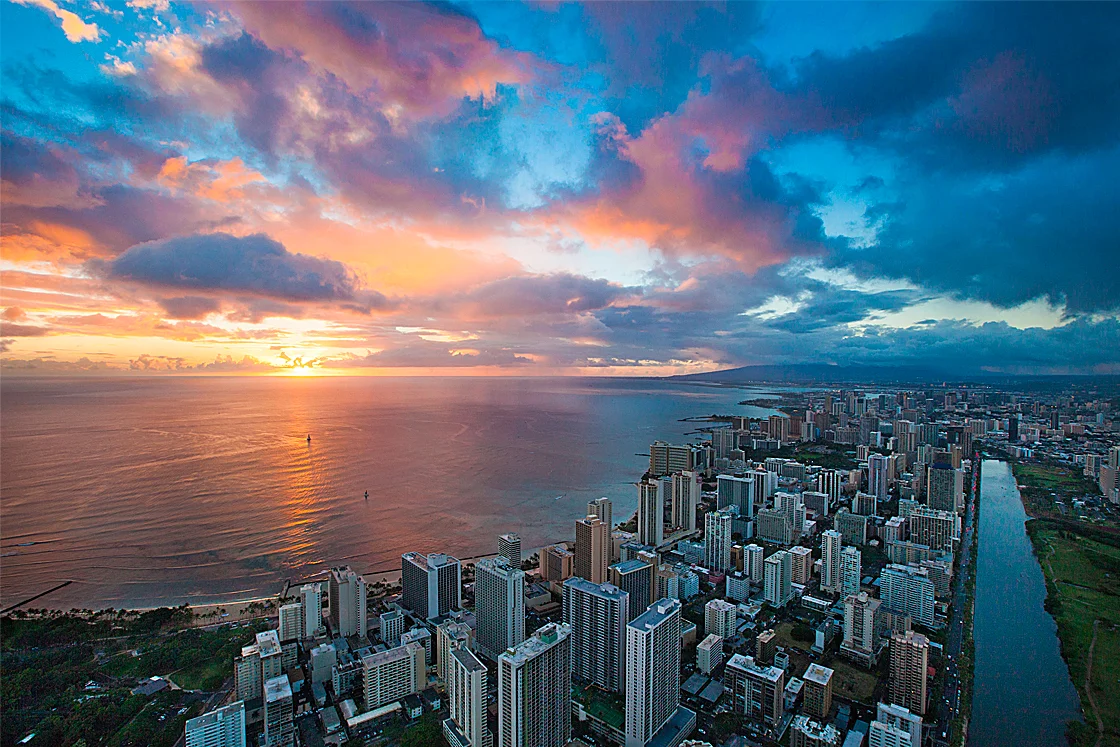 //////////
50 minutes. Enjoy a world-class twilight flight as your helicopter tours over the Oahu's Waikiki skyline, Diamond Head, Pearl Harbor and more. Our renowned sunset Oahu helicopter tour gives you the best seat to see gorgeous hues of pink, orange, red, and yellow against the expansive skyline.