Rainbow Helicopters leads Hawaii with 1st Covid Certification for

highest standards in safety.
Rainbow Helicopters leads Hawaii with proven commitment to health and safety ensures you will be able to
enjoy your experience without worry.
New York / Honolulu —  SanSee Systems is pleased to announce that Rainbow Helicopters (Formerly Novictor Helicopters) has been awarded the first SanSee Shield in Hawaii, and represents the most complex operation to pass the extensive screening test to date.
The SanSee Shield is presented to only those tours and attractions which have proven to uphold the highest standards in safety and hygiene.  "Rainbow Helicopter Tours has proven that they take the well-being of their guests very seriously, and are on the leading edge of welcoming tourists back post Covid-19" said Jon Peahl, President of SanSee Systems.  "Hawaii has been on the forefront of traveler safety throughout the pandemic, ranked 47th among all states for number of cases, despite their exposure to tourists from around the world.
As a Hawaiian company, Rainbow's commitment to safely bring back visitors is a positive reflection on the local tourism industry, and represents the aloha spirit of caring for and welcoming guests.  Passengers can feel confident that a flight with Rainbow is carefully planned to be as clean and hygienic as it can be.  We're proud to have them as a SanSee Shield holder."
Rainbow CEO and Chief Pilot Nicole Vandelaar said "Our number one priority is the safety of our employees and our passengers. With our new cleaning standards and careful screening, we feel strongly that any guest that flies with Rainbow will be able to enjoy their experience without worry."
Peahl continued "From hotel pickup, through welcoming the guests into their visitor center, to safety on the tarmac and sanitation in the skies, Rainbow has many points of guest interaction, but Vandelaar's commitment to her guests and staff is clear.  The company is taking steps above and beyond, from helicopter doors to all the way to small touches like microphones.  Locals and Tourists alike know that they're getting the best possible experience through Rainbow."
With tourism beginning to show signs of life after the pandemic of early 2020, Rainbow is a leader in caring for their guests, making sure their experience is not just enjoyable, but inspires confidence in travelers that their safety is a top priority.
Safety is our top priority.
Each flight is carefully planned in minute detail to be as clean and hygienic as possible.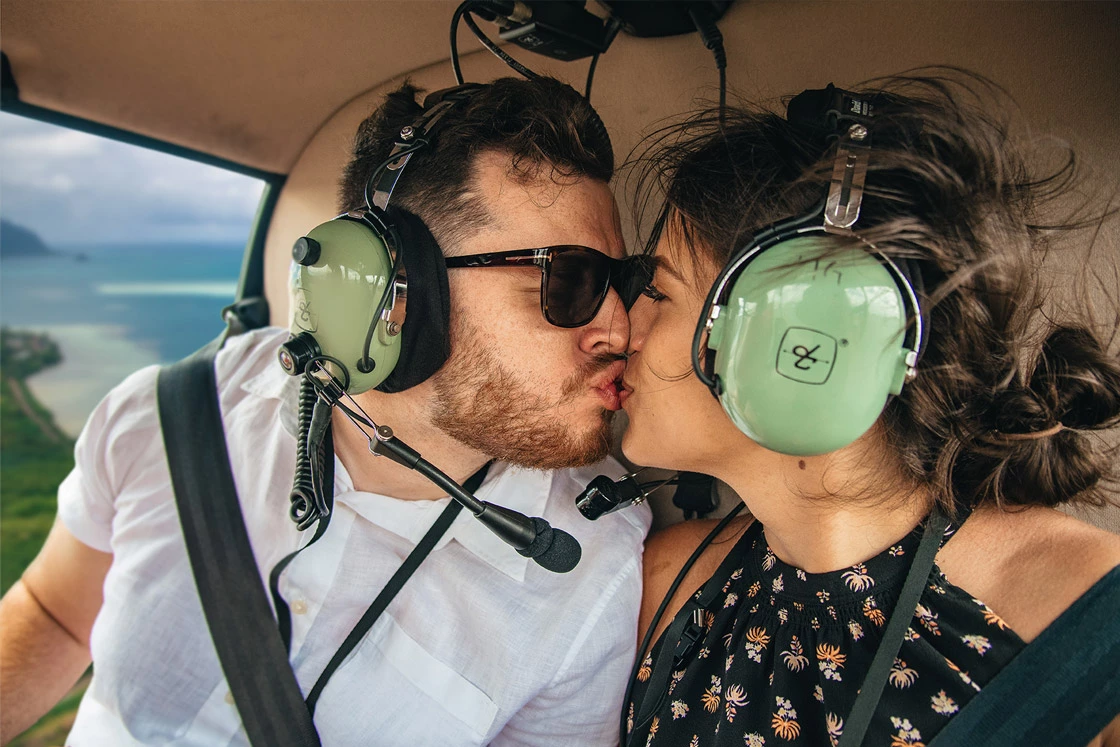 //////////
30 minutes & up. Propose in-flight! A private helicopter tour for two over Oahu is filled with romance. There is no better way to say "I want to marry you!" than from way up high in the sky in a private helicopter.
$885
& UP PRIVATE CHARTER
|
EXPLORE