See rainbows on a helicopter tour!
FUN ACTIVITIES IN OAHU, HAWAII
"We saw a double rainbow! The whole helicopter rainbow sightseeing experience was amazing!"
Rainbow Oahu Helicopter Tours
Rainbow helicopter sightseeing is a spectacular way to experience these colorful light shows. It's one of the only ways to view a Full Circle Rainbow. Rainbow helicopter views place you in the center of the rainbow high above the ground. Sometimes this enables the rainbow to completely encircle you while on the helicopter tour!
In Hawaii, rainbows are part of ancient legends. Ānuenue is a rainbow maiden and messenger to the gods. Learn how to pronounce Ānuenue.
Rainbows feel brighter and closer than ever on so many of our helicopter tours. Rainbows in Hawaii are particularly bright as they are formed when the sun pours through water droplets in the atmosphere. Hawaii is only about 1375 miles from the equator. Sunlight at our latitude has unique qualities from passing through the atmosphere and our unpolluted air. Our vibrant sunlight interacts with water droplets, that are too special in themselves, because they are formed around tiny particles of pure sea salt, picked up as air blows across the Pacific ocean.
Did you know there are many types of rainbows? Some of the types are Double Rainbows, Twinned Rainbows, Full-circle rainbows, Supernumerary rainbows, Reflected rainbows, reflection rainbows, Monochrome rainbows, Moonbows, Spray rainbows, Fogbows, Circumhorizontal and circumzenithal arc rainbows. How many will you see on your helicopter tour and trip to Hawaii? Check out more information about rainbows here. 
See all our Rainbow Helicopter Tours! Maybe we'll be lucky enough to share a Full Circle Rainbow helicopter tour experience with you! Plan an exciting and fun Oahu Helicopter Tour as an activity for your Oahu vacation experience today by including a helicopter tour and see how many types of rainbows you can find.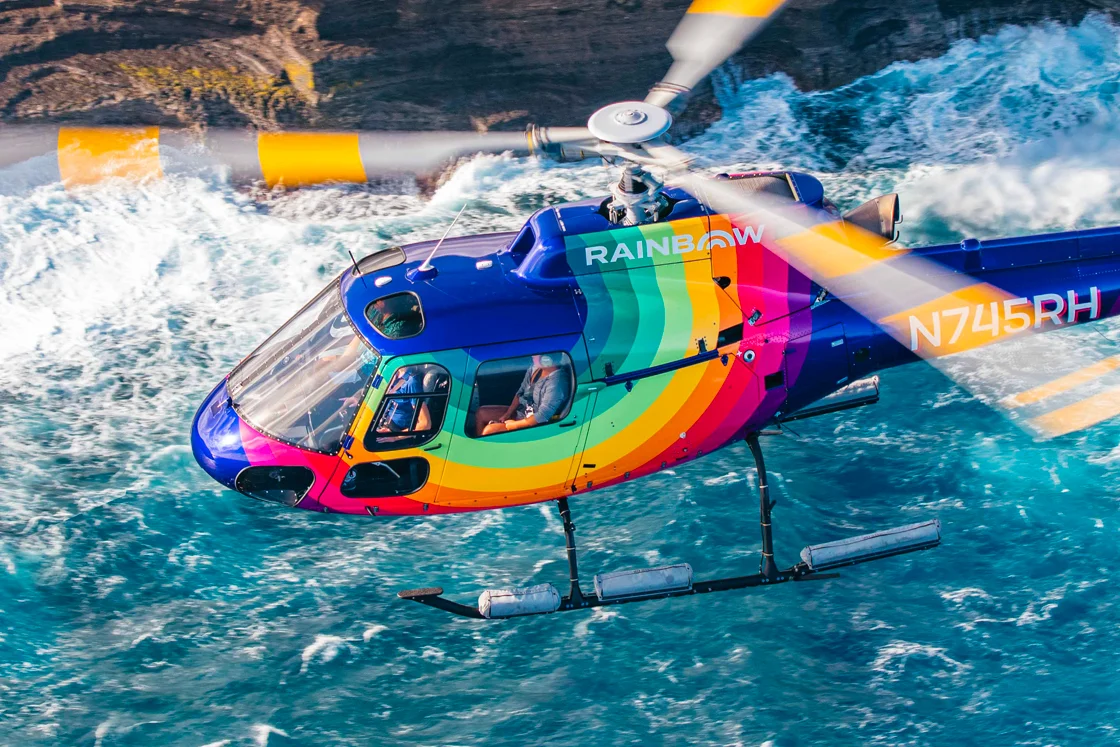 //////////
60 minute helicopter ride Oahu. Experience Oahu's most picturesque locations as your helicopter tours the South Shore, North Shore, Windward Coast, Ko'olau mountains, Sacred Falls and more. This royal ring Oahu helicopter tour gives you a front row seat to the island's best landmarks and attractions.