Top 5 reasons to book an Oahu helicopter tour
ACTIVITIES  •  OAHU, HAWAII
"Definitely a top 5 thing to do on Oahu."
The helicopter tour experience is special and at Rainbow Helicopters we love to share the beauty of Oahu as seen from the air. There are many reasons customers come to fly with us over Oahu again and again. We find these top 5 reasons often bring customers to us for helicopter rides high over Oahu, every day.
#1 Making the most of the vacation.
A helicopter tour is an activity that seems to elevate the entire vacation. Vacations don't happen every day so making the most of them is important. There are a lot of activity choices to highlight each day in Hawaii and a limited amount of time. From start to finish the Helicopter tour experience is engaging, exciting and exhilarating. Remembering back, the vacation to Oahu that included a helicopter tour will be remembered!
#2 See more from a new perspective.
Helicopter rides are elevating in many ways because of the shift in perspective. Seeing Pearl Harbor from the air is a completely different experience that enhances the understanding of our history and deepens our connection to it. It's a wonderful experience that we love to share again and again.
#3 See more in less time.
We love to drive around the Oahu island and recommend this full-day trip to our guests. Flying around the island takes you to places you simply can't get to any other way. It feels satisfying to map the island in your mind by seeing it from a helicopter. Deep valleys and waterfalls abound, many out of sight from any other vantage point. Small islands off the coast, the mosaic of reefs, bays, and coastlines stretching out before you all the way to the North Shore, can be experienced in an hour!
#4 A romantic experience
Soaring high in the air over Oahu's majestic beauty is an experience to be shared and how better than with with a special person? Be it a surprise or planned ahead of time all of our flights offer a private tour option guaranteeing the whole helicopter to yourselves! We have designed flights dedicated to romance at sunset and night. If you are looking for the best thing to do in Waikiki, our customers have told us that they enjoyed a helicopter tour above it before hitting the town! A helicopter tour is an excellent way to kick off an unforgettable evening!
#5 FUN!
Helicopters are really fun. We love feeling the energy radiating from happy families and individuals after our helicopter flights. We fly the Airbus Astar and Robinson R44 because they provide a wonderful aerial tour experience – with the doors on or off. Helicopters are extremely powerful, agile and safe, high performance machines. Our pilots gracefully command the aircraft with the experience that only can be attained by flying thousands of hours as helicopter tour pilots. The result is total excitement and immersion in majestic beauty. Our customers young and old say it best in one word, it's: "Fun!"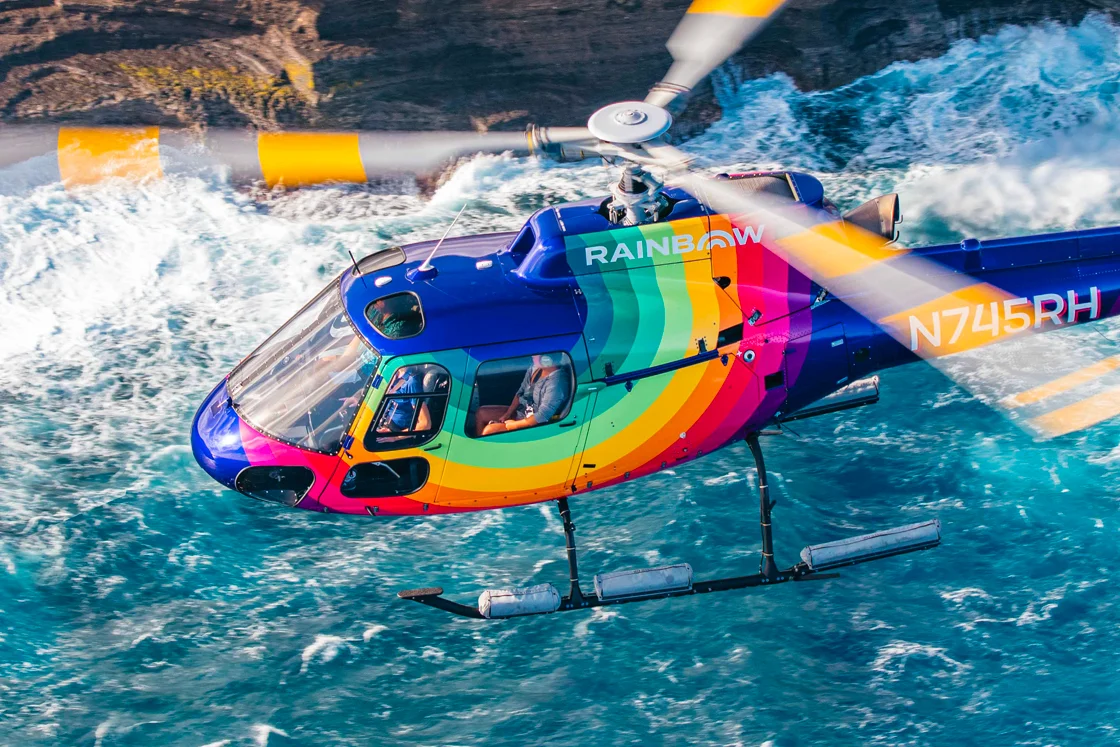 //////////
60 minute helicopter ride Oahu. Experience Oahu's most picturesque locations as your helicopter tours the South Shore, North Shore, Windward Coast, Ko'olau mountains, Sacred Falls and more. This royal ring Oahu helicopter tour gives you a front row seat to the island's best landmarks and attractions.