Oahu by helicopter: An aerial photography guide to paradise.
Get awe-inspiring aerial images of Oahu by helicopter.

Welcome to Oahu, the captivating gem of the Hawaiian Islands, where turquoise waters, lush greenery, and iconic landmarks intertwine to create a photographer's paradise. While exploring the island's beauty from ground level is enchanting, there is an extraordinary perspective waiting to be discovered from above.
Oahu helicopter tours offer an unparalleled opportunity to witness the island's most breathtaking sights, from scenic landmarks to its iconic coastline. In this comprehensive guide, we will delve into the wonders that await you on an Oahu helicopter tour, explore locations accessible only by air, and provide valuable tips for capturing stunning aerial photographs. Get ready to embark on an adventure that will leave you with unforgettable memories and awe-inspiring images.
Discovering Oahu from above.

When you ascend above the clouds on an Oahu helicopter tour, you enter a realm of unparalleled beauty. The island's diverse terrain unravels beneath you, revealing hidden gems and captivating vistas that are impossible to witness from the ground. From soaring above the majestic volcanic peaks to hovering over the turquoise waters of the Pacific Ocean, this bird's-eye view offers an extraordinary perspective that will ignite your creativity and inspire you to capture Oahu's natural wonders.

Diamond Head Crater
Diamond Head Crater, an ancient volcanic tuff cone stands as an iconic symbol of Oahu. As you soar above this natural marvel by helicopter, you'll witness the sheer magnitude of its volcanic cliffs and the striking contrast between the lush greenery and the glittering coastline. From this vantage point, photographers have the opportunity to capture stunning shots of Waikiki and Honolulu, where the vibrant cityscape meets the infinite expanse of the Pacific Ocean.

Sacred Falls
Deep within the verdant rainforests of Oahu lies Sacred Falls, a hidden gem of cascading beauty. Due to its fragile ecosystem, access to the falls is restricted, making a helicopter tour the perfect way to witness this majestic wonder. As your helicopter hovers above, you'll be awestruck by the sheer power and magnificence of the falls. Capture the ethereal beauty of Sacred Falls as the mist swirls in the sunlight, creating a mesmerizing play of colors, shapes, and textures.

Makapu'u Lighthouse:
As you ascend into the skies on your Oahu helicopter tour, be prepared to witness the grandeur of Makapu'u Lighthouse from a perspective like no other. This iconic landmark, perched on the dramatic cliffs of Oahu's southeastern shore, offers a captivating subject for aerial photography. From the air, you can capture the lighthouse in its entirety, juxtaposed against the azure waters of the Pacific Ocean. Use a wide-angle lens to emphasize the scale of the landscape and showcase the rugged beauty of the cliffs and surrounding coastline.
Experiment with different angles to highlight the vibrant colors of the lighthouse and the striking contrast between the red-roofed structure and the deep blue hues of the ocean. Firstly, for added drama, consider capturing long-exposure shots, allowing the crashing waves against the cliffs to create a mesmerizing effect. Secondly, remember to secure your camera gear properly during the flight to ensure steady shots and make the most of this extraordinary opportunity to capture the essence of Makapu'u Lighthouse.
Ko'olau Mountains:
The Ko'olau Mountains, a majestic range that stretches across Oahu's eastern side, offer a captivating subject for aerial photography. From the vantage point of a helicopter, you'll witness the sheer magnificence of these towering peaks, deep valleys, and lush greenery that make up this iconic mountain range. To capture the essence of the Ko'olau Mountains, utilize a wide-angle lens to emphasize the expansive scale of the landscape. The intricate patterns created by the ridges and valleys come to life from above, providing a unique perspective on their natural beauty.
Experiment with different altitudes and angles to showcase the dynamic nature of the Ko'olau Mountains. Consequently, pay attention to the interplay of light and shadows as they dance across the mountain range, highlighting its textures and contours. In addition, the ever-changing weather conditions can add drama and depth to your photographs, so be prepared to adapt and capture the fleeting moments of sunlight breaking through the clouds or the mist enveloping the peaks. Remember to secure your camera equipment properly and adjust your settings to account for the helicopter's movement, ensuring sharp and captivating images of the awe-inspiring Ko'olau Mountains.
Tips for capturing stunning aerial photographs:
Opt for a 'Doors Off' Flight:
For the ultimate immersive experience, consider booking a 'doors off' helicopter tour. By removing the doors, you eliminate any obstructions and barriers between you and your subject, enabling you to capture unobstructed shots with absolute clarity. The rush of wind against your face and the unobstructed views will heighten your senses, allowing you to fully immerse yourself in the photography experience. Keep in mind that 'doors off' flights require additional safety precautions, so ensure that you follow the guidance of your helicopter tour operator and secure your camera equipment appropriately.

Recommended Cameras and Lenses:
When it comes to aerial photography, having the right camera and lens combination is crucial. Here are some recommendations that can help you capture stunning aerial shots during your Oahu helicopter tour:
DSLR or Mirrorless Camera: Opt for a camera that offers a fast burst mode, excellent image stabilization, and a high-resolution sensor. The Canon EOS 5D Mark IV or the Nikon D850 are popular choices known for their exceptional image quality and performance.

Wide-Angle Lens: A wide-angle lens allows you to capture the expansive vistas and intricate details of the island. Consider lenses like the Canon EF 16-35mm f/2.8 or the Nikon AF-S NIKKOR 14-24mm f/2.8G, known for their sharpness and ability to capture a broad perspective.

Zoom Lens: A versatile zoom lens can also be beneficial during your helicopter tour, allowing you to capture both wide-angle shots and zoomed-in details. The Canon EF 24-70mm f/2.8 or the Nikon AF-S NIKKOR 24-70mm f/2.8E VR are excellent options that provide flexibility in composing your shots.
The Magic of Lighting:
Lighting plays a vital role in aerial photography, enhancing the mood and drama of your images. Consider the following tips to make the most of the lighting conditions during your helicopter tour:
Golden Hour: The period shortly after sunrise and before sunset, known as the golden hour, offers soft, warm light that adds a magical touch to your photographs. The gentle, angled sunlight during these times creates a beautiful contrast and brings out the vibrant colors of the landscape.
Shadows and Textures: Experiment with the interplay of shadows and textures created by the sunlight at different times of the day. The long shadows cast during the early morning or late afternoon can add depth and dimension to your aerial shots, revealing intricate patterns and details.
Cloudy Days: Don't be discouraged by cloudy or overcast weather. Secondly, clouds can add drama and a sense of scale to your images, creating a dynamic atmosphere. In other words, embrace the moody ambiance and experiment with capturing the interplay between light and shadow amidst the cloud cover.
Seize the Moment
During your helicopter tour, be prepared to capture fleeting moments and unique perspectives. Keep these tips in mind to maximize your photographic opportunities:
Fast Shutter Speed: Due to the movement of the helicopter, it's crucial to use a fast shutter speed to avoid motion blur and ensure sharp images. For instance, you can set your camera to Shutter Priority mode or Manual mode to have full control over the shutter speed.
Continuous Shooting Mode: Utilize the continuous shooting mode to capture a series of shots in quick succession. This allows you to capture a range of expressions, movements, or changing landscapes, increasing your chances of getting that perfect shot.
Composition: Pay attention to composition while photographing from a helicopter. Moreover, look for leading lines, interesting patterns, and captivating elements to create visually appealing images. Experiment with different angles and perspectives to add depth and dynamism to your photographs.
Storytelling: Use your photographs to tell a story. Capture not only the breathtaking landscapes but also the human element, if present. As a result, aerial shots of people engaging in activities such as surfing, hiking, or enjoying the beach can add a sense of scale and narrative to your images.
Preserving the memories
Backup: Ensure that you have a backup system in place to protect your valuable photographs. Save your images on multiple storage devices or cloud-based platforms to prevent the loss of your work.
Editing: Use post-processing software such as Adobe Lightroom or Capture One to enhance the colors, adjust the exposure, and fine-tune your images. However, be careful not to overdo it and maintain the authenticity of the scene you captured.
Sharing: Showcase your aerial photographs on social media platforms, photography communities, or your personal website. For example, use engaging captions to share the story behind each photograph, and don't forget to tag the helicopter tour company to give them credit for the incredible experience.
In conclusion, embarking on an Oahu helicopter tour opens a world of photographic possibilities. From capturing the grandeur of Diamond Head Crater to the pristine beauty of Hanauma Bay, the aerial perspective offers a unique and awe-inspiring experience. Remember to book a 'doors off' flight for unobstructed views, equip yourself with the right camera gear, and be mindful of lighting and composition. Through careful planning and a keen eye for detail, you'll capture breathtaking aerial photographs that immortalize the natural wonders of Oahu. Soar above the island, let your creativity soar, and create images that will forever evoke the magic and allure of this captivating paradise.
Ready to embark on your own Oahu helicopter adventure? Don't miss out on the chance to witness the island's beauty from above and capture stunning photographs. Book your Oahu helicopter tour today and experience the thrill of exploring this photographer's paradise in a way like no other.
Honolulu helicopter tours
See Oahu's most iconic sights
Waikiki Skyline
Surf Beaches
Diamond Head
Makapu'u Lighthouse
Windward Coast
Lanikai Beach
Ko'olau Mountains
Kaneohe Bay
Chinaman's Hat
Ka'a'awa Valley
Sacred Falls
North Shore
Banzai Pipeline
Waimea Bay
Dole Plantation
Pearl Harbor
USS Arizona Memorial
Turtle Bay Resort
Kea Boat Harbor
"Absolutely incredible! My favorite experience of our Hawaiian adventure. The 60 minute tour was everything we hoped it would be. Doors off is the way to go if you want an adventure in the sky. Everything we saw plus the knowledgeable pilot, it was amazing."

"We had an amazing tour! Our pilot, Kyle was incredible. Very knowledgeable, fun and interacted well with everyone. The views from above were even better than we expected. And we were so glad we did the tour with the doors off."

"Our pilot Tony was very knowledgeable and the tour was relaxing and scenery breathtaking. The flight was calm and well narrated."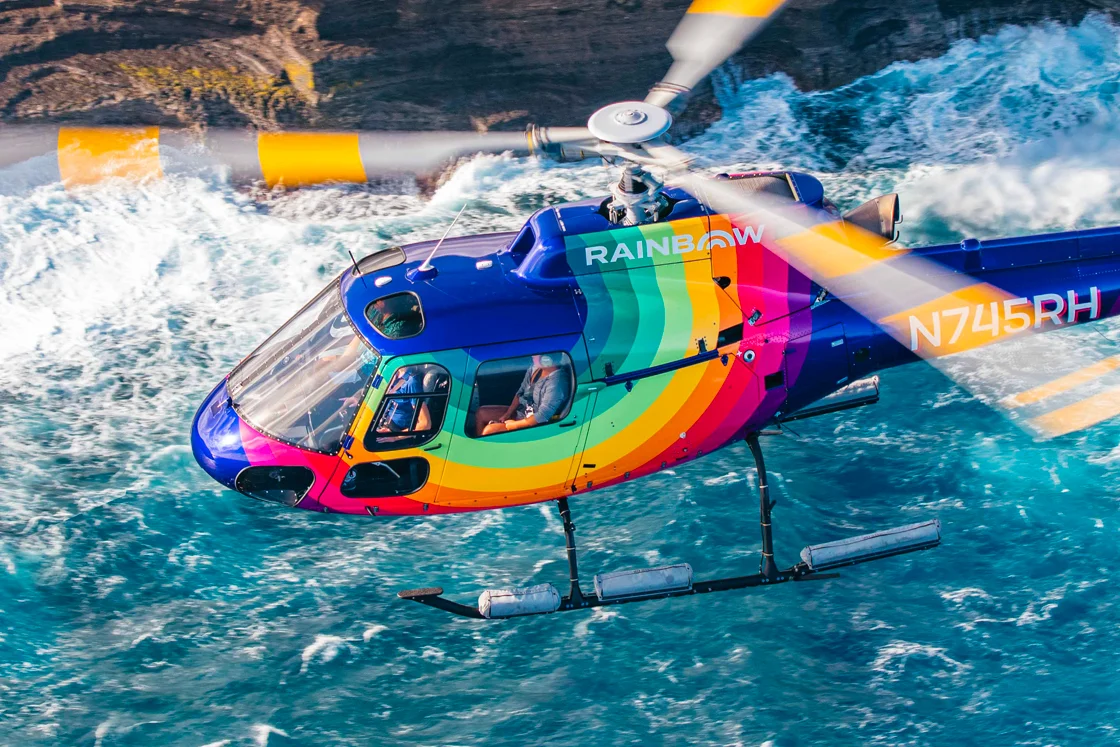 //////////
60 minute helicopter ride Oahu. Experience Oahu's most picturesque locations as your helicopter tours the South Shore, North Shore, Windward Coast, Ko'olau mountains, Sacred Falls and more. This royal ring Oahu helicopter tour gives you a front row seat to the island's best landmarks and attractions.