Isle Sights Unseen
$325.00
//////////
A unique side of the island awaits when you take to the sky in this unforgettable Oahu helicopter tour. Fly above Diamond Head, the Ka'a'awa Valley, Sacred Falls, Maunalua Bay, Lanikai Beach, Makapu'u and more in this remarkable helicopter tour of the islands best unseen sights.
Description
A unique side of Oahu awaits when you take to the sky to discover the sights you have yet to see.
Your helicopter tour begins as you fly over Honolulu's famous harbor where the Aloha Tower welcomes arriving ships into the port – just as it has done for nearly 100 years. Heading further down the coast, you pass the beaches of Waikiki and do a slow loop around majestic Diamond Head, peaking into the center of what is arguably the most famous landmark in all of Hawaii. Then, with wide open Maunalua Bay passing beneath you, you reach the island's rugged eastern shores and Hanauma Bay's well-known reefs. Following the rocky coast, you see the little lighthouse sitting atop the cliffs of Makapu'u and pass the longest stretch of beach on the entire island of Oahu. Keep an eye out for rainbows!
You then travel up the Windward Coast, to visit world-renowned Lanikai Beach and the aptly-named Chinaman's Hat. Your helicopter allows you to explore the lush forests and emerald cliffs of the awe-inspiring Ka'a'awa Valley and fly in close for a view of Oahu's highest waterfall, Sacred Falls. The tour ends with a visit to the Dole Pineapple Plantation and low-altitude views of Pearl Harbor and the USS Arizona Memorial. A side of Oahu many do not know will reveal itself with a tour of these sights unseen.
Departures
This tour is available for daytime departures from Honolulu International Airport

Sights
Honolulu Harbor
Aloha Tower
Waikiki Beaches
Diamond Head
Hanauma Bay
Makapu'u Lighthouse
Windward Coast
Lanikai Beach
Chinaman's Hat
Ka'a'awa Valley
Sacred Falls
Dole Pineapple Plantation
Pearl Harbor
USS Arizona Memorial

Tour Notes
Please visit the FAQ
Add epic add-ons to your tour at checkout.

+ Private Tour

Book the entire aircraft for your group.
+ Make it Romantic

Book a romantic private charter. Add a pro photographer, or surprise your loved one with a special message on the beach.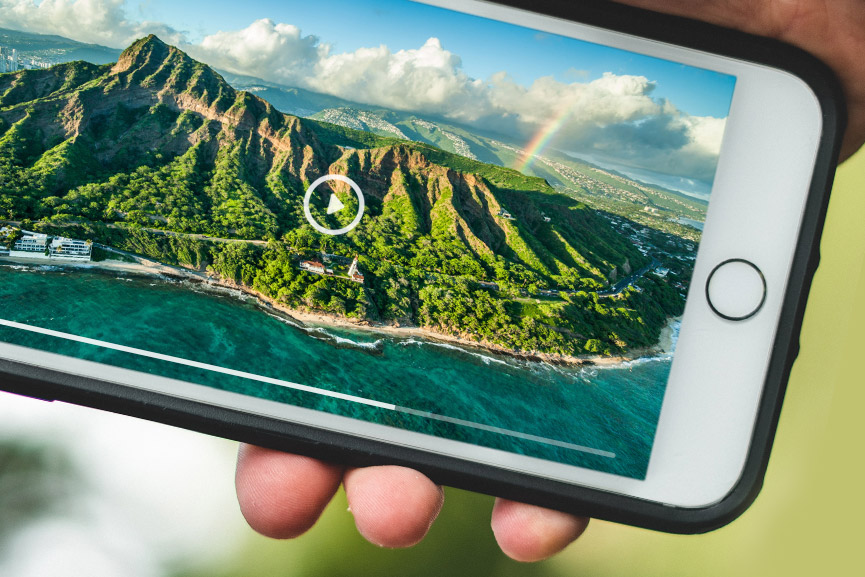 + Flight Video

Get a shareable digital video of your in-flight experience, available in multiple formats. Customize at checkout.
+ Doors Off Helicopter

Experience the sights with an open cabin and enjoy amazing unobstructed views. Makes for great pictures!
"When you're on Oahu you must MUST experience this doors off thrill with Rainbow Helicopters. Bastian was our pilot...."
When you're on Oahu you must MUST experience this doors off thrill with Rainbow Helicopters. Bastian was our pilot. Steady hands, informative, and caring. Staff was efficient and friendly. Overall you will NOT be disappointed.
Excellent!!!! Awesome!!! Amazing!!!
This is a must if your coming to explore the island. Our pilot Sarah was the best! It was worth every penny!
Very comfortable, safe, skilled pilot, and they accommodated our changing plans 🙂
We had the most amazing pilot during our flight. Our pilot spent so much time sharing amazing details of the many wonderful sights around the island that can only be captured from the air! Shout out to you Joey, you made our experience just perfect ⭐️
The tour was incredible and staff were super friendly and made you feel very safe. We did have a 1.5 hr wait after we checked in which was annoying but forgot all about it once we were up in the air. Would recommend bringing a light jacket if you get cold easily.
Joel was amazing, staff was awesome had a good time.
I generally develop a feel for a company through my initial meeting with the staff. That being said the staff was courteous, knowledgeable and efficient. They made me feel welcome and that set the stage for a very thrilling helicopter ride. The doors off option is definitely a thrilling ride and not for those who may be afraid of heights. The pilot was very professional, knowledgeable and his flying skills are commendable. Highly recommended and I will probably do it again.
The helicopter tour was the highlight of our trip! Amazing views of the island, and our pilot Cat was super nice and helpful pointing out the sights.
Great trip with open doors. We will never forget the turquoise water in countless shades and flying over the beautiful mountains. Our Pilot Bastian did a great job. A must see when being in Hawaii
This is a must do if you are visiting Hawaii.
The OPEN DOOR option is a Thrilling ride! **NOT FOR THE FAINT OF HEART** there's literally a seat belt holding you from falling of the A-Star Helicopter. I had to use one had to hold on to the top of the cabin and use my other one to record video from my iPhone. Got a bit tiresome. That being said it is as advertised, a thrill. The staff was very efficient and polite. Our pilot Sarah was informative and kept the helicopter at a smooth ride. The scenery is amazing up there. The turquoise water and the Jurassic mountains are worth the price. I recommend with and without doors.
Very courteous and professional team! Very helpful!
Unforgettable experience! We took photos that we will cherish forever. Great company, professional and knowledgeable staff. Smooth ride and breathtaking views! We even saw a full circle rainbow! Magical!
Very helpful, knowledgeable, and accommodating staff. Loved our guided flight! A very memorable moment, one more checked off of our list!!!
We had a wonderful experience! The sights were unbelievable and our pilot, Geoff was great company. He shared lots of information about the island and also gave us some food recommendations. The staff that greeted us and gave us our briefing was also awesome! They all had great attitudes and pumped us up before takeoff. What a great way to see Oahu!
Our pilot was Sarah, very kind and knowledgeable. The tour was awesome. more than I expected it. Another check on the bucket list.
We enjoyed our "doors off" helicopter tour very much. Paul was an excellent pilot. He was very friendly and great at pointing out the sights. This is the best way to see the island!
Our tour was fantastic! Our pilot was very friendly and knowledgeable. Everyone else who works there was also very professional and nice. Doors off helicopter was the way to go.
The views were AMAZING!!! Totally worth the $!!
This was a very nice experience! The ride was super smooth and it felt absolutely safe to do the doors off tour. We booked the 45 min tour that takes you around the coast and into the hidden places of the island of Oahu, only visible from up above! It was a total of 7 of us in the helicopter, including the pilot. Our pilot was sharing great insights about the different places / locations we flue by. The only reason this is 4 star instead of 5, is because we sat on the right and at the beginning, missed out on some of the cool views on the left almost entirely... It would have been so great if the helicopter turned for a few moments to show people sitting on the right the full views on the left and vice versa. All in all we enjoyed it very much! This is definitely something that will show you the island from a unique and even more beautiful perspective!
Our pilot Paul was awesome! We were very safely given a tour of Hawaii from the air. Excellent adventure!
We had Paul as our tour guide and Helicopter pilot. He was amazing and provided us with a lot of fun trivia and tips to maximize our vacation. This experience was by far an experience of a lifetime. The views were majestic. Our highlights were the waterfalls and the views of Diamond head. Definitely worth it.
When we found out we were going to Hawaii, one of the first things we did was book a helicopter tour. When our tour day finally arrived, we ended up rescheduling (on our own choice), Novictor was very understanding and helpful with rescheduling to hopefully a better day weather wise. Just a couple days later, that day arrived. We were SO EXCITED that we switched our day and ended up having the best weather Oahu has had in a couple weeks. Sarah, our pilot, was so knowledgable with the island and flying. We felt incredibly safe, and had such a wonderful time. We were in shock of the beauty of the island and seeing it the way Sarah showed us. We will definitely do it again when we come back to Oahu. Thank you to all at Novictor, and especially a huge shout out to Sarah! Would highly recommend to everyone.
Absolutely recommend! Awesome view at sunset! Our pilot Geoff handled the windy conditions with excellence! The staff was friendly and very professional! Best view to see the mountains and waterfalls!
The helicopter ride was especially delightful and exciting. Easy going pilot was informative and calming. Loved the trip up and wanted to do it again right after we got back.
The pilot did an amazing job of flying the aircraft during the windy day that we had. He was also very knowledgeable about the island and the areas in which we flew over and near. Definitely recommend flying with the doors off as I was really able to see the amazing views without any instructions.
The helicopter flight was easily the best thing we did while in Hawaii. Ended up being a last minute thing, and easily booked our trip online. They picked us up from our hotel and then dropped us back off afterwards. Sarah was a fantastic pilot and guided us around the most amazing views. You really haven't seen how beautiful Hawaii is unless you see it from the air. Everyone at Novictor was very friendly and helpful. Made you feel comfortable the entire time. Highly recommend Novictor and the trip.
Best event of the vacation, got to see the entire island ! , definitely worth it.
What a great tour. Even though I'm not great with heights, I am glad we decided to take the doors off for an enhanced experience. The pilot was awesome and narrated very well. Highly recommended.
Wonderfull tour. Everything from pick up at the cruise terminal to our return was handled efficiently. Once at the heliport we received a briefing and had a choice of doors on or off the helicopter. The Pilot was friendly and knowledgable and we felt in safe hands. We will be booking again for next March !!
If you want breathtaking views of Oahu's lesser known sights, this helicopter ride is the way to go. Since I'm a resident of Oahu and have seen the majority of what it offers on the ground, I finally decided to tour it from the air. This awesome tour gave me a whole new perspective - highly recommended!
//////////
Give the unique and memorable gift of experiencing Hawaii like never before! Your guest will enjoy breathtaking sights and stunning vistas in an Oahu helicopter tour of their choosing.