What is a Doors Off helicopter tour?
Doors Off

is the helicopter tour industry's way of saying "We'll remove the doors so you can really experience the sights."
You may wonder as I did, why would someone want to choose a doors off helicopter flight as opposed to a doors on helicopter tour for sightseeing in Hawaii? How does a doors off tour differ and compare to a doors on tour? I'll share common questions and what I've learned from my helicopter flights.
Some of the most common questions:
Why take the doors off?
Can I have my door on and someone else have their door off?
Are doors off helicopter tours windy?
Is it safe to fly a helicopter tour with the doors removed?
Is it scary to fly with the doors on or doors off?
Can I get clearer photos if I fly with the doors off?
It's really exciting to fly with the Doors Off!
Helicopter tours are fun, safe, and exciting with the doors on or off. More safety information will be described in great detail by the ground crew and in a pre-flight safety briefing the day of the sightseeing helicopter tour. The instructions are simple to follow and it's reassuring to know what to do to keep things safe and fun. I personally found the helicopter tour with the doors off more exciting than with the doors on. Helicopters are extremely high performance machines, not unlike a supercar! So imagine a ride in one of those with the top up or the top down. Either way it's going to fun, but with the top down or the doors off there will be some more wind, less between you and the sights, a boost to the senses and excitement.
Oahu doors off helicopter tour in an R44 helicopter — @celikgizem (IG)
Totally worth the excitement when you get in the air
Personally I found both doors on and doors off to be equally intimidating as the helicopter began to speed up for take off and right at takeoff. It was an exciting kind of scary and not terrifying sort of scary for sure. Overall I think roller coasters are much more more scary and adrenaline pumping than a helicopter tour because the pilots are extremely skilled in maneuvering the helicopter in a way that is comfortable, smooth and fun. Within a few minutes all fears were forgotten as the amazing beauty of the sights below were all I could think about.
Yes, it's safe
It's immediately apparent upon sitting in the helicopter that the flights are kept very safe by the professionalism of the ground crew and the pilots. They do all sorts of pre checks before takeoff and you can see they take it all very seriously, which helped me to feel confidant in the safety of helicopter tours and not to worry. Helicopter rides are generally quite smooth and soaring toward Waikiki shoreline and Diamond Head was such a joy! Pearl Harbor is amazing from the air and I could imagine the events and appreciate the memorial in a special way from above that I couldn't from touring it on the ground and ferry.
Photography is awesome with the Doors Off
With the doors off photography is enhanced because you are not taking pictures through a window. If you wear dark colors, reflections in your photographs can be minimized. Your pictures will capture great memories even if you choose to have your door on. But for the optimal photographs a taking the doors off is a must. With the doors off, wind outside the helicopter is very strong so having a strap on the camera is a must. Some wind comes inside, noticeable for sure, but it isn't too strong.
Oahu doors off helicopter tour — @nataliefylstraphotography (IG)
Shooting video and the wind
Most of the videos I took were super shakey. I was glad to discover that you could purchase a video of the flight as an upgrade when booking online. This let me focus on just capturing photos and be in the moment! Having the doors on blocks all the wind. For longer flights, some people may find this more comfortable and enjoyable. Helicopters are noisy so special headsets are available for every passenger doors are on or off. Not only do they block the noise but they allow two way communication with all on board.
What to wear
On my hour long flight with the doors off, I wore a light jacket and still felt a little cold so could have used an additional layer or two underneath. The air temperature is cooler at flight altitude than on the ground by many degrees, so even though it's Hawaii I still recommend dressing warm. Rainbow Helicopters requires a jacket or sweatshirt on all doors off flights as well as closed toed shoes. I also definitely recommend wearing your hair up or braided so that it doesn't blow everywhere. If you want photos with your hair down before the flight, that's not a problem, just bring a hair tie so you can put it up before you board the helicopter.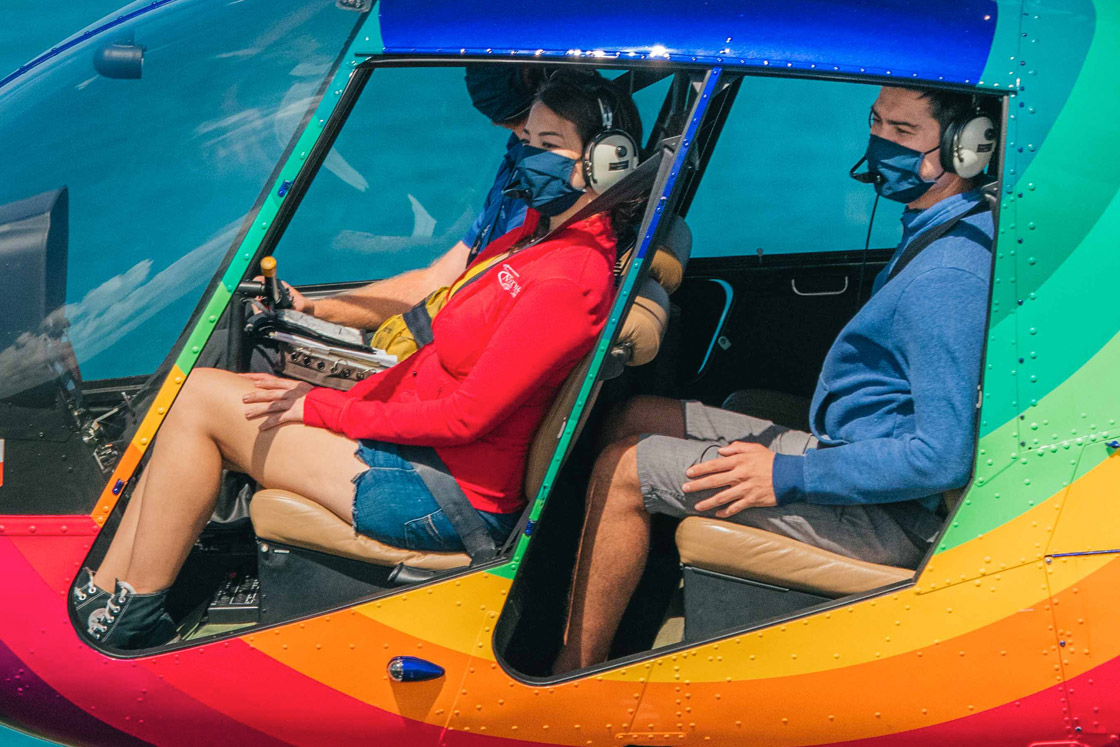 Combo Doors-on and Doors-off option
One last thing that is special about Oahu Rainbow Helicopter Tours and their doors-off tours is that you can have a combo of a doors-on and doors-off. In fact, in their larger Astar helicopter, the front doors are always on in order to help with the wind so that the flight is enjoyable for all the passengers. You can actually fly with a group and some people can have their doors off and some people can have their doors on, at no extra cost! How? After you book, just email or call with your preference and they will do their best to seat you accordingly (*It's my understanding that all seating is based on weight and balance per FAA rules, however my experience was that they were able to accommodate almost any request). Staff is available anytime to answer questions. Simply reply to your order email, easy!
Oahu Doors Off helicopter tours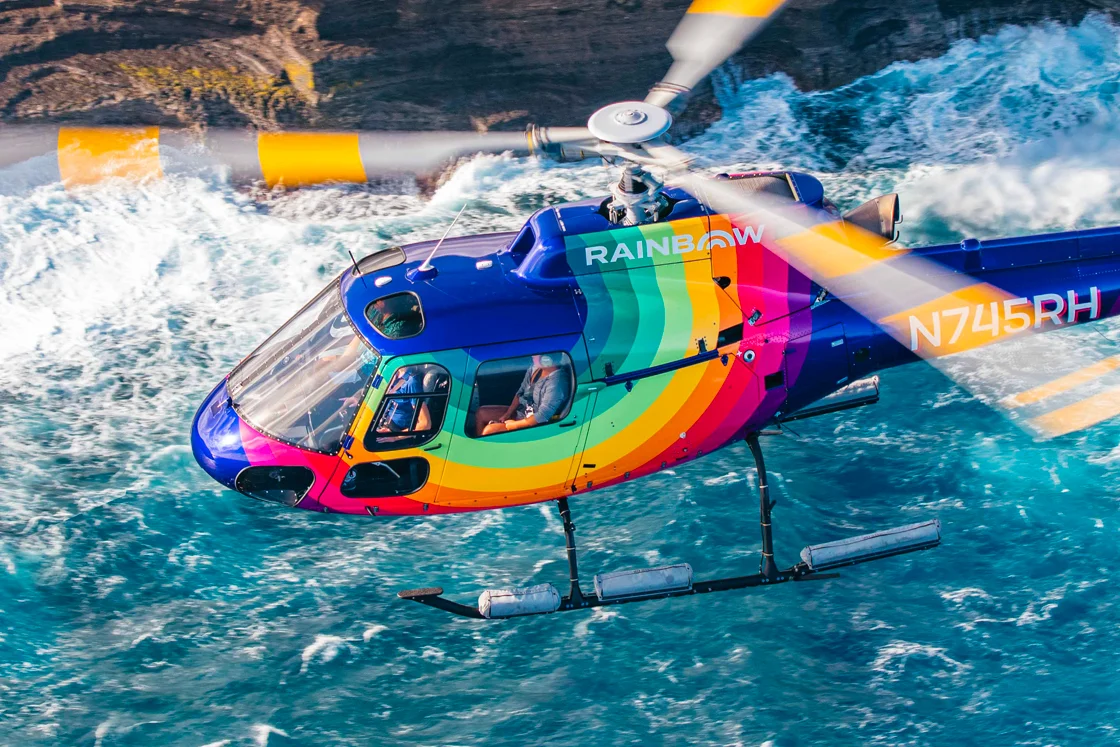 //////////
60 minute helicopter ride Oahu. Experience Oahu's most picturesque locations as your helicopter tours the South Shore, North Shore, Windward Coast, Ko'olau mountains, Sacred Falls and more. This royal ring Oahu helicopter tour gives you a front row seat to the island's best landmarks and attractions.