Rainbow Helicopters CEO and Northwest alum Nicole Battjes takes helicopter to visit to high school alma mater.
At the age of 39, Battjes made a memorable return to the Northwest High School campus on a Tuesday morning. Her grand entrance involved touching down in a helicopter graciously lent by a local family. Battjes revisited her alma mater to engage with students regarding her career as a helicopter pilot and her company's recent endeavors in aiding victims of the August wildfires that ravaged the Hawaiian island of Maui. Battjes graduated from Northwest High School in 2002, and her journey into piloting began during her time there. She successfully obtained her fixed-wing private pilot's license at the age of 18 while simultaneously enrolled at Jackson College during her senior year.
During her visit, Rainbow Helicopters CEO Battjes met with both the high school's staff and students in the morning. Additionally, she scheduled a trip to Northwest Elementary School, where she landed the helicopter on the school's playground field.
See Oahu's most iconic sights
Waikiki Skyline
Surf Beaches
Diamond Head
Makapu'u Lighthouse
Windward Coast
Lanikai Beach
Ko'olau Mountains
Kaneohe Bay
Chinaman's Hat
Ka'a'awa Valley
Sacred Falls
North Shore
Banzai Pipeline
Waimea Bay
Dole Plantation
Pearl Harbor
USS Arizona Memorial
Turtle Bay Resort
Kea Boat Harbor
"Fantastic trip! So pleased we did the full hour flight. Excellent and efficient service by Rainbow. The pilot gave informative commentary among the way. Well worth the money for such an amazing holiday experience."

"Our pilot was awesome and super knowledgeable! Believe it was the best part of our trip! Thank u"

"We had such a wonderful experience on this helicopter ride that we are hooked! Our pilot was great and we felt completely safe the whole time, even with bo doors! I highly recommend this tour!"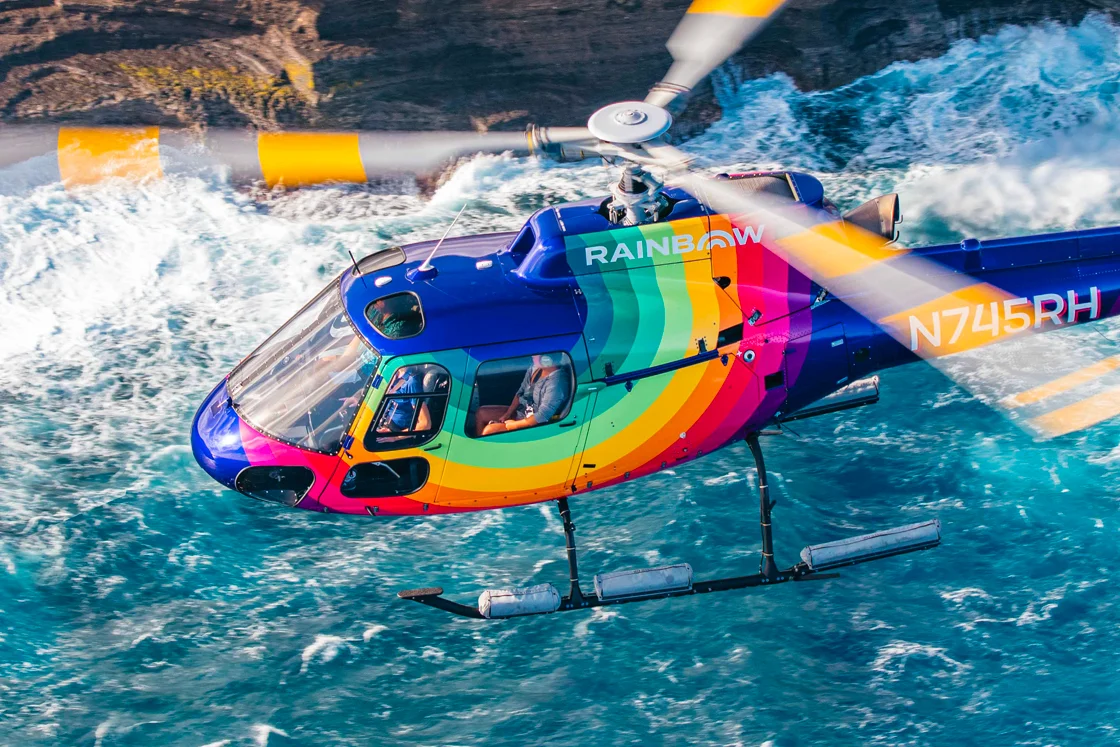 //////////
60 minute helicopter ride Oahu. Experience Oahu's most picturesque locations as your helicopter tours the South Shore, North Shore, Windward Coast, Ko'olau mountains, Sacred Falls and more. This royal ring Oahu helicopter tour gives you a front row seat to the island's best landmarks and attractions.