//////////
60 minute helicopter ride Oahu. Experience Oahu's most picturesque locations as your helicopter tours the South Shore, North Shore, Windward Coast, Ko'olau mountains, Sacred Falls and more. This royal ring Oahu helicopter tour gives you a front row seat to the island's best landmarks and attractions.
"Me and my partner did the doors-off tour. Best thing ever! Tony, the pilot, was very informative and was able to share with us amazing views and tell us rich history of the island."
MICHAEL MASTALERO  •  APR 2023
Highlight of our trip! This is the best way to see the island. Kyle was a great pilot, very informative and our little girl loved talking on the mic and Kyle was entertaining her.
Beautiful view of the island. Staff was professional and helpful. Ride was smooth. Open doors is very windy… but great view!
Staff was super friendly. Easy booking experience. Pilot was talented and informative! Overall had a wonderful experience!
A big shout out and amazing job well done to the folks at Rainbow Helicopters! My fiancé and I have recently experienced a tour around Oahu with the Romantic Proposal landing. The staff went to great length to go along with the surprise proposal and helped ensure no hints or spoilers occurred. The collaboration and communication between the staff and I was excellent, as well as the amazing tour. My fiancé and I were able to see the various points of interests including the sacred falls, coastal shores and Mountain views. Our pilot and guide Kyle, did an excellent job and so did our photographer Mark. I highly recommend both of them as well as choosing Rainbow Helicopters for your Oahu tours. I experienced everything I expected, including the awesome landing at the private mountain side of Kuoala Ranch. It was such a smooth magnificent journey.
I highly recommend this tour. The ride was truly breathtaking. Our Pilot Kyle was amazing and was very knowledgeable of the island.
Amazing sites and fabulous information provided by our pilot Joey. Would 1000% recommend!
Such a cool experience. I live on the island so it was really neat to see everything from above. The views are stunning, and our pilot entertained us with facts but it wasn't overbearing commentary. I wish there was a way to book my seat ahead of time because the customer by the door took social media videos the entire time, so I had to crane my neck back and forth to see the views. Also, the flight video wasn't worth it for me. I thought the camera would've been set up outside the helicopter, but it was more like a dashboard cam. Overall, fantastic!! I plan on doing this again!
Really fantastic experience - recommend it to anyone. Excellent commentary by the pilot. Very exciting!
We had the best time on this tour! Our pilot Kerry was very knowledgeable about the island and made us feel at ease! Highly recommend to anyone!
JoJo did a great job showing us the sites! It was a beautiful tour! Thank you for convincing us to do it doors off! It was awesome!
We had the most amazing experience. The first booking we had, we were able to take off in the helicopter, but we were unable to do the entire Pali route due to weather. I was so sad, then the staff turned it around and made sure that we got the full experience, offered to reschedule us, and were the kindest people. These employees are amazing!!! I can't remember the name of the girl who helped us reschedule and took care of us, I think it was Kamalani, but she was the SWEETEST! Rainbow Helicopters truly took care of us and we had the most amazing experience because they also upgraded our second trip!!! BEST HELICOPTER COMPANY EVER, BEST EMPLOYEES ♥️ -jacob & shelby
Me and my partner did the doors-off tour. Best thing ever! Tony, the pilot, was very informative and was able to share with us amazing views and tell us rich history of the island.
So amazing! The staff is so friendly! We did the doors off tour and I would highly recommend it! Our pilot JoJo was so great!
AWESOME!!! Amazing views and fantastic information about the island. Staff were exceptionally friendly and efficient. My husband and I took a private doors off tour, with Tony as our pilot. My husband doesn't tolerate heights well, but felt safe and enjoyed the tour!! I love heights and LOVED it!!!
Didn't see the waterfall I booked for but overall was well; staff and pilot were great.
Alex was fantastic. Gave us great views of the North Shore, Diamond Head, and other sights. The ride was much smoother than expected. Would definitely do again.
Awesome tour! Worth the money!
The whole experience was amazing. Tony explained every location in detail. I can clearly mark a bucket list item with complete satisfaction. Thanks Tony!
We did a private, Royal Crown of Oahu, doors off tour. It was worth every penny. There are no words to describe this experience, JUST DO IT! It was by far the best excursion we've ever booked while on any vacation. The staff was very friendly, helpful, and efficient while prepping everyone to takeoff on time. Our pilot was Alex and he was amazing. He was very informative and knowledgeable of the entire island. He flew us over everything Oahu has to offer. To say the views are beautiful and breathtaking is an understatement. I literally cried... more than once. Lol. Simply gorgeous and incredible. We highly recommend doing a private doors off tour. One, you don't have to share the experience with anyone but your group and two, you get to sit next to the door with absolutely nothing blocking your view. Omg! I can go on and on. 100000% the best! We're in Oahu for a week. Flew in on a Friday afternoon and did this first thing Saturday morning. The best decision ever! We've been driving around visiting all the places we saw from the sky. We're actually considering doing it again before we leave. This time with no cameras or gopros so we can just sit back and enjoy the views. Definitely going to request Alex for our pilot if possible. You will not regret this experience, Rainbow Tours is the best!
Really Cool Tour. We saw loads of the island, the pilot was overly knowledgeable and it went really smooth. Would recommend
Absolutlely amazing! Alex was wonderful!
Fabulous! I was flown over place I had already seen and places I had not been able to visit yet! Pilot was well trained and knowledgeable and the ground crew were professional and very kind to my family who waited for me. Highly recommend!
Wow, just wow! The private luxury picnic Rainbow Helicopter Tour of Oahu was an incredible experience that I will never forget. The views were incredible and the picnic was delicious. The crew was friendly and attentive, making sure we had everything we needed. The experience was worth every penny and I would do it again in a heartbeat. If you're looking for a unique and unforgettable experience in Oahu, this tour is definitely for you.
I can't recommend the private luxury picnic Rainbow Helicopter Tour of Oahu enough! The views from the helicopter were absolutely stunning, and the picnic was a delightful addition to the tour. The crew was extremely friendly and made sure we were comfortable throughout the entire experience. They were also very knowledgeable about the island and provided us with interesting facts and stories. This is a must-do experience for anyone visiting Oahu.
Wow what an amazing experience we had , was a surprise for my niece, my friend and her daughter they had such a great time we all had a great time, perfect whether . Our pilot Riley was very informative during the flight, and all the other staff were super friendly . This is a most do while in Hawaii, I highly recommend it. Thank you so very much rainbow helicopters!!! Mahalo
Had so much fun, great way to see it all in one hour!
Our tour was amazing!!! JoJo was a fabulous pilot - so kind and knowledgeable of the island. He did a great job answering our questions. We did the doors-off tour, and I highly recommend it! I was very hesitant (mainly because of my fear of heights) but the views from air were simply breath-taking. JoJo took us by a waterfall, and it was so beautiful! It was incredible to see Pearl Harbor from the air, too. If you can, take the 60-minute tour - you won't regret it! Also, a big thank you to the ground crew and office staff. They were so professional and kind the entire time! We had to wait a few minutes before getting into the helicopter, and the conversations we had with the crew on the tarmac was great! They were so fun to be around! Thank you again and I will definitely be recommending Rainbow Tours to everyone!
Amazing views, the only way to see some of the most beautiful island features
Awesome experience, start to finish 5++ stars!! Staff were wonderfully informative and friendly, yet conveyed the required safety info clearly and professionally! Always felt they had it together, at every moment. I work as an aviation maintenance tech at a major airport. I know how a good ground crew can make or break an operation, and these people just plain nailed it. Really GREAT team ! Now on to the RIDE ! Captain of our Ship was Kyle. I cannot possibly say enough positive things about his skill, personality, professionalism and obvious passion and dedication to his craft. A true artist (without the quirks, lol). I can honestly say the only thing wrong was I wish we had the whole evening. Kyle checked every possible box. Rainbows, waterfalls, whales!! He was super knowledgeable about the island (I wish we would have done the tour FIRST!). We had a slightly 'airsick' passenger. As such, Kyle accommodated her condition, whilst not watering down the experience for the rest of us. Bravo, Captain! Doors off is absolutely the way to go! I was on the outboard right side, and completely loved it. I'd go every day with Kyle, though I'm sure the rest of the pilot group is of similar caliber talent ( but request Kyle if you can - he's that good - makes it seem ridiculously easy. And I know it is not!). Am I satisfied? Completely. Would I recommend Rainbow? Without hesitation. Enjoy your adventure- we certainly did!!! And a special final thanks to Kyle - I will never forget that flight !
Everything from the signage, facilities, crew and helicopter was great. The crew was welcoming and made the check-in process very easy, and along with their smiles made our first experience awesome. Our pilot Oliver was outstanding and interacted constantly with us, pointing key landmarks; the flught was smooth alll the way from beginning to end. Thabks for the amazing experience!!!
It was amazing! Our pilot Joey was very knowledgeable and fun as a guide. We were on a doors off tour and I would recommend it even for someone apprehensive about it. You get full view of the beautiful island and some areas you may not be able to get to on the ground.
One of the most epic experiences with my son. from the pilot to the views, I cant recommend this more. Thanks for the awesome tour JoJo. I will be doing this again in the future for sure!!!
I would have given 5 stars if I could have gotten the video I prepaid for. I know I will get reimbursed but a corrupted video really kinda sucks
We had an amazing experience! Everyone was so kind and helpful. Matt was an awesome pilot! I would highly recommend Rainbow!
It was amazing, words can't describe the view
We had Tobias as are captain and had an absolutely amazing experience. Tobias was very knowledgeable about the island and was able to take us to some amazing places. We choose the doors of experience and it was the perfect choice for are group. I would 100% recommend doing this if you can. You will get views of the island most people never see.
My wife and I really enjoyed the ride. Tobias our pilot was excellent and did a great job of pointing out most all of the top landmarks. The flight was smooth and comfortable all the way around the Island. The only downside was the time passed way too fast! Thank you Tobias for an experience of a lifetime.
We had an awesome time! Oliver was a great pilot and host, giving us the landmarks and information. He was on the watch for whales, spotting some and circling back around for us to see. A highlight of our final spring break with kids leaving for college.
This is a great addition to any Oahu vacation! Our pilot was very pleasant and knowledgeable about the entire island. He pointed out all major areas and would pause so we could snap pictures. Great experience!!
Recent reviews
Robinson R44 helicopter landing with champagne toast above private valley.
Breathtaking 
LGBTQ friendly
Oahu helicopter tours
Experience the best of Oahu's breathtaking sights and stunning vistas as you fly around the islands in an Oahu helicopter tour with Rainbow Helicopters. Soaring over the turquoise waters, you'll venture around Diamond Head's crater, fly past white sand beaches and catch a glimpse of the best landmarks only visible by air such as Sacred Falls and the dense rainforests found on the interior of the island. A sampling of iconic sites you may see include Makapu'u, the North Shore, and Pearl Harbor.
We are proud to offer an inclusive and LGBTQ friendly Oahu helicopter tour experience, ensuring that everyone feels welcome and comfortable exploring the stunning landscapes of Hawaii. Discover the wonders of Waikiki, Honolulu, and the entire island of Oahu from a unique perspective in our fun Rainbow colored helicopters.
Rainbow Oahu helicopter tour above coastline around Kualoa Ranch.
Immerse yourself in Oahu's diverse landscapes
At Rainbow Helicopters, we specialize in providing unforgettable helicopter tours that showcase the beauty of Oahu's landscapes. Our experienced pilots will guide you through the following remarkable tours, allowing you to witness the awe-inspiring sights from above:
Waikiki Helicopter Tour: Soar above the world-famous Waikiki Beach, marvel at the pristine turquoise waters, and take in the panoramic views of the iconic Diamond Head Crater. Capture stunning photos as you glide above the sparkling city skyline.
Honolulu Helicopter Tour: Experience the vibrant city of Honolulu like never before. Fly over historic landmarks, including Pearl Harbor, the USS Arizona Memorial, and the picturesque Ala Moana Beach Park. Get a bird's-eye view of the city's rich history and natural beauty.
LGBTQ friendly Oahu helicopter tours: Immerse yourself in the breathtaking beauty of Oahu's diverse landscapes. From cascading waterfalls and lush rainforests to dramatic cliffs and secluded beaches, our LGBTQ friendly Oahu helicopter tours offer a comprehensive exploration of the island's natural wonders.
Robinson R44 helicopter with Doors Off.
Ready to take one of the most breathtaking helicopter adventures in the world? Make your helicopter tour twice as epic by asking for "doors off" on an LGBTQ friendly Oahu helicopter tour. As you fly above the island's best and most stunning sights, the wind will breeze through your hair as you take in the gorgeous panoramic views and unforgettable sights – the best LGBTQ friendly Oahu helicopter tour the island has to offer.  With the doors off, your photos will come out even clearer without a window in the way.
Fly doors off no charge.
Customize per passenger at checkout..
Rainbow Helicopter above Mokoliʻi Island in the Pacific Ocean.
Why choose Rainbow Helicopters?
LGBTQ Friendly Environment: Rainbow Helicopters is committed to creating a welcoming and inclusive environment for all. We celebrate diversity and respect the needs of LGBTQ travelers, ensuring a safe and enjoyable experience for everyone.
Unparalleled Safety: Your safety is our top priority. Our helicopters undergo rigorous maintenance checks, and our pilots are highly trained professionals. Sit back, relax, and enjoy a worry-free adventure with us.
Outstanding Customer Service: We strive to provide exceptional customer service from the moment you book your tour until you land back on the ground. Our LGBTQ friendly Oahu team is here to answer your questions, accommodate special requests, and make your journey unforgettable.
Book your LGBTQ friendly Oahu helicopter tour today.
Don't miss the opportunity to embark on a remarkable LGTBQ friendly Oahu helicopter tour experience with Rainbow Helicopters. Explore the wonders of Oahu from a whole new perspective and enjoy the natural beauty of Oahu in a fun and exciting way. To book your tour, visit our website at rainbowhelicopters.com.  Let us take you on an unforgettable LGBTQ friendly Oahu journey over the stunning landscapes of Hawaii.
Enjoy

LGBTQ friendly Oahu flight experiences

aboard our Airbus Astar and Robinson R44 helicopters.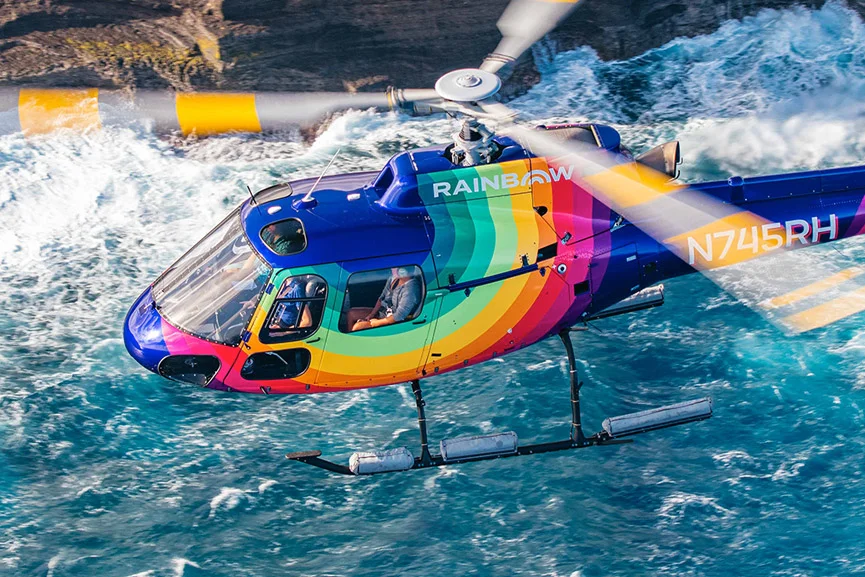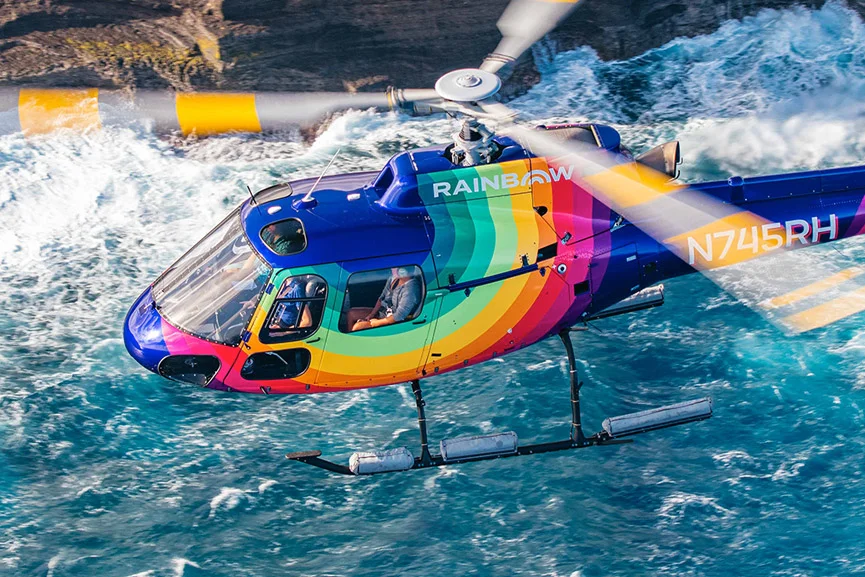 Known for its outstanding proven track record, the Airbus Astar has a spacious and comfortable cabin and panoramic interior for optimum visibility.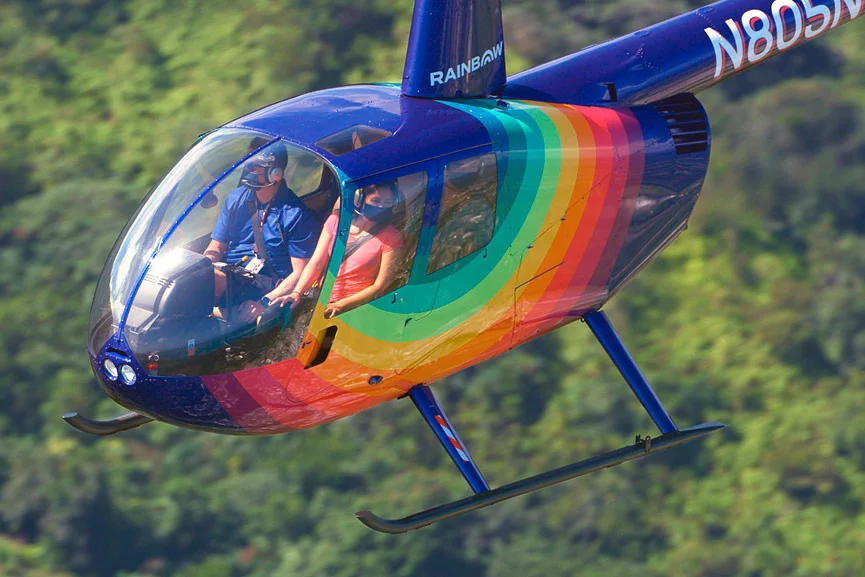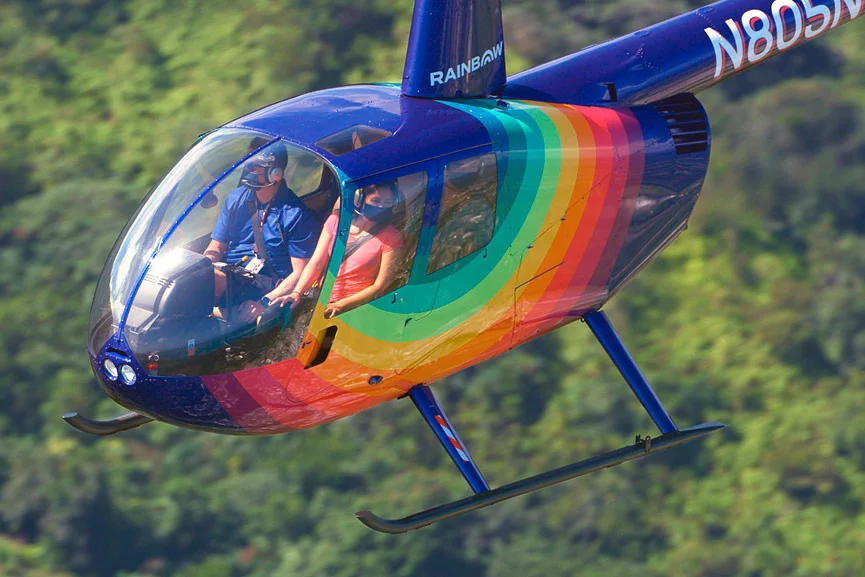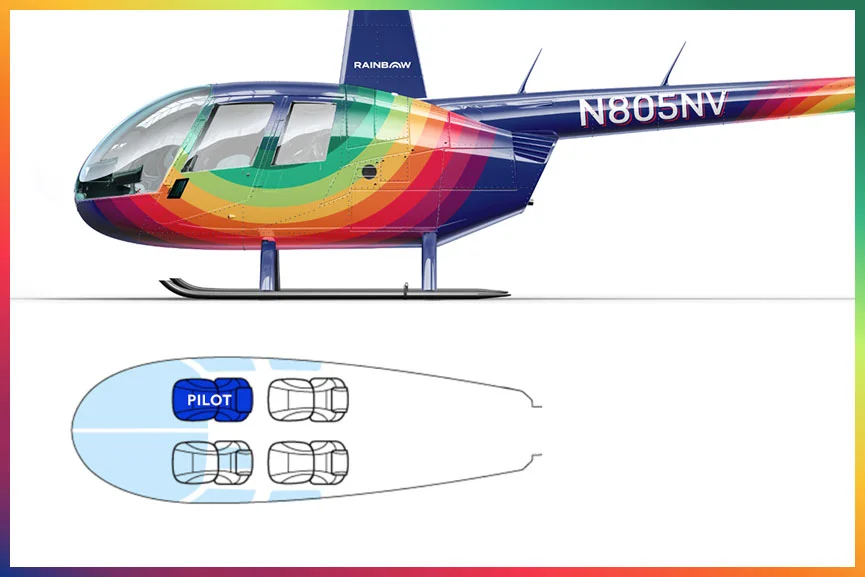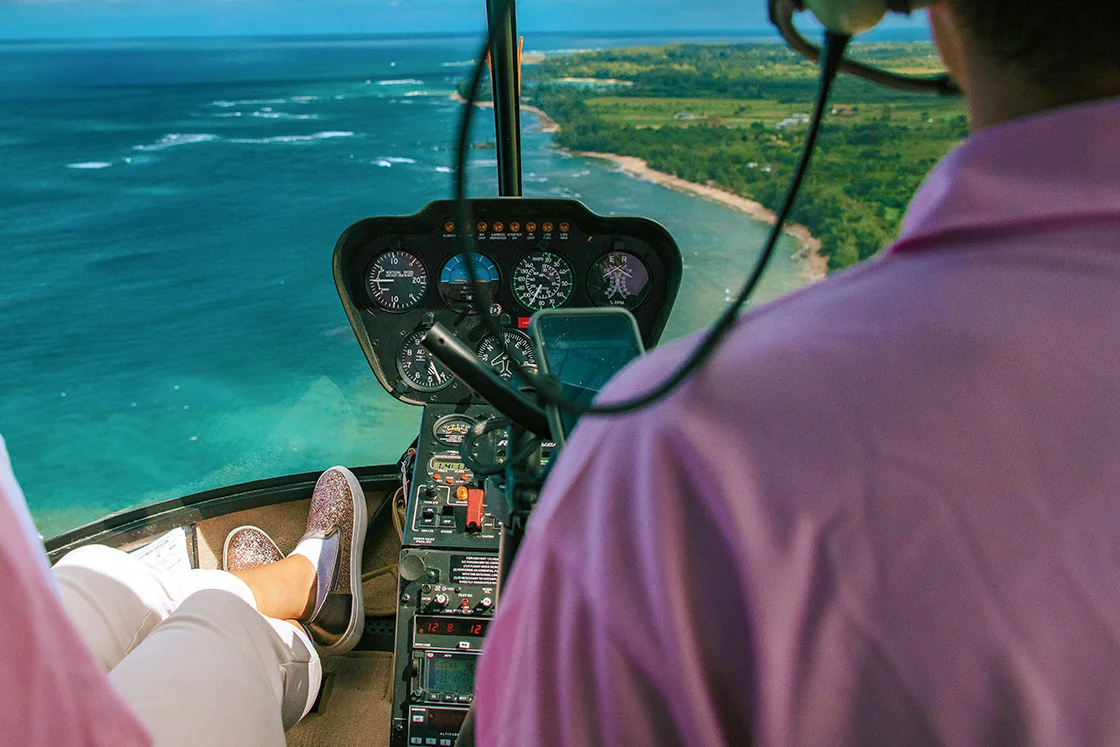 High performing and reliable, the R-44's open cabin design provides unobstructed views for great pictures.
Oahu helicopter tours FAQ